RHONY Recap: Life Is A Cabaret
Season 10 - Episode 19
Stephanie Downs August 16, 2018 1:23pm
After months and months of drama, the finale of the Real Housewives of New York has finally arrived. And it went out with a bang and a couple of show tunes. So, let's get right into it!
Everyone's busy getting ready for Luann de Lesseps' cabaret show, #CountessAndFriends. Sonja Morgan and Ramona Singer are getting pedicures. Dorinda Medley and Carole Radziwill head to Tinsley Mortimer's penthouse. The two of them enjoy some pre-cabaret champagne and discuss how Dorinda's boyfriend, John, wasn't invited to the event. Interestingly enough, Tinsley later remarks to Carole that her boyfriend, Scott, was invited.
Bethenny Frankel's getting her hair and makeup done. And, of course, the lady of the hour, Luann, is trying to settle her nerves before the show while she gets her own glam done. She mentions that Dorinda texted her frantically about her not inviting John. Luann said that he was more than welcome to come and Dorinda should have said something sooner. It honestly sounds as though Luann invited Scott because she realized she should have invited Scott, right?
Finally, we get to see Luann's cabaret show. And, honestly, I wish I was there in person. Luann is killing it. She's as glam as can be and she's just having fun with it. It's so nice to see after her previous arrest ordeal. But, even though she's doing amazing, there's someone who isn't feeling it. Tinsley told Dorinda that Luann invited Scott. So, Dorinda's resigned to pouting for the course of the show.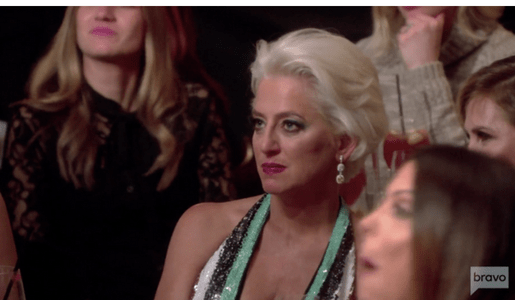 Then, Sonja jumps into the scene and joins Luann onstage. Despite Luann not wanting Sonja to show any skin during the event, she does anyway, of course. Her dress "accidentally" comes apart. But, Luann brushes it off like a pro. After the show, the ladies all head to the after-party.
Carole and Bethenny manage to have a chill convo without any drama for a change. Ramona interrupts, though. Bethenny asks her to come back because she's having a private moment with Carole. Apparently, that flipped a switch with Ramona who went off the rails. Like, just come back in a minute, girl. Relax. Ramona then brings up the real issue: She's mad that Bethenny didn't acknowledge her skincare line launch. Bethenny says that the concern is noted but she's not giving an explanation. Lol. Ramona runs away in hysterics, as she does once per episode.
The ladies all discuss the ridiculous Scott/John drama. Bethenny offers up the same theory I did: Luann texted about Scott after realizing her John mistake. Bethenny goes to confirm the theory wit Luann, who explains that that is what happened. Duh. I called that one from a mile away!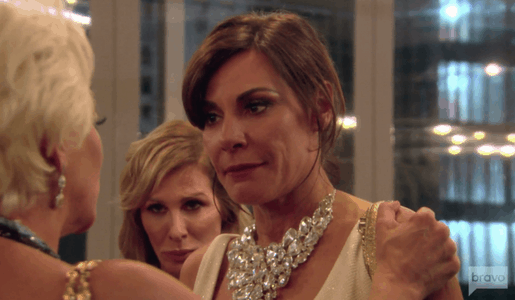 Luann wants to clarify the issue with Dorinda directly. However, Luann soon learns that she's dealing with a child. Dorinda doesn't want to talk about the situation. Instead, she just thanks her for inviting Scott and then leaves. Super mature. Thankfully, Luann doesn't let it get her down on her big night. The Countess is simply living is up with her friends.
Who's side are you on with this fight: Luann or Dorinda? Tell us what you think!
---