RHONY Recap: Faux Weddings and a Funeral
Season 10 - Episode 11
Stephanie Downs June 14, 2018 1:51pm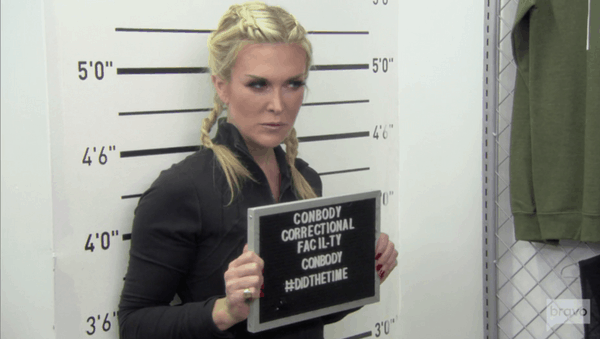 This week's episode of the Real Housewives of New York was an emotional rollercoaster. It was a particularly sad episode because it featured the funeral of Bobby Zarin, the husband ex-Real Housewife Jill Zarin. Read on to see exactly how the ladies supported her and much more.
The episode started with Dorinda Medley and Ramona Singer heading to Bobby's funeral. Ramona says that she and Jill reconnected shortly before Bobby's unfortunate passing. Bethenny Frankel heads to the event, as well. She says that despite any previous disagreements with Jill that she'd always be there for her.
Throughout this segment, the show plays clips of Bobby and Jill from their time on RHONY. Now, I didn't watch the show back then, and only have a passing idea of who they both are. Still, it's super emotional to see Bobby and Jill during happier times.
After the funeral, Bethenny manages to catch Jill, where they end up reconnecting. Jill wonders to Bethenny what she's gonna do now and you can feel her pain right here. Bethenny tries to comfort her by saying she still has a lot of friends and that she's alone, too. Following this moment, the two do part on good terms, as Bethenny tries to lighten the mood with a few jokes.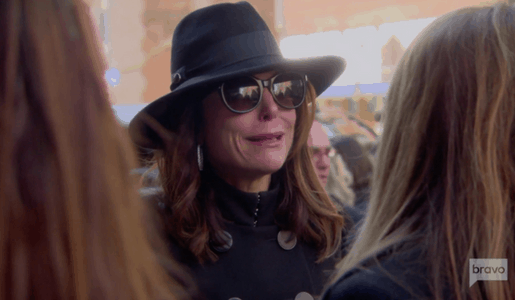 Then, Bethenny calls Luann de Lesseps, who is still in treatment. Luann says that she wishes she could have come to support Jill. Alas, she's still in Florida trying to better herself. She does say that before heading to Florida, she visited Bobby one last time while he was being transported to hospice care. Luann also relates that she spent New Year's Eve alone while in treatment and that the whole experience has been so humbling for her.
We then head to Carole Radziwill and the surprising star of this episode, Tinsley Mortimer, as they head to her hotel's spa. Tinsley really is living the life, guys (and I'm still waiting on my invitation to stay as her guest, btw!). Tinsley tells Carole that things went well when Sonja Morgan stayed with her. It's great that they're back on good terms. Who else seems to be on good terms? Carole and Bethenny. Carole tells Tinsley that things went well during her talk with the Skinnygirl founder. All's well in the world… for now.
A little while later, Tinsley's mom, Dale, comes to stay with her. According to Tinsley, her mom always finds a reason to come visit her in NYC. Almost as soon as she arrives, they head to the hotel bar. While at the bar, Dale, prompted by literally nothing, implies that Tinsley was on the verge of a drinking problem last year. Tinsley's as shocked as I am.
The talk then turns to Tinsley's boyfriend, Scott. Dale says she may have slipped up when Scott and his mom visited for Christmas. She tells Tinsley that she mentioned that her daughter doesn't have all the time in the world to wait to have kids. So, she joked that if Scott wasn't ready soon, then he should jump ship. She thinks it's hysterical. Tinsley obviously thinks otherwise. She gets over it quick and mentions that they should go wedding dress shopping. Why? I have no idea.
Then, Tinsley and her mom go to a bridal shop to try on wedding dresses. She first picks the ugliest one there (that's over five grand) and loves it. While they try on dresses, they call Tinsley's doctor. In a previous scene, Dale said that Tinsley has to pay for the upkeep of her frozen eggs. When they call the doctor to do so, he shows them a picture of the eggs. They break down crying over it (while Tinsley's still in a wedding dress). It's all just… a lot.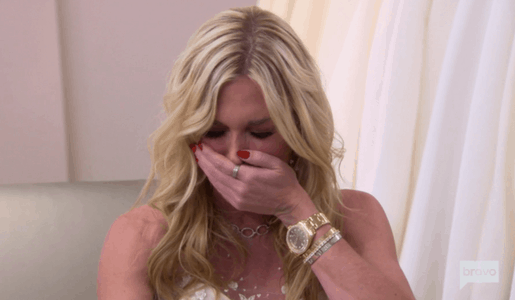 Bethenny goes to visit Sonja at her newly renovated townhouse. I can't detect any visible changes, but it looks nice. Bethenny remarks that she likes Sonja's shoes. It turns out that the shoes are actually a part of Sonja's new shoe line. How fun! Then, the convo gets a lot more serious.
Bethenny says that she visited Jill during Bobby's shiva. She took her daughter, Bryn, out of school to join her. Jill was overjoyed to meet Bethenny's daughter for the first time. It sounds like really are good between the two ladies now. Although, it's unfortunate that their reunion had to come out of such sad circumstances.
All of the Housewives (minus Luann) head to a prison-themed gym. They all take mugshots, which is a tradition at the location. And Tinsley, a jail veteran, turns the whole thing into an impromptu photoshoot. She does give good mugshot, I'll give her that. After their workout, the convo obviously turns to Luann. Once the jailbird comes back, they're planning on taking her to a spa, where things will definitely be totally relaxing and not at all Housewives-brand chaotic.
Finally, Luann leaves her treatment center. She calls Dorinda and tells her that she's actually feeling good. She admits to self-medicating with alcohol for a while before her incident. She also says that she really couldn't believe what she had done while intoxicated. But, it seems like she's in a better place now.
Do you think that Luann is really on the right path now? Let us know what you think about her interesting journey!
---