RHONY Recap: Every Mayflower Has Its Thorn
Season 10 - Episode 12
Stephanie Downs June 21, 2018 5:23pm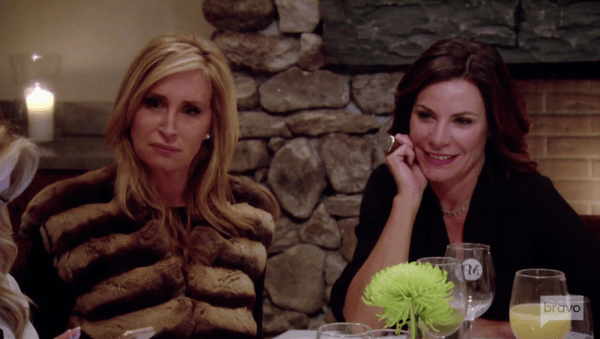 Luann de Lesseps had her triumphant return to New York in the latest episode of the Real Housewives of New York. It went rather well, with one notable exception in the form of Ramona Singer. What did Ramona do now? Read on to find out all of the drama that went on with Ramona, Luann, and the rest of the ladies this week!
Dorinda Medley meets up with Luann at her new apartment. Luann says that it was actually hard to leave rehab because it was so nice. Uh? Ok. Luann then reveals that Ramona tried to get invited to the New Year's Eve party that Tom, Luann's ex-husband, was throwing. Yeah, that's not a good look, Ramona.
All of the ladies head up to their spa excursion in separate cars (Sonja Morgan and Bethenny Frankel in one, Carole Radziwill, Tinsley Mortimer, and Ramona in another, and then Luann and Dorinda). Sonja and Bethenny say that there's something off with the arrangement. Bethenny says that it would have made sense for her and Carole to go together since they live near each other. Has Bethenny not been paying attention? She may have squashed things with Carole, but their tiff seems far from over.
Then, what everyone's been waiting for: Luann explains her arrest ordeal. She says that she was never supposed to be in the hotel where she got arrested in the first place. But, the friend she was staying with had a cat that was driving her crazy (lol, this is all because of a cat). She also says that she never tried to kick an officer and that her polo companion was her own age. Luann was apparently so drunk that she didn't realize that they had pressed the wrong floor number and then went into the wrong room.
Once she was arrested (they actually showed the arrest footage of her slipping from the handcuffs), Luann says that she got nothing in jail. Well, she did get a bologna sandwich that they "tossed" her. When she bit into it, she bit into the mustard packet that came with it. Then, Luann explained how she now understands the problems concerning the prison system complex. Sure. Her experience was just like everyone else's.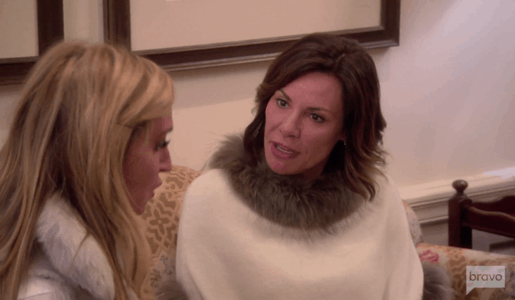 Luann and Dorinda arrive at the spa first. When they get there, there's a bucket of wine waiting for them. Luann's obviously going the sober route now, so it's very awkward. Sonja and Bethenny then arrive. Dorinda tells them to wait to pick the rooms until everyone's there. Bethenny says screw that and goes to pick a room. This is why I love Bethenny, 'cuz I'd do the same damn thing.
Sonja tells Luann that she got an invite from Tom for the NYE party (she obviously didn't go). Luann's shocked. Luann tells Sonja that Ramona asked to be invited to it. Sonja's not shocked. She says that Ramona would want to be invited to any 'ole letter opening ceremony rather than risk being left out. And, speaking of the devil, Ramona, along with Tinsley and Carole, arrives. Ramona does that thing where she's overly fake to make up for the fact that she did something dumb. Luann's cordial but she ain't buying it.
The group then heads to dinner, where they discuss the correlation between sex and the length of fingernails. It was, of course, brought up by Carole. I can't even get into it since I'm not following what they're concerned with. Regardless, it doesn't sound like they're right about it.
Luann then brings up Tom's NYE party. Sonja says that she was upfront with Luann about getting an invite. Ramona then admits after Luann prompted her, that she did text to ask for an invite. Ramona said that she texted because her friend wanted to go. It's amazing that she's pulling the classic "No, mom, I was only holding the cigarettes for a friend" excuse.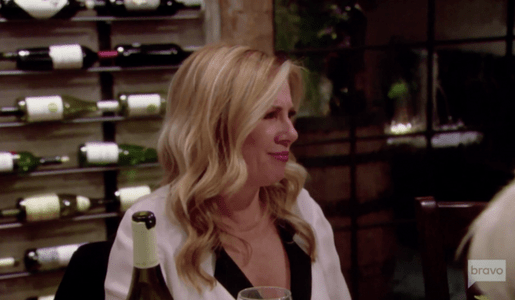 Luann says that Ramona's has a clear case of FOMO (fear of missing out). She's not wrong. Ramona then says she didn't really want to go and that Luann didn't invite her to her wedding so it's all a moot point. Everyone immediately says it's f*cked up. Still, Ramona doesn't offer one of her lame apologies to brush it off. She says it was wrong but not a "sorry" was uttered.
The next morning, the ladies all meet up in Luann's room. Sonja shows off her deer stamped shoes that are from her own collection. She says it's from her family crest, i.e. the Morgan name. Dorinda says that she'd feel like an "idiot" if she wore her ex's crest on her clothing. Um, wtf is Dorinda's damage? It was such a hostile response. What the hell does she car whether Sonja (who is technically a Morgan) wear the crest or not?
Bethenny jumps to Sonja's defense, though. She says that Dorinda still has her deceased husband's last name (that is kinda different, though). Bethenny also says that there's nothing wrong with what Sonja's doing and she's absolutely right. It seems more like Dorinda likes to irk Sonja every now and then. Like, get over it.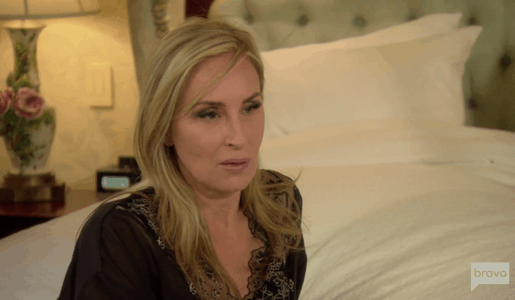 The episode ends with Luann in a bit of distress. Her publicist called to tell her that people know she's out of rehab now. And it's all thanks to a pic Ramona posted on Instagram of the whole group. In Ramona's defense, she probably didn't know not to post anything, right? Ugh, here I am giving Ramona the benefit of the doubt. Oh well, we'll just have to find out how this drama ends next week.
Was Ramona in the wrong to post the photo of the group? And was it wrong of her to ask Tom for an invite to his party? Tell us what you think!
---