RHONY Recap: Dating Wishes and Cabaret Dreams
Season 10 - Episode 14
Stephanie Downs July 12, 2018 11:58am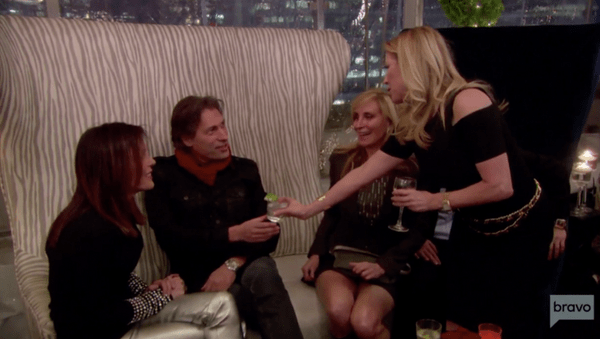 After a break for Independence Day, the Real Housewives of New York is back. This week gave viewers a glimpse of Luann de Lesseps' cabaret routine and a speed dating segment that almost went off the trails. Of course, that wasn't everything that happened in the episode. Here's what went down in the latest episode of RHONY.
Luann's cabaret show is only four weeks away. So, she's busy practicing her classic "Money Can't Buy You Class." Luann has invited Sonja Morgan to be a part of the show, too. Sonja's got the cabaret thing down. But, she wonders if she can turn it into her own caburlesque (i.e. she wants to strip). Luann quickly shuts down the idea, but you just know Sonja's still gonna try it.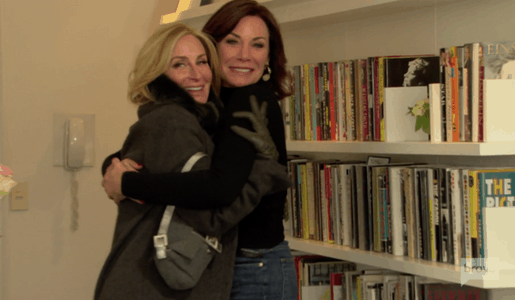 Tinsley Mortimer met up with Carole Radziwill at her apartment. Carole tells her that Adam gifted her with tulips because he wants her back. I can't follow their relationship drama and, if I'm being honest, I couldn't care any less about it. Sorry not sorry. Tinsley tells Carole that she and Scott are thinking about moving in together. Considering the fact that the two are now broken up, it's not looking good for this relationship step. Carole also tells Tinsley that she got an invite to go speed dating and that the other ladies will join. So, that should be fun and not at all crazy.
Sonja visits Bethenny Frankel. These two are really getting to be as thick as thieves. (So long Ramonja!) Bethenny is helping out Sonja with her online dating profile for an elite dating service, which has to be Raya, right? Sonja could really use the help because her profile is a straight up mess. There are like 20 jobs listed for her profession, which Bethenny can't help but laugh about. Sonja finally jokingly suggests she should put "Media/Assh*le" as her profession, and that's why I love her.
Dorinda Medley helps Luann pick out some outfits for her cabaret performance. Btw, every outfit they try on is fabulous, seriously. Luann also gives Dorinda an update on her court case. She says that she's hopeful that the charges will be changed into misdemeanors. But, things are still up-in-the-air regarding everything.
Luann also grabbed coffee with Carole after she got done with her AA meeting. It's interesting to see these two hang out considering they weren't in a great place at the start of the season. Alas, Luann opens up to Carole about her meetings and says that while she doesn't adhere to the "alcoholic" label exactly, she likes going to the meetings to stay on track with her sobriety. She also gives the quote of the century with, "Not drinking is exhausting."
Fast forwarding to the speed dating event hosted by Carole's friend Rori Sassoon, all of the ladies show up (even Tinsley and Dorinda who have boyfriends). Let me tell you, speed dating is Ramona Singer's jam. She has flirting down to a science here and the other Housewives can't help but notice it. Someone who isn't feeling it? Luann. She's not as into the dating scene but she's going along for the ride here.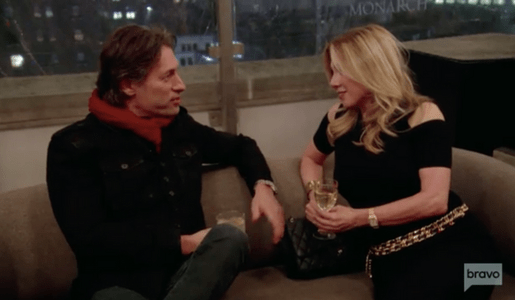 In particular, a mysterious red scarf guy, aka Brian, has captured everyone's attention. In particular, Ramona is really feeling him. But, red scarf guy really only has eyes for Bethenny. Bethenny and the suitor had previously met and had lunch together. He even tells her that he went to this event hoping that she would be there. Is this a love connection?
Well, Bethenny's not exactly feeling him. And that has left Ramona to try and swoop in. While red scarf guy and Bethenny are talking, Ramona comes over to hand him a drink because he bought her one earlier. She could not have been any less subtle. Would we expect anything less of her, though?
Do you think red scarf guy will come in between Ramona and Bethenny in the future? Let us know what you think!
---