RHONY Recap: Arrest and Relaxation
Season 10 - Episode 13
Stephanie Downs June 28, 2018 12:20pm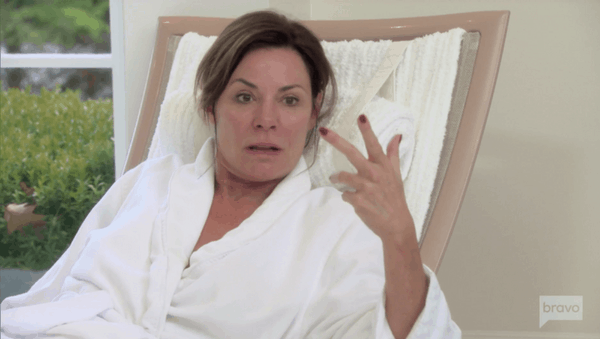 I sound like a broken record at this point, but I have to say: the Real Housewives of New York are bringing it this season. There's no shortage of drama with the NYC crew, that's for sure. What went down on this week's episode? Read on to find out.
Everything's still in a state of chaos after Ramona Singer posted a photo of the group on Instagram. Bethenny Frankel's even calling on her publicist to help out Luann de Lesseps (who's p**sed at Ramona). Sonja Morgan tells Ramona that the pic was a bad move. But, as per usual, Ramona shakes it off without a care in the world.
Dorinda Medley decides that this is the best time to ask Bethenny if there's beef with them. Bethenny admits that she doesn't feel "safe" around Dorinda. It comes as a shock to Dorinda, who thought they had put things behind them after NutcrackerGate. Bethenny's not upset with her exactly, but with the vibe of the group (i.e. she's mad at Carole Radziwill). They hug things out in the end, though.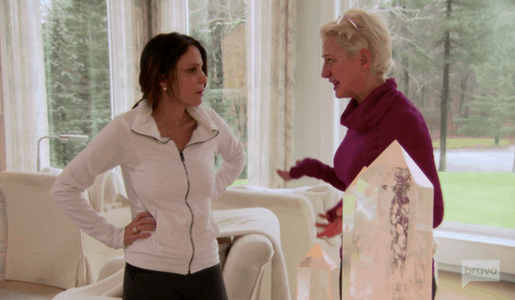 Carole and Tinsley Mortimer happen about a maze straight outta The Shining. Carole reveals that she's been in contact with Adam recently. I'm sorry, but am I the only one who couldn't care less about Carole and Adam? It's just enough already. Tinsley reveals that she went wedding dress shopping with her mom recently. Carole is shocked but not that shocked, since this is Tinsley, after all.
During a spa sesh, Luann tells Bethenny that she's not nervous about returning to the hustle and bustle of NYC. She'll be going to AA meetings and generally has things back on track. Although, she is still p**sed that Ramona tried to get invited to Tom's NYE party. At that moment, Bethenny lets it slip that Ramona had gotten drinks with Tom in NYC recently. Ramona really can't get a clue, can she?
The ladies all then sit down to have the 800th dinner from hell this season. Bethenny asks Tinsley if she's engaged since she heard that she tried on wedding dresses. A valid question, considering she literally tried on wedding dresses. Tinsley says that she's not, she was just having fun. Bethenny compares it to going coffin shopping before you die, which really sets Tinsley off. Um, it was weird Tinsley, so you can't really have a dog in this fight.
For some inexplicable reason, Dorinda finds a way to bring this back to her unfounded anger over Sonja using the Morgan family crest on her shoes. Why does Dorinda have such a hard-on for Sonja? The world may never know. This time, though, Sonja doesn't let her get away with the comment easily. She starts literally screaming and saying that it's her family so she has a right to use it (true). Dorinda says she didn't say they weren't her family but… she did literally seconds before.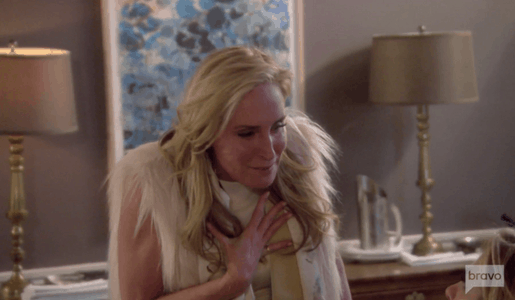 They almost come to actual blows as they both get face-to-face during the confrontation. Luckily, they calm down. Dorinda apologizes in the most condescending way imaginable to Sonja (by saying she's proud of where she is). Bethenny rightly calls it out. But, Dorinda's not having Bethenny butting in. If you didn't want her to butt in, Dorinda, maybe you shouldn't have tried to be a know-it-all in front of the entire group in your "apology."
This dinner isn't over yet, folks. Luann brings up the photo situation to Ramona. Ramona still doesn't understand why it was wrong until the other ladies explain it to her. They said that Luann's trying to be lowkey and this pic (with wine glasses on the table) puts her on the map again. She finally "gets it." But, she really is just pretending to so that she can make a fake apology.
Luann also brings up that Ramona got drinks with Tom (at the Regency, no less). Ramona says that she was having drinks with her friend Harry and Tom just happened to also be there. Great excuse, girl. Ramona's outdoing herself in this episode. Luann's so fed up that she finally just leaves the restaurant.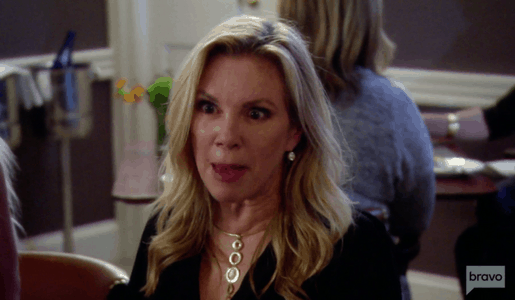 The next morning, as they're leaving the spa, Ramona says that Luann was probably on edge because of her upcoming court date. Or maybe it was that you did something wrong, Ramona? Just a thought. Dorinda urges her to apologize. Ramona says that she already texted her but she'll try again in person. But, when she goes to tell Luann, the Countess is just not having it. Basically, she's not in the mood for any more BS.
Do you think Luann and Ramona will ever patch things up? Let us know your thoughts on their drama in the comments below!
---