RHOD Kameron Westcott's Guide to Beaver Creek Colorado!
Kam's got the golden ticket!
Lara Sophia February 19, 2019 9:00am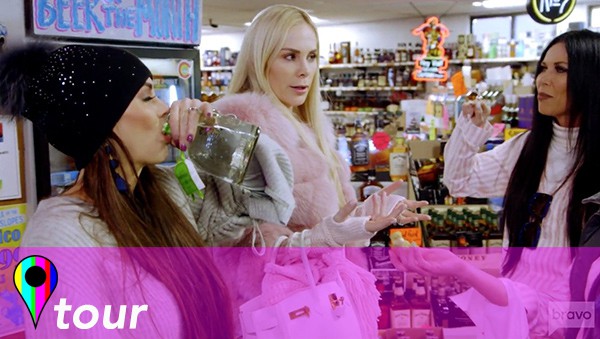 Kameron Westcott lives a life that most of us only dream about. And even our wildest dreams couldn't conjure up the fabulous and luxe life Kam lives on an everyday basis.
While we know Kam is the Queen of Dallas turns out she also rules the roost in Beaver Creek Colorado as well!
During season 3, the Real Housewives of Dallas star gave us a glimpse into her home-away-from-home in Beaver Creek -"Willy Wonka" elevator and all.
Kam showed off her family's home in Beaver Creek which features hand-carved hearth, wood beams from an old gold mine, and a bowling alley just to start.
"My husband's family has been going to Beaver Creek since he was a kid, and he just fell in love with it," Kameron tells D Magazine. "So when I started dating him, we started going up there together."
Now the Dallas Housewife is revealing her guide to Beaver Creek. But in order to give you the ultimate Real Housewives guide to Beaver Creek we're adding in some of the hotspots the Dallas Housewives visited during season 3.
While Kam and her family have their very own house in Beaver Creek she highly recommends the Park Hyatt Beaver Creek Resort and Spa.
"I love going to the Park Hyatt and sitting at their outdoor restaurant, 8100, having a hot chocolate. That's the best place to do lunch because it's great people-watching. They have this big bonfire always going, and they do s'mores in the afternoon. The kids love that."
One of the many reasons Kam loves the Park Hyatt is their amazing chocolate chip cookies. Yum!
"At the Park Hyatt Beaver Creek, they start passing out warm chocolate chip cookies at the mountain at 3 pm. They even do it at 8 am. You'll be walking to the ski lift, and they're like, 'Oh, have a chocolate chip cookie.' And I'm like, 'Oh, it's 8 in the morning. Thank you.' "
Speaking of eating, Kameron loves going to Mirabelle at Beaver Creek which is why she took her RHOD co-stars there.
"It's an old, little house, and it was turned into a restaurant. You literally feel like you're having a home-cooked meal. It's real cozy and private, and there aren't many tables. I love it, but Court hates going there."
When it comes to shopping Kameron loves to it up Gorsuch Beaver Creek. Another hot spot the Dallas Housewives hit up was Kemo Sabe, which is where D'Andra Simmons and Brandi Redmond bonded over tequila and shopping.
"I always wear my Bogner liners. My favorite is my pink ombre, Swarovski crystal one. It's my favorite. I'm obsessed with it. I've never seen anything like it. And then I love my hot pink Bogner jacket. It's the only thing that keeps me warm, and I got it there at Gorsuch."
Obviously, when you're in Beaver Creek, you're more than likely going to go skiing or do some type of snow activity. There are beautiful snow covered mountains everywhere but if you're new to the skiing lifestyle there's plenty of people who can help. Take a page out of the Housewives book and hire a group of guides to help you navigate the slopes.
And if need a drink after attempting the slopes make sure you hit up the infamous Beaver Liquors (insert 13-year-old boy joke here).
Kam's Guide to Beaver Creek
Luxury lodging & adventure nestled in the Colorado Rocky Mountains.
Over 10,000 different kinds of liquor, beer, wine and cigars including a huge variety of craft beer and spirits made in Colorado.
As Seen on RHOD S3/E3: Yeah, their minds went there too.
Horseback riding services and more featured in several magazines such as Vail/Beaver Creek, Food and Wine, Trail Rider, and American Way by American Airlines.
As Seen on RHOD S3/E4: The ladies have a beauty pageant to see who is the queen. "Can you tell me something you like to do with your hands."
Mirabelle is a boutique restaurant located in the Vail Valley and believed to be the first home site in Beaver Creek. It's unique and romantic setting is the home of Belgium Master Chef Daniel Joly.
Nova Guides is Vail Colorado's premier outdoor recreation company for 30+ years with snowmobile rentals, jeep/ATV tours, fishing, archery, weddings & more.
As Seen on RHOD S3/E3: Kameron is not a delicate snowflake she is an avalanche of fun!
Luxury resort-ready fashion and accessories from ski to sea.
More than 28 years ago, in the Fall of 1990, in Snowmass, Colorado, Kemo Sabe opened its doors for the first time. They have never strayed from their founding principles: Over-the-top Customer Service combined with a passion for the American West. Over the years they have scoured what seems like every square inch of the American West searching for the perfect items which they can transform into a piece you will treasure for years….bags, belts, boots, buckles, leather goods. And of course… HATS!
As Seen on RHOD S3/E4: Brandi and D'Andra bond over tequila and shopping.
YEEHAW!
---