RHOC's Tamra Judge Accuses Vicki Gunvalson of Planting Fake Stories About Her in the Press!
Shady, shade, shade.
Genny Glassman June 5, 2018 3:59pm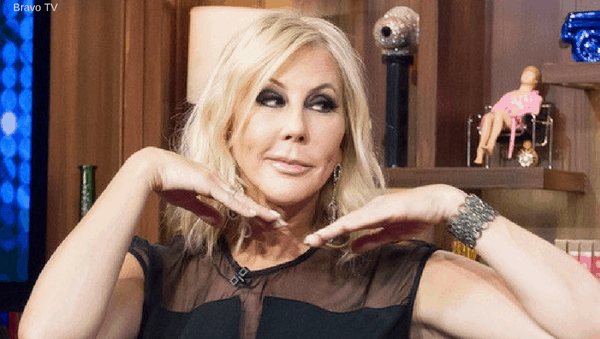 Well isn't this interesting? Real Housewives of Orange County's Tamra Judge has revealed that the tea that has been leaked about the OC cast was an inside job! The reality star revealed all on an episode of Jeff Lewis' Sirius XM Radio show, Jeff Lewis Live, saying that none other than Vicki Gunvalson is responsible for spreading the dirt on the ladies of the OC.
In her June 1st interview with the Flipping Out star,  Tamra reveals that Vicki had her friend Cory Larrabee plant multiple stories about the Bravo cast. Including a story about Jeff Lewis himself, which seemed to imply that Jeff had fat-shamed Vicki on his radio show.
"A big part of the issue in the past few years [with Vicki], it wasn't only that she was repeating a rumor, she was having Cory plant stories," Judge tells Lewis.
"Like right after her birthday party, he planted a story with all these bloggers. He actually did a post where he did a petition to get Eddie [Judge, Tamra's husband] out of the closet. An actual petition. And this is her good friend."
More from Taste of Reality: A Newly Pregnant Kenya Moore Shows Off Her Baby Bump & Ultrasound
Tamra says that Vicki's friendship with Cory can only have negative consequences. "He does a lot of stuff on [Vicki's] behalf. Like, he does a lot of stuff on Facebook Live and things like that," she says. Tamra says that Cory was the mastermind behind fat-shaming Shannon Beador and "was calling her Shamu."
Tamra says that Cory even plotted against Shannon with the release of her new QVC food plan. She told Lewis that Cory had been threatening to leave a negative review of Shannon's products on his Instagram, captioning his posts with sinister threats like, "Just wait till my review of you."
Luckily, Judge says, Shannon was able to avert disaster. "[Shannon] actually texts Vicki from the plane," she tells Lewis. "She's like listen, this is what Cory's doing, he better not be doing some bad nasty review of my QVC. This is my business. And all of a sudden guess what? A really nice review came out."
More from Taste of Reality: Is Kathryn Going to Fight For Full Custody of Her Kids With Thomas?
While Vicki has yet to respond to the allegations, Cory has released a statement on June 1 about Tamra's interview that seems to rebut all of the claims that Judge has made about him.
I'm setting the record straight!! @bravotv @Andy @vgunvalson @AllAboutDaTea @radar_online @usweekly @BravoPR @JLJeffLewis @SIRIUSXM #jefflewis #tamrajudge #lies #scumbags #rhoc #radioandy pic.twitter.com/dVoXO2Qym1

— Cory Larrabee (@corylarrabee) June 1, 2018
And then took back *some* of his claims earlier today…
Good morning world!! I hope that everyone has a great day! ❤️ #spreadinglove #nomorehate #rhoc #tamrajudge #bravo pic.twitter.com/y0tGJVxl93

— Cory Larrabee (@corylarrabee) June 5, 2018
So we guess the two have somewhat made up?
Speaking of her current relationship, Tamra tells Jeff Lewis that things are good between herself and Vicki, "Well, you know what? We're better now. Vicki and I are better and things are looking good,"
"I feel like right now she's in a much better place than she was a couple of years ago. She's got a nice guy that she's with. She's happy. I feel like him being such a positive guy is making her better."
TBH, we're not sure what to believe anymore, but if Tamra and Vicki have decided to have a cease-fire than we can totally get on board with that.
Who do you believe, Tamra or Cory? Let us know in the comments!
---