'RHOC' Vicki Gunvalson Dishes On Her High Sex Drive 'I'm Always Horny'
Vicki is getting *ahem* personal about her sex life.
Genny Glassman October 16, 2018 3:43pm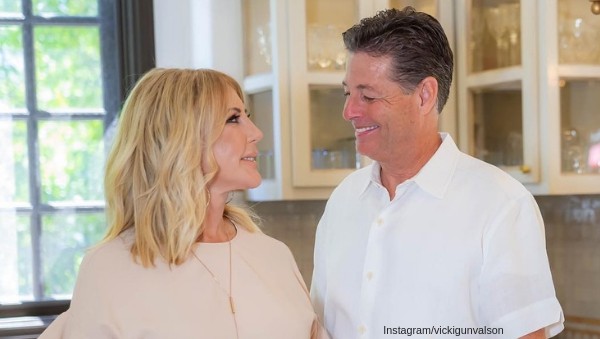 Vicki Gunvalson is opening up about a pretty surprising topic, her sex life! According to a recent episode of the Real Housewives of Orange County the reality star has decided to come clean about her high libido and sex life with current boyfriend Steve Lodge.
"I'm always horny. Always," Vicki admitted. "It's like [I have] a high libido all the time."
And when asked if boyfriend Steven Lodge is also feeling the heat in the boudoir, Vicki shares that "He can hang, but he doesn't need it four times a day like me."
"The wind hits her one way and she wants to," joked Kelly Dodd.
"Oh you got that right!" Vicki responded.
According to a report by Us Weekly, Vicki later opened up to a bartender while the ladies were on vacation in Martha Brae, Jamaica.
"I fell in love with a bad guy who was a really, really bad guy," she told him. "I didn't know he was a bad guy until the end, and then I got my heart broken."
Of course, Vicki is referring to her past relationship with Brooks Ayers who admitted in 2015 that he had lied about being diagnosed with cancer — even going as far as fabricating medical documents to try and pull the con off.
But it appears that Vicki's relationship with Brooks is truly a thing of the past. "I met this incredible man, and now he's really nice to me," Vicki said of her two-year relationship with Steve. "I don't want him to break my heart. I love him so. I just don't want anything to go wrong. I'm a little insecure about it. I'm doing my very best."
"I don't think do anything that would make [Steve] upset — except that I'm kind of a little possessive over him," she said. "But you never know what the other person is thinking."
Do you think Vicki overshared? Sound off in the comments!
---