RHOC Star Breaks Down Her Breakdown
Vicki Gunvalson gets emotional talking about filming the reunion.
Ashley Hoover Baker November 21, 2019 12:45pm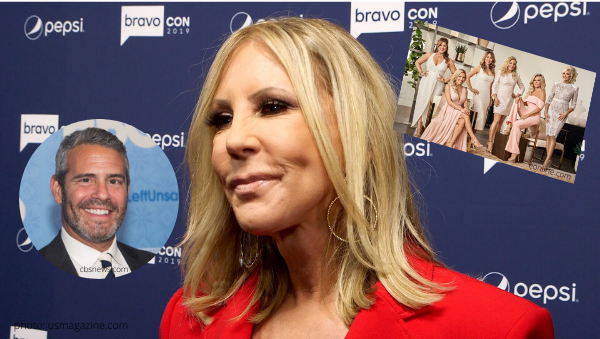 Real Housewives of Orange County star, Vicki Gunvalson, broke down her reunion breakdown. The OG of the OC got emotional talking about filming the reunion and her future, with or without Bravo. "I felt very disrespected and I didn't deserve that," admitted the Coto Insurance founder.
Even after the plethora of plastic surgery, Vicki was visually upset during her interview. "I was very emotional and very sad…I was told I was going to stay for the whole reunion. I felt disrespected and I didn't deserve it. I gave Bravo my life!"
When asked about her 'friend of' status, Vicki explained to OK! Magazine, "I was very, very sad, very emotional and very sad." The grandmother continued, "I was told I was going to stay the whole reunion and you'll see what happens. It was not good."
In the OK Magazine video above, Vicki couldn't resist throwing some shade at her Real Housewives cast mates. "I don't fake my reality. My reality is crazy. On other casts, women have created story lines. I don't create that. My life is my life, either you want it or you don't."
Vicki commented on the statement made by her on-again-off-again amiga, Tamra Judge. Tamrat Tamra implied that Vicki had an argument with Bravo's daddy, Andy Cohen. "I did not get into it with Andy… told him what I felt, as well as I told everyone involved what I felt," she explained. Now that that's cleared up, on to the juicy part…
As far as what went down at the reunion, "Well, I didn't know they were filming it. Actually, they escorted me off the couch a little early, and I was not told that. So, you'll see my reaction," the soon-to-be Steve Lodge told Entertainment Tonight. "I'm not no frickin' friend, let's just put it that way."
Vicki's rant continued, "First of all, when they told me I was going to have a reduced role, I said, 'I'm never a Friend. I started this franchise. I'm never going to be a Friend.' They said, 'We'll never use those words.' And they've been using those words," Gunvalson told ET. "I will never come back part-time. I'm either all in or all out. I'm not a part-time girl."
"I thought that I should have been notified ahead of time. They lied to me, basically. They lied to me." Bravo has yet to announce their plans for Vicki for the upcoming season.
The former full-time housewife also gave her take on co-star Kelly Dodd's engagement to Fox News reporter,  Rick Levanthal in the video. This 1/3 of the tres amigas called her frenemy's engagement "irresponsible" and slammed Jolie's mom for "rushing" into marriage with her boyfriend of three months.
Heck, the episodes with Kelly's last boyfriend are still airing. Let's watch the breakup with Dr. Brian play out on tv before we watch you marry your next victim boyfriend. I comment on Kelly's impromptu engagement on last week's episode of the On This Day Entertainment podcast. Click here to listen to a shady prediction of mine and to see if my opinion of the quicky-engagement is consistent with Vicki's.
Would you like to see Vicki return to RHOC as a full time orange holder? Sound off in the comments!
---