RHOC: Vicki Gunvalson Goes Hard On Braunwyn Windham-Burke
"Get off the show. Let's elevate."
Ashley Hoover Baker December 26, 2019 3:52pm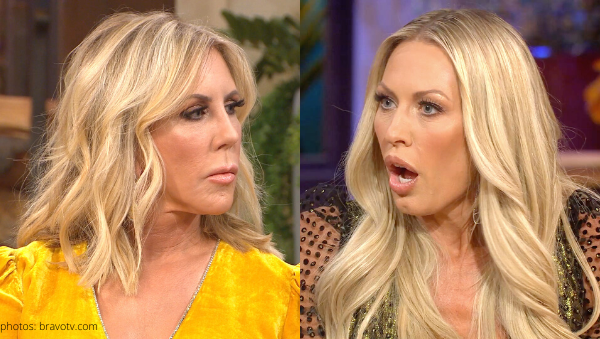 Vicki Gunvalson, the 'friend of' the Real Housewives of Orange County cast, went hard on  Braunwyn Windham-Burke during part 3 of the reunion.
Page Six got an exclusive preview of the third part of the reunion. According to their reports, Vicki was highly perturbed by Braunwyn's presence. First, the grandmother demanded that the mom of seven change her behavior on the show. It got so bad, the OG of the OC screamed at the freshman RHOC star, "Get off the show. Let's elevate."
1/3 of 'tres amigas' detailed, "I don't like the kissing. I don't like the nakedness. I'm sorry. I don't. I think it's disrespectful," regarding Braunwyn's make out sesh with Tamra Judge.
The newbie had no problem clapping back at the queen of Coto Insurance, "… Just because I choose to kiss women doesn't make me classless."
"Do it off camera," Vicki yelled. "Fifteen years, I started this show. We don't do that. Turn it down, Braunwyn. Turn it down!" (Did you read that in Vicki's voice?)
Braunwyn didn't turn it down. In fact, she came back with a heavy hitter, "This is who I am. I didn't come on the show to give you the best version of me. I came on the show to be me. And you don't get to decide it."
"You are brand-new on this show," The soon-to-be Mrs. Steve Lodge screamed. "We have kids watching this!" Tamrat Tamra, who I rarely find redeeming qualities in, clapped back, "Wait till [the] second season to make out with a girl!," according to the preview screened by Page Six. Well played, Tamra. Well played.
Vicki continued to act morally superior to Braunwyn, letting Braunwyn (and the world know) "I lost two clients last month because of these shenanigans. … They said it doesn't meet their moral compass."
(This is the best part…) Andy Cohen pointed out, "Well, we've seen you flash your  t*ts" and  "Vicki, you demonstrated how to give a bl*w j*b on the show."  Emily Simpson added, "Vicki, you laid on the bar in Key West and drank out of the tap." Vicki had an excuse for all of her behaviors, as always.
Braunwyn earned some major street cred with me when she told Page Six, "I left the reunion on good terms with all my castmates." I guess since Vicki is just a 'cop-y' of a housewife this year in her 'friend of' role, she doesn't quality as one of Braunwyn's 'cast mates.'
I dropped all my opinions of the RHOC cast on the most recent On This Day Entertainment podcast episode with Mani from the Mixing With Mani podcast. Click here to listen to our hot takes on season 14 of the original Real Housewives franchise!
Who would you like to see more of in the future, Vicki or Braunwyn? Drop names in the comments!
---