RHOC Recap: Orange County Hold 'Em
Season 13 - Episode 5
Emily Bertha August 14, 2018 8:22am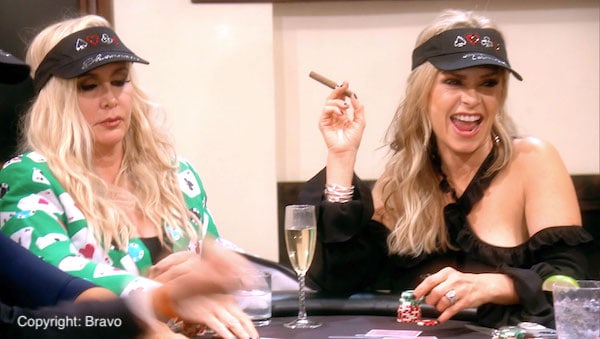 Last night's episode of RHOC went from an awkward office conversation to a petty fight at poker night.
There's about a five minute opening scene in an insurance office. I mean, this does not make for good television, even if it does feature Vicki Gunvalson. Vicki talks with her son, Michael, who is now the company's vice president.  I honestly don't know how anyone could work with their mother, especially if their mother is Vicki. Within a span of two minutes, she asks him to get a massage and invites herself to Europe on a trip with him and his girlfriend. I suppose it's a small price to pay when your mom helps finance your condo and signs your checks.
Kelly Dodd meets with Shannon Beador, two single girls on the prowl. I would say I want them as my wing women, but I have a feeling Kelly would snatch up all the hot dudes for herself. Shannon says she still doesn't feel comfortable dating because she isn't confident in her own body, largely because of David's past comments. Both of the women are still struggling with being alone, and I just want to cry with them and hug them while listening to Lady Gaga's "Grigio Girls."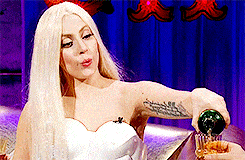 Gina Kirschenheiter meets up with a friend who I'm sure has a lovely name but will forever be known in my head as Lippy Labia Lady, or Triple L if you will. For some reason, Gina feels the need to comment on her friend's vagina in detail to show that they have a deep connection. Something tells me she'd get along quite well with Candiace Dillard… Gina discusses how it's not abnormal to be opinionated where she is from and talks about OC women not being authentic. Okay, but like, did she ever actually expect to move to California, specifically Orange County, and find genuine, down to earth people?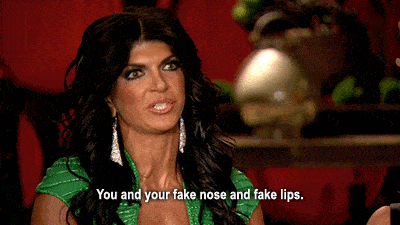 Meanwhile, Tamra Judge joins Shannon as she shops for an exercise machine since Shannon clearly has no idea what the hell she is looking for. Tamra isn't sure why Shannon is buying equipment when she can use Cut Fitness's gym for free, and quite frankly, I don't either. But hey, you take that divorce money and spend it girl.
Emily Simpson plans a poker party at her house for all of the ladies. I've been to a poker party exactly one time in fourth grade, and we played with cookies instead of poker chips. Most of the women know as much about poker as I did when I was 9, but they are all game regardless (I'll write a post without a bad pun as soon as Ashley Darby goes one episode without a Corona in hand). Shannon does the damn thing and rocks a power poker suit and sunglasses to the party.
The whole evening is a weird mix of "classy dinner party" and "night with the boys." Vicki unsurprisingly arrives late, and the conversation of Vicki setting Kelly's ex up with her friend comes up again. They are really dragging this whole thing out; I find it hard to believe that this is really the only thing Vicki did wrong while filming. Kelly says that she still loves Michael, and her new pal Shannon stands up for her as she begins to cry.  Vicki tells Kelly that she never wants to hurt her feelings…right after she calls her crazy. Emily's mother in law, Pary, is a better friend to Kelly than Vicki is, and they only just met.
The ladies finally get to the whole poker playing part after dinner. Gina gets drunk and talks about how much botox the women have. Gina yells excitedly a bit, which annoys Vicki. Vicki actually says, "I don't know why she has to yell…" Vicki yells more than half the women combined, so that's certainly the Jax Taylor calling the James Kennedy a bad boyfriend.
Vicki and Kelly have another talk outside, and Vicki promises to be a better friend and call Kelly more. Kelly drops a bomb that shockingly hasn't destroyed her entire friendship with Vicki forever: Vicki invited Michael to Thanksgiving that year but not Kelly. WHAT THE HELL VICKI?!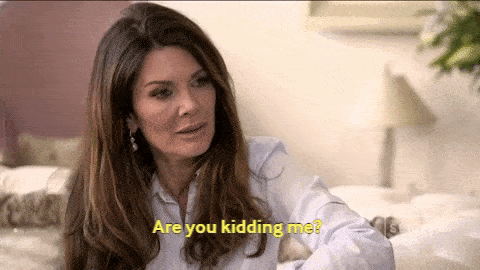 Thanksgiving dinner is a whole new level. If I were Kelly, it would take about 1000 apology casseroles and homemade pumpkin pie for life for me to forgive Vicki.
Later, Tamra takes Eddie for another heart procedure that doesn't work. They're both clearly frustrated with the situation, and it seems to be putting a strain on their relationship. The doctor wants to put Eddie on a new pill that can potentially send him into cardiac arrest.
Meanwhile, Emily and her husband, S**t Stain Shane, discuss far less serious issues, namely his issue with Gina having a good time the night before. He complains about old women yelling and says that Gina "appeared drunken" and was too loud. Um, 1. it was only 10pm and he hadn't gone to bed yet. And 2., maybe she was a little drunk and loud, but so what?! He should've expected that anyways since he knew his wife was having people over and serving alcohol.  Gina apologized to Emily (even though she really had nothing to apologize for), and Emily's husband is still annoyed with her. I can't stand this preachy Mormon mole boy. S*** Stain Shane can go drown in a toilet; it's only episode five and I'm already over him.
Did you think Shannon rocked the poker suit tonight, or was it a major fashion faux pas? Comment below!
---