RHOC Recap: One Apology, Another Betrayal
Season 13 Episode 2
Emily Bertha July 24, 2018 9:30pm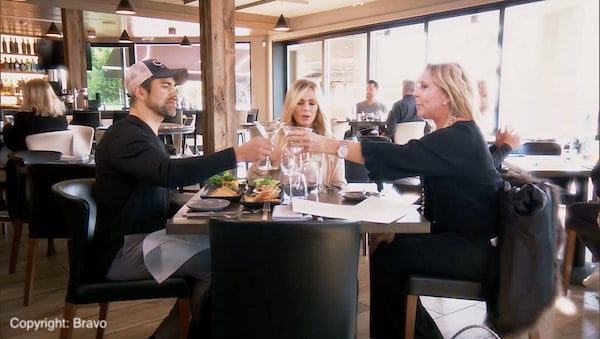 The latest episode of RHOC has a new Gina, new friendships, and the mending of old wounds.
Tamra Judge and Eddie are still struggling with his heart condition. As a peace offering, Vicki Gunvalson sends over delivery food (not a homemade casserole) which Eddie refuses to eat because of the sender. Someone could steal my identity and send over free apology food, and as long as it wasn't positioned, I'd eat it. I do admire Eddie's strong resentment because I don't have the energy or patience to keep grudges alive for more than two days.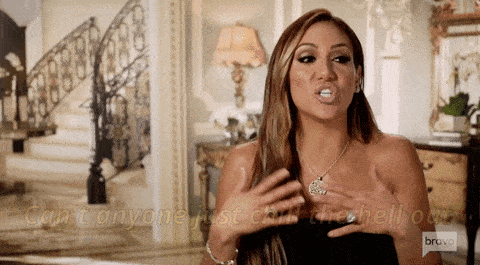 In other relationship news, we learn that David is paying for Shannon Beador and their girls to Mexico. Shannon clearly isn't like Eddie in that she knows when to accept a good free thing when someone offers it. She even invites her friends to enjoy her scumbag ex's guilt gift (or whatever it is) and invites Tamra and Vicki down to Mexico the next weekend.
While Shannon is in Mexico, Tamra, Kelly Dodd, and Emily Simpson get their nails done. Emily once again seems to brag about her Mormon husband's proposal over Google chat. She reveals that they didn't even have sex before they got married… Taste the milk before before you buy the cow, honey. Emily claims that Mormon men are good in the sack because they can't watch porn. I'd think it would be the opposite, but sure, let's go with that. Emily also opens up about her pregnancy struggles and tells how her sister became her surrogate after Emily tragically had six miscarriages.
Tamra and Emily seem to be getting along well, which is honestly disappointing because I was hoping for more drama there. Emily is one of the ladies Tamra and Eddie invite to work out at their gym along with some of the other women.  Kelly is there rocking champagne yoga pants which have to be the most motivating pants to work out in. Doin' it all for the bubbly.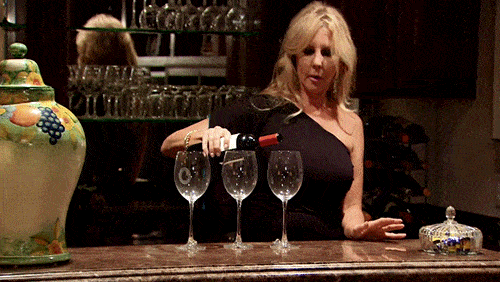 We meet the other new addition to the RHOC this season at the gym as well, Gina Kirschenheiter. Gina has three kids and a part time husband who lives in LA in his own apartment during the week. Um, what?! Who leaves their wife home with three kids under the age of 6 to be a single parent? Luckily, Gina says she doesn't mind and is happy in the OC. Having three kids is stressful enough, but not having a coparent and not being able to have sex for the majority of the week? That doesn't sound ideal to me. Gina, however, is handling her situation quite well. She says, "we do a lot of playdates, and I drink a lot of wine." And with that one honest line, I already like her. Gina admits to holding her first kid for a year because she "didn't even know you could put babies down." She also tends to lose her other kid quite often; I love this mom.
The ladies face a grueling workout at the gym, but Vicki is up to the most daunting task of all: apologizing to Eddie after repeating rumors and calling him gay last season. She decides the perfect time to apologize to is to show up spur of the moment during his lunch date with Tamra. The fact that Vicki thinks Eddie will accept her back with open arms is more ridiculous than the fur coat she shows up wearing in 80 degree heat. Instead of a peace offering, she offers Eddie literal bible passages she has learned from. She says she has learned her lesson to not meddle in her friends' lives. It's no Oklahoma apology, but it will do. In the end, Eddie agrees to accept her apology, probably just to shut her up.
Meanwhile, Emily celebrates her ninth wedding anniversary with her hubby. I disliked him within seconds; anyone who makes their spouse cry on their anniversary is not okay by me. Apparently, he gets to make the executive decision that they're not having another kid, even though Emily desperately wants her daughter to have a sister. Although, we do learn that he comes from money, so now their relationship may be starting to make a bit more sense…
After a successful apology to Eddie, Vicki takes not wanting to be involved in her friends' business to an extreme. She ends up causing a blowup with Kelly. She failed to tell Kelly that Kelly's ex-husband has a new girlfriend whom he met at Vicki's party. Vicki digs herself into an even deeper hole by saying that she DOUBLE DATED with them. Who goes on a double date with their friend's ex-husband and his new girlfriend?! Kelly ends up kicking Vicki out, saying she was never her friend.
Do you think Vicki will ever learn how to apologize and actually be a good friend this season? Let us know!
---