RHOC Recap: 8 1/2 Minutes to Success
Season 13 - Episode 11
Emily Bertha October 2, 2018 9:23am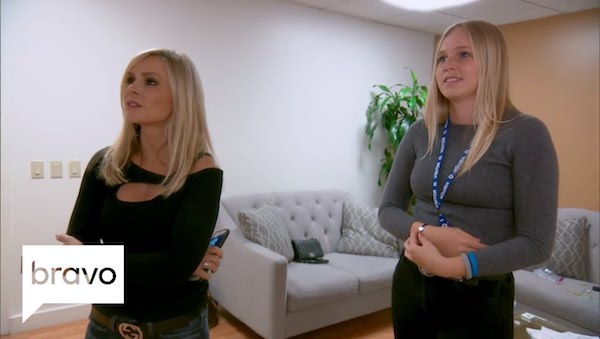 Remember that song "4 Minutes" by Madonna and JT where they only have four minutes to save the world? Well, on this week's episode of RHOC, Shannon Beador has only had 8.5 minutes to convince the QVC world how great her frozen food line is. Much like the song, it's objectively pretty bad, yet you can't help but get into it.
Shannon decides to bring her daughter, Sophie, along to Philadelphia for support and grills (*ahem* microwaves) her other daughters on when her time slot is since they initially forgot. Shannon may be trying to teach her daughters independence and hard work, but it doesn't seem like they're picking up what she's putting down yet.
Meanwhile, Vicki Gunvalson takes a ride on Steve's motorcycle and looks more out of place on it than an overweight man from West Virginia at a vegan cafe in Brooklyn. Vicki discusses Gina Kirschenheiter's marriage situation with him. She wants to tell Gina to make her marriage work because being divorced is a "forever decision." Um, marriage was also allegedly a "forever decision" and look how that turned out. Not exactly sound logic, Vic. Vicki is clearly putting her past divorce onto Gina's present, and it isn't cool.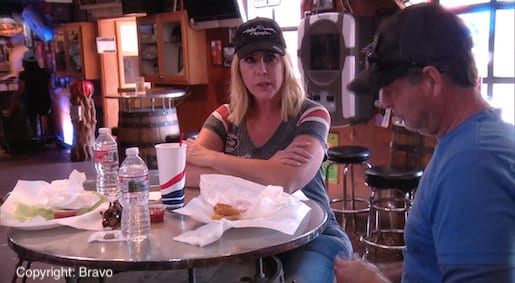 Gina goes out with her parents, and they discuss the divorce as well. Apparently (lol), they were shocked to hear about the divorce too but support her decision. Gina tells them how all of the women besides Tamra Judge and Emily Simpson gave their unwanted advice and personal train wrecks when she only wanted a hug and support. That's basically the adult equivalent of getting raisins and other fruit for Halloween when you only wanted chocolate and candy.
Emily also has a serious conversation about family with her mother-in-law. She reveals that she wants another kid despite having almost died from miscarriages in the past. Her husband, however, doesn't want another kid. Emily says that when someone tells her "no", it makes her want it even more. Um, maybe not the best philosophy when discussing a new human life? We're talking about your husband not wanting you to have another kid, not some bully telling you you don't have what it takes to make varsity basketball.
Shannon's big 8 and 1/2 minutes quickly approaches, and Tamra meets up with Shannon in Philly as more moral support.  Tamra asks if her friend has written any notes for the show yet, and Shannon responds that she "doesn't like to be scripted." Thanks for the clarification Shannon, because I definitely couldn't tell that from every episode you've ever been in. Shannon is definitely feeling her own independence. While I'm happy she's making her own money as well, I'm sure the David dollars don't hurt either.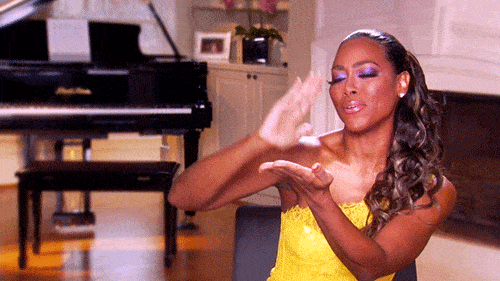 Back in the OC, Vicki meets up with Gina because she felt bad Gina left her home crying. Vicki claims she wants to protect her, but really she seems to just want to unload years of resentment about giving up on her own marriage too easily. Vicki initially forgoes an actual apology for telling Gina she had no moral compass and instead tells her she needs to be less selfish by making her marriage work. Vicki, just stop. You admit you know nothing about her relationship, so don't speak on it! It's not selfish to get out of an unfulfilling relationship. That's self care and shows you also care enough about your husband and kids to not want to put them in unhealthy situations.
Gina is one of the youngest and smartest housewives this season. She ends up providing support for Vicki who eventually apologizes and says she wants to offer support too. Normally, supportive friends don't then go on to talk about how their friend is less than because they don't have a job. Vicki drops a bunch of truly fascinating insurance lingo before leaving Gina to "meet a client" which I'm sure is code for "go threaten to cut off Ryan's inheritance unless he gives her 10 grandchildren immediately."
Kelly Dodd throws a viewing party for Shannon's QVC segment. Somehow, Kelly feels the need to reveal essentially out of nowhere that she saw her parents having sex once…Thanks for that tidbit Kel! That works up my appetite so much that I'm going to go buy out the rest of Shannon's frozen meals!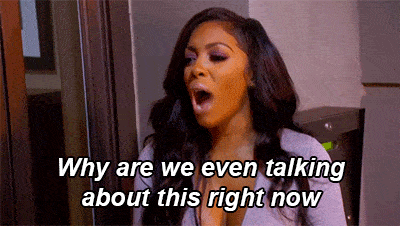 Shannon finally goes live on QVC and behaves almost exactly as I probably would on live television. She opens by discussing her recent emotional rollercoaster before talking about the low calories in her food, a truly seamless transition. Shannon then drops her notecard and bends over to pick it up in the middle of the show. For the grand finale, she grabs her belly fat and purposely shows it on live television. I mean, I get it: I want to make fun of myself before anyone else can too. But you're on live tv, trying to sell people meals that will help them lose weight. Maybe that wasn't the best approach for QVC, but it certainly worked for Bravo entertainment purposes. On the bright side, it is only QVC. Besides her friends and family, the only other people who watched were my grandma and anyone who lost their remote in their couch.
Of course, Vicki and Kelly mess around and get hung up on when they try to order Shannon's food. They all congratulate Shannon and plan to go on a girls' trip in honor of her new success. We all know how well girls' trips always go; I can't wait for a drama free episode next week!
How do you think Shannon's segment went? What do you think the odds are that Shannon's other daughters actually watched her show? Comment below!
---