RHOC Mama Drama Over Public School
Gina Kirschenheiter made Braunwyn Windham-Burke cry, but do fans think she won the argument?
Ashley Hoover Baker October 30, 2019 8:49am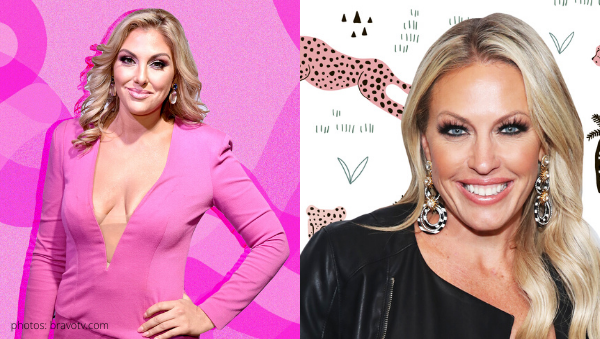 There's mama drama within the cast of the Real Housewives of Orange County over public schooling. Gina Kirschenheiter made Braunwyn Windham-Burke cry, but do fans think she won the argument? Here's the verdict so far….
Braunwyn took to Instagram to provide viewers a synopsis of this week's RHOC episode. Her caption reiterates how badly Vicki Gunvalson sucks, how smart Kelly Dodd was to stay home from the event, and how "Gina gets pissed at my pretentious life threatening allergies."
During Vicki's high tea birthday party, Gina opened up to her co-stars about her 5-year-old daughter Sienna's development issues. Braunwyn responded by asking her, "You do public school, right?" An appalled Gina reacted by saying, "She's not even in school yet" to which Braunwyn responded, "Public school is great. They have your back." Gina didn't take that well and went off on the newest Real Housewife, making Braunwyn cry and rush to the bathroom.
Clearly there is some bad blood between Braunwyn and Gina, so let's see who the Bravoholics are siding with….
One of Braunwyn's followers on the 'gram posted, "Thank you for what you said about public schools. I work at one so I know exactly what you meant. The special ed support staff at my school are some of the kindest, hardest working people I have ever met."
Other fans took the opportunity to help the newest housewife clarify her case against the recently divorced mom of three, "I think what you were trying to say is that students have better access to special ed services in public schools."
Don't even like Braunwyn but Gina is REACHING about the public school comment. Literally don't think she meant anything by it and Gina took it and RAN to try to stay relevant #RHOC pic.twitter.com/S7Q21p508e

— carriebradwh0re (@carriebradwh0re) October 30, 2019
Another follower supported Braunwyn after the feud with Gina. "love you braunwyn!! dont let gina bully you like that. we all LOVE you. you are such a wonderful addition to the RHOC. ps i LOVE your yellow heals at the tea party. your style is FIRE!! 🔥🔥🔥"
According to The Blast, "Gina later explained that Braunwyn's comment made her feel poor."
@braunwyn I saw nothing wrong with your saying the public school comment/question to Gina. It seems to me she's looking for any reason, no matter how minute, to jump on you. Keep being you! #rhoc

— Jamie Vanek (@jamiev1962) October 30, 2019
Gina posted a photo of herself in a mad hatter costume on social media to try to deflect from the dramatic episode. This Gina follower made me spit out my coffee when she asked, "Are you dressed as Dr Deb? Lol"
Fans didn't take as kindly to Gina. "Dude you need to SHUT UP. Can't stand ANYTHing coming out of your mouth. You are so judgy and also a bad person and terrible friend to Emily. Idk where you get off telling everyone how to live their lives."
Braunwyn literally asked if Gina's kids go to public school. That's all. You are REACHING for a reason to hate her, Gina. #RHOC

— Lauren Keil (@ljkeil2) October 30, 2019
There were a few fans who stuck up for Gina, "You look beautiful! So happy you called out that creep Boringwyn. She's a narcissistic and all her scenes are cringeworthy!"
If you can't get enough of all things entertainment and reality tv, check out the On This Day Entertainment podcast. Click here to listen to the most recent episode with Bravo super fan and podcast extraordinaire, Danny Pellegrino.
Whose side are you on? Leave Team Gina or Team Braunwyn in the comments!
---