RHOC Alum Meghan King Edmonds Reacts To 'Eat A Burger' Comments
MKE took to her blog to announce, "I am not ok," after the last 5 months.
Ashley Hoover Baker December 17, 2019 9:14am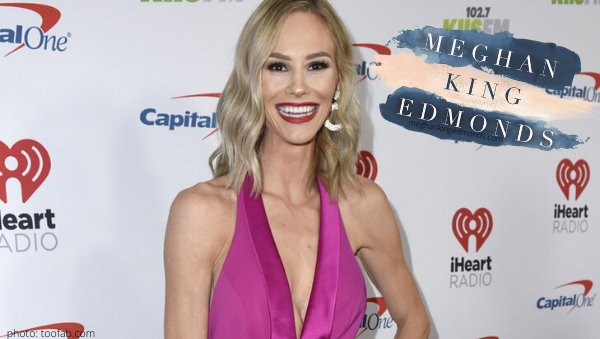 Real Housewives of Orange County alum, Meghan King Edmonds, reacts to fans and followers telling her to 'eat a burger' on her blog. She explained, "I am not ok" after the hell on earth she's experienced the last several months thanks to her husband/baby daddy, former baseball player, Jim Edmonds.
In case you missed MKE's world crumble around her, her is an excerpt from her blog. "Within the last 5 months I have found out my son has a lifelong brain injury, my husband had a sexting relationship with another woman, my husband also betrayed me with his inappropriate relationship with a nanny, my husband filed for divorce via the tabloids, the police questioned my fitness as a mother, I took a new job as a podcaster, and I moved into a new home in California so I can devote family time to all of my kids during Hart's therapy. Let me reiterate: all of this has happened within the last 150 days."
Damn. Girl is going through it. She detailed that she doesn't want people to worry about her. "But y'all, I'M SKINNY. I've always been thin. For the record, I am naturally thin and I've always had a healthy relationship with food."
She is aware that her natural thin figure is alarming. "But right now, I am too skinny. I don't like it. I won't weigh myself because I'm scared to see what the scale says. When my clothes don't fit I pretend like they do anyway.  But I'm not hungry. I know I should eat but I'm surviving on adrenaline but decaying on stress (did I mention what has happened in the last 150 days? And let's just really lay it on by being in the thick of the holidays)."
The former RHOC star explained, "When I have a free minute I am either trying to work, responding to something that every person in the world deals with (like dusting windowsills or cleaning dishes or calling my mom back or going to Target), or thinking about how I need to eat but I'm not hungry. I'm not hungry."
Meghan assured her fans and followers, "I eat breakfast every day. That's easy. Lunch is hard because it's an annoyance: a stop in the middle of the day when I'm on a roll. So when I eat lunch I really go for it – all the carbs and all the protein. I don't snack – never have. Dinner can go either way. The kids are asleep so I have time to eat and I do but usually I'm not very hungry."
"But I digress. I agree, I'm too thin. Acknowledgement is powerful and allows me to psychologically take back control. However, you hurt me when you mention it. I'm working on it. Please, sit back and watch me thrive despite my setbacks. The best is yet to come. (Including love handles…those are coming soon. Okay I take that back…maybe not love handles – let's not get crazy – but some meat on the old bones…)."
Is anyone else's heart broken for MKE? When it rains, it pours…
If you missed the story of Jim calling the cops on Meghan, I dished the dirt on the On This Day Entertainment podcast episode called 'License To Spill…The Tea.' I think it's important to add that of all the horrendous things Jim put Meghan through, this made me the most furious. Click here to listen for yourself.
Do you think Jim will eventually try to crawl back to Meghan? Sound off in the comments!
---