RHOC Make Out Aftermath
Fans are turned off by Tamra Judge and Braunwyn Windham-Burke's restaurant behavior.
Ashley Hoover Baker October 16, 2019 11:04am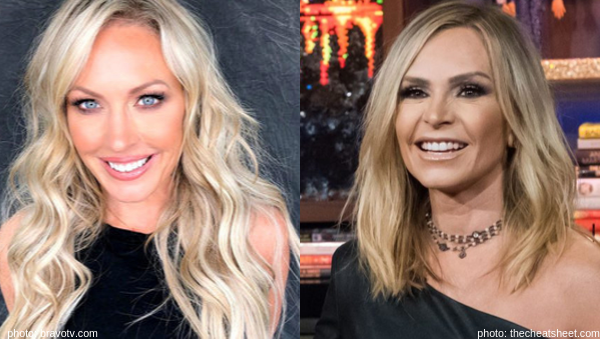 This might be the most awkward make out sesh since Madonna passed the tongue torch to Britney Spears at the 2003 Video Music Awards….
The aftermath of the Real Housewives of Orange County stars' make out session is here. That didn't take long! Fans are turned off, to say the least, by Tamra Judge and Braunwyn Windham-Burke's restaurant behavior on the most recent episode of RHOC. The internet is abuzz with the sound of Bravoholics cringing after the desperate display.
It all went down at Shannon Beador's Hot Mess Express birthday party…. (Aside, check out Vicki Gunvalson's face! Did The OG of the OC get hit by the fun bus?)
Here are some highlights from Twitter and Instagram of RHOC fans who are not impressed with Grandma Tamra and the newbie's behavior.
A fan posted, "Hot mess? You can say that again," on the 'gram.
Now someone needs to tell Tamra and Brauwyn it's past time to grow up, or at least use some discretion.

— MsMarilyn64 (@Michele5364) October 16, 2019
"I would hide my face too after the way you and @braunwynwindhamburke acted. Do your daughters watch the show? Sad!"
"Those poor peeps behind you have no clue what they signed up for!"
TBJ, is an Attention Whore! From what has been revealed so far, Brauwyn had a very troubled childhood. Shame on Tamra for exploiting that possible troubled upbringing. Tamra needs to act her age! Embarrassing behavior!

— JenH20s (@TheJenH2TOS2019) October 16, 2019
"Tamra and brauwyn making out for attention LOL," posted a fan.
Another tweet said, "As the season has progressed i find it difficult to watch. Trashy, bitchy women who need to take a good look at themselves. Tamra, Brauwyn and Gina i can't bear to watch. Would they be happy for their children to see them behave that way." Ouch!
As per The Blast, Tamra appeared on The Daily Dish where she discussed the kiss with her co-star. "We had a good vibe. Would you rather have kissing or fighting? Just trying to make everybody happy," Tamra joked. Tamra claims she doesn't remember if Braunwyn is a good kisser or not. The grandmother added, "she said I was a good kisser, that's all I care about." That's so Tamra.
Did you find Tamra and Braunwyn's kiss heard 'round the world entertaining or just plain sad? Drop your opinion in the comments!
---