RHOC Leak: Vicki Gunvalson Demoted!
This piping hot tea was spilled on Jeff Lewis' Sirius XM show.
Ashley Hoover Baker February 8, 2019 4:03pm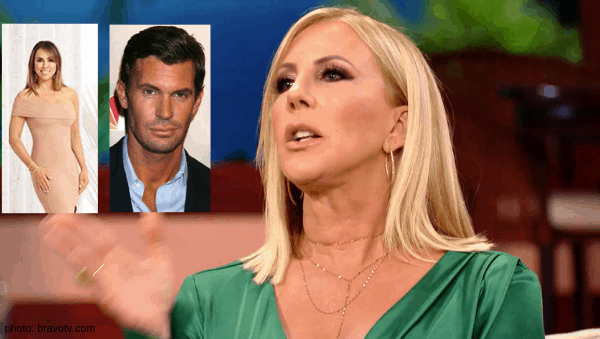 OMG. I'm shook AF. ALLEGEDLY, Vicki Gunvalson has been demoted to 'friend of' the Real Housewives of Orange County.
Yes. You read that correctly. It's rumored the OG of the OC's orange has been ALLEGEDLY taken away and she will return to the franchise as a friend of the housewives.
Flipping Out star, Jeff Lewis, opened his Sirius XM show with 'rumblings' in regards to the grandmother's role being cut back on the show she started. If you need more proof…
Jeff to his Sirius XM listeners: "Okay, so we're going to just jump right into it. I have some breaking Bravo news, I have a few Housewives friends, and there were some rumors [that] were swirling that Vicki Gunvalson was going to be demoted as a friend on the Real Housewives of Orange County. So, I have Kelly Dodd on the line. I would like to ask her if she knows anything."
Kelly responded to Jeff's accusation with, "Well, I cannot confirm nor deny. However, that's the word on the street" said the un-quiet woman. I'm at a loss of breath.
Jeff confirmed, "So, she's been demoted. Vicki Gunvalson has been demoted." Kelly, who is an on-again off-again amiga of Vicki's calls it like she sees it: "I think the way she's behaved and the things she has done, she doesn't deserve our respect. And I'm glad she was demoted."
Kelly didn't stop there. Jolie's mom continued, "Allegedly, I cannot confirm nor deny. But if I were NBC Universal or the higher-ups at Bravo or senior staff, I would cut the bottom line. I wouldn't be paying that b!tch that much money. When it comes down to it, she's not worth that much."
Click here if you want to hear the interview for yourself!
How would you feel if Vicki was only a 'friend of' the current cast? Let me know your opinion in the comment section!
---