Former 'RHOC' Star Lauri Peterson Speaks Out About Her Son's Murder Case
The former RHOC star is speaking out about her son's history with the law.
Genny Glassman October 20, 2018 2:09pm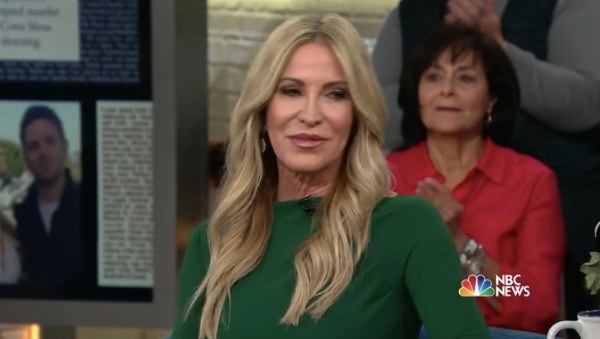 Former Real Housewives of Orange County star Lauri Peterson is speaking out about her son Joshua Waring, in light of the murder charges leveled against him. Joshua is currently in jail awaiting trail for three counts of murder in connection to a shooting in Costa Masa, California. The reality son has maintained his innocence throughout the legal proceedings and today Lauri and Josh's lawyer Joel Garson appeared on Megyn Kelly TODAY to defend her son's life.
Lauri spoke openly about her son's history of drug use. She admitted that her son had started to experiment with marijuana after Lauri and her ex-husband Philip Waring divorced. The drug use soon escalated to a heroin addiction and Laurie explained that Josh quickly found trouble with the law.
In 2016, Josh was arrested for three counts of murder, after he allegedly was involved in an altercation at a drug crash pad and later returned to the scene and opened fire on the residents of the home. His bail was set at $1 million, which Lauri said she refused to help him pay in effort to help him get clean and sober.
Though Josh has been in prison for two-and-a-half years, Lauri said that he's only officially been clean for a year because he was unfortunately able to find access to drugs while in jail.
In the meantime, Josh's lawyer is maintaining his client's innocence, alleging that there was another shooter. "I've been doing this for 29 years and I have never seen this kind of police incompetence, to put it nicely," Garson added. "But to be more cynical, intentional deviation from the truth."
And Lauri added that she was hoping that this case will eventually be dismissed.
"I hope that happens, so we can be spared all the stress of a jury trial," she said. "If that doesn't happen, I hope that Josh is exonerated."
"He has been falsely accused and I think that the evidence will show that. And then I just hope that he leaves Orange County because he's got a target on his back and he needs to get out of Orange County. [He needs to] stay clean because right now, for the first time in 15 years, I have my son back."
Do you think Lauri was right for opening up at her son's case? Sound off in the comments!
---