RHOBH Recap - The Big Apple Bites
Season 8 - Episode 10
Chris Turk February 21, 2018 10:30am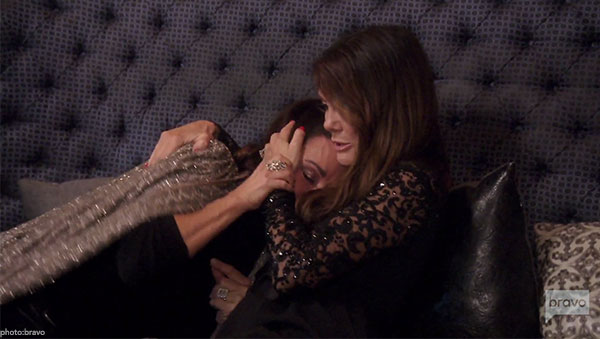 Real Housewives of Beverly Hills Season 8 Episode 9
It is New York City Fashion Week and the Real Housewives of Beverly Hills are here to #Slay! Dorit Kemsley, in her Kanye West looking garb(age), and Lisa Vanderpump take a stroll through Union Square. The tea from last nights table comes out as Kyle Richards, Teddi Mellencamp and Camille Grammar (the wannabe come back queen of RHOBH) bring up the dinner table discussion from the night before. Teddi immediately says Dorito couldn't keep her mouth shut about how LVP is jealous of the Kyle and her friendship. Dorito is kind of skirting over the truth because she is a intimidated by Queen LVP and doesn't fully put everything out on the table.
Erika Jayne, going for the "baby doll hooker" look, meets with her team for her brand new book, "Pretty Mess". Mom-ager Kris Jenner  Lisa Rinna talks about how all the items they bought for her daughters apartment were robbed. Teddi has another basic boring scene. Kyle tells LVP that Dorito called her jealous, insecure and needy. OOOO bad move girl! Kyle is very clearly upset that someone is getting more attention from LVP than her. LVP tells Kyle she has to say something else ASAP… as in… TONIGHT (it's a total set up for drama, but we need it, we love it).
First night of Fashion Week and we head to Dorito's Bella Magazine Party at The Attic (the same place they did last season's RHONY premiere party). Can we talk about Dorito's interview look?! It looks like a wig straight out of Party City. Kyle finally sits and has a conversation with Erika about the sitch from Teddi's house and Erika says that girllll she is over it, she loves her, move on! LVP and Teddi sit and discuss what Dorito said at dinner and Teddi says that Dorito ISN'T malicious but she IS there to "tell a story."
Finally all the girls are together at The Andaz 5th Avenue… Erika calls out Teddi for showing her "puss puss" (in some awful mini leather skirt).  The girls are turnt AF and you know heads are about to roll when Kyle says she "has to get something off her chest". Kyle immediately calls Dorito out for turning her in for what she said. Erika tries to be the peace keeper and says LET'S MOVE ON. Kyle, as usual, can't let it go and calls out Dorito and LVP. Kyle speaks for herself and LVP and is clearly showing her jealousy once again… THIS IS NOT THE MOMENT GIRL.  Teddi tries to step in (in her boring monotone way) so Dorit fires back with "Erm not wern of yer accounterbilityyyyyyy errrrrr….". The ladies look confused, especially Rinna, who for once doesn't know what is going on. Kyle is losing it and will not stop, the tequila is clearly speaking for her tonight. The girls decide they're done listening to the fight so they get up to leave.
LVP tells Kyle and Dorito she doesn't feel good that ANYONE is talking about her and then offers Dorito a ride home because she doesn't want her going home alone. LVP says she believes in her friendship with Dorito over anything that was said. Cue the Kyle tears…they step into the van where Kyle tells LVP to leave her alone and that she's upset about LVP wanting to go home with Dorito (looking a little like her sister at this moment). The alcohol has very clearly taken over and it looks like a bunch of drunk college girls crying over who's better friends. We get back to the hotel and Kyle is still in #tearcity so LVP tells her she loves her and tries to move on but Kyle won't let it go. LVP is #overit so Teddi tries to chase her down and gives her a "BYE FELICIA!" elevator door to the face.

Next time we take on NYFW (Spoiler: RHONY's Bethenny Frankel VS. LVP) . Tell us below, Who rocked the best Night 1 Fashion Week Look?! Was it Erika's "baby doll hooker" look?
---