Real Housewives of Beverly Hills Recap: The Runaway Runway
Season 8 - Episode 18
Genny Glassman April 19, 2018 12:44pm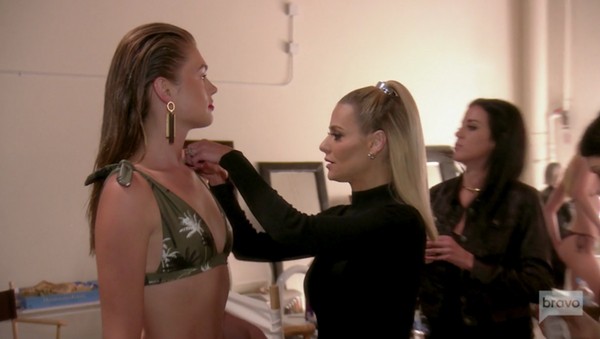 Well, well, well, here we are at the season finale. It feels like just yesterday that Camille Grammar was giving Dorit Kemsley a ball gag, but at last we have finally made it to the Beverly Beach fashion show where season 8 of The Real Housewives of Beverly Hills must come to a close. When we last left the ladies they had returned home from Germany, with some of their biggest fights of the season forgiven, but as we'll see tonight, not forgotten.
The episode starts with Dorit checking out her space before the show begins and against all odds, event planner Corey got it all right!
Meanwhile in Lisa Vanderpump's car she and Ken Todd are making their way over to the fashion show. Lisa always makes this weird comments about about Ken having sex with other women, but  it's very obvious that Ken would rather comb Giggy's back hair than give it a go with a 20-something model. Anyway….
Back at Trunk Club, Dorit and PK are getting emotional over Dorit's return to the fashion world.   Dorit explains that PK had asked her to walk away from her career as a designer to start a family and that it was very hard for her because that was a major part of her identity.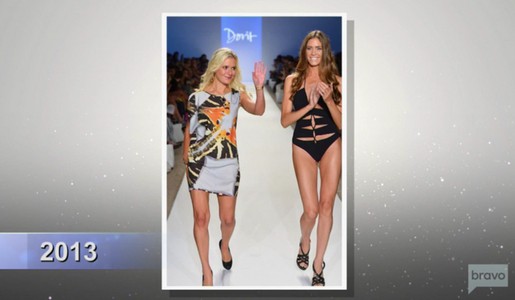 Meanwhile Erika Girardi has returned from her show in New York. She and Lisa Rinna are driving over together and they both remark that it's incredible that Dorit pulled it off in light of the *ahem* stress she faced in Berlin.
Finally, everyone arrives at the fashion show quaffed and ready to watch some bikini models and Camille starts shoving her new engagement ring in all of their faces. The ring is HUGE and here's hoping that David is better than her last husband. Kyle starts crying when she finds out the news and we are shown a flash back to the awkward finale moments of Camille and Kelsey Grammer's marriage before it ended.
The ladies chit-chat before the show starts and Kyle decides to circle back to her involvement with #PantyGate. Erika says that wasn't sure exactly what Dorit was talking about and quickly tries to brush the whole conversation under the rug, saying that it's "all water under the bridge now." Just you wait, Erika!
Dorit's curtain drops to reveal her catwalk (a little bit of a let down if you ask me) and the ladies feel like she killed it. I never really know how to judge a reality star's fashion line because there is a chance that someone else designed the clothes and the celebrity sticks their name on it, but for argument's sake lets just say this was 100% Dorit. The suits were fine, I've definitely seen those cuts and prints before, but I also had to remind myself that PK had convinced Dorit to make the line mass market so she perhaps didn't get as extravagant as she could have. Although judging from how Dorit dresses herself…..
Meanwhile Rinna, who is a little confused with her metaphor, remarks to the camera that it is miraculous that she has come "360" with Dorit and PK. The ladies all congratulate Dorit on a job well done and Kyle asks LVP when the Beverly Hills Lifestyle Magazine with Dorit's pictures is being published. Of course LVP has to break it to Dorit that her pictures got cut, due to her "negativity," on the day of Dorit's fashion show. Lisa lies and says she just found out that the pictures got cut "yesterday" (ahem, a month ago) and she has to also break the news that the actual tea is that they cut out Dorit's head from the photos.
Kyle, trying to make a joke, asks Lisa why she hasn't been asked yet to be in Beverly Hills Lifestyle Magazine, but it is poorly timed. Dorit is still stung that LVP, whom she has been trying to win the affection of all season (!), cut her from the magazine, and she takes Kyle's joke as a shade.  Though perhaps I'm wrong and Dorit was picking up on something. She asks Kyle if there is anything that the two of them need to clear the air about and that is how we find ourselves circling back again to #PantyGate. Kyle says that she had nothing to do with #PantyGate and that despite her apology in Berlin she still isn't over the fact that Dorit was trying to throw her under the bus for something she didn't do.
Dorit says that she did not "insinuate" that Kyle had anything to do with #PantyGate (which, yes she did) and both Erika and Kyle correct her. Kyle tells Dorit that they cannot move forward until Dorit apologizes and takes responsibility for her actions. LVP lands herself in hot water when she makes a stray remark that "going back to the underwear thing is ridiculous" and Kyle takes her statement to mean that LVP is criticizing her. Oy.
Kyle turns to Erika, looking for her to clarify that Kyle had nothing to do with #PantyGate, but Erika does not take the hint. Kyle gets worked up and says that "everybody knows I had nothing to do with that," and decides that she needs to GTFO of there. Erika does back Kyle up, but in the heat of the moment Kyle can't hear anything but Dorit's accusations. Kyle slams the group and says she doesn't want to "kiss ass" and "tell lies" and leaves crying.
Our resident therapist, Lisa Rinna, tells the camera that she believes that Kyle is triggered because of the rocky relationship she has with her own sisters. And perhaps there is some truth to that. While we don't know much about Kathy, besides the fact that she gave the world this: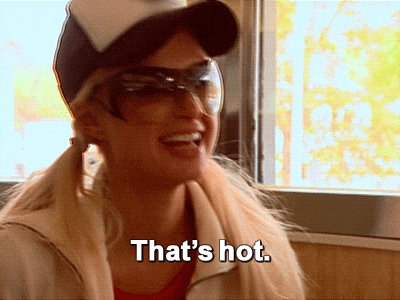 We do know that Kim's relationship with Kyle has been tumultuous at best. Rinna says that Kyle needs consistency with her friends and if she doesn't have it then it triggers her feelings she has with her family.
Teddi Mellencamp tells Erika that if she had only spoken up and defended Kyle to Dorit that this whole thing wouldn't have happened.
Unfortunately for Kyle, Dorit now has the license to say that Kyle purposely ruined her fashion show for her. Erika calls Kyle to apologize, but it's too late. The night has ended on a bad, bad, bad note.
The next day, Rinna and husband Harry Hamlin (drink!) invite Blow Out's Jonathan Antin over to cut Harry's hair for a movie that his is in. Lisa tells the both of them that she was very strategic this season and chose not to get involved with the drama.
Ladies and gentleman, Teddi has done it. She has finally gotten one of the housewives to become an accountability client! Teddi has somehow tricked Kyle into both exercising and talking about Dorit's fashion show. Kyle says that she still wants to invite the girls over to watch her new show, American Woman, and Teddi assures her that the group will all be there and that they will love it.
LVP and Ken have adopted a new dog to replace Pink Dog and Pikachu and they have named her, Binky Boo. Good Lord, what a name.
Finally, it is the night of the American Woman viewing party and Kyle has the opportunity to show off her new house. The outside looks beautiful, if not a little traditional for my taste, though it's hard to tell what anything looked like because Faye Resnick (drink!) had yet to properly decorate. Kyle makes a joke that she wants to pour champagne for everyone, but she doesn't have all of her champagne glasses out yet and she doesn't want to offend anyone who won't drink out of the wrong glass. Dorit takes the ribbing in good measure, but let's not kid ourselves, Dorit is going to let it blow sooner or later.
Kyle apologizes to Dorit, Erika apologizes to Kyle, and Dorit just stood there looking salty as hell. She accepted Kyle's apology, but mark my words we will be hearing about this again at the RHOBH reunion.
I am so mad that Alicia Silverstone is in this horrible pilot (sorry Kyle). The star of Clueless deserves better than this!!
Kyle explains how painful it was to lose her mother because she was the glue of the family. She said that she tried to be the glue, but that "sometimes it doesn't work out."
The screen cuts to a "Where are they now?" style montage, that reveals that shortly after filming Kyle's home was burglarized, including many of the irreplaceable items that her mother had given her.
The season ends with all of ladies talking about how they've grown and changed this season and everyone cheers with champagne in a different kind of glass.
All in all, I'd have to say that this season was very slow and underwhelming. The drama felt thin and I think that everybody is too quick on the uptake to make for interesting television. At this point I think that Erika, LVP, and Lisa Rinna know to just sit back and let the other women fight amongst themselves, but that's so boring. RHOBH has become a show where wealthy ladies get to shill their businesses and their brands, essentially advertising, without any of the grit or authenticity that a good RH franchise needs.  We need knew characters who aren't so strategic and and react from the gut. I really, really hate to say this, but this show needs another Dorit. I know! Who am I? Thanks for sticking around for season 8 of The Real Housewives of Beverly Hills!
Tell us if you liked this season in the comments!
---