RHOBH Hills Recap: Reunion Part 3
The reunion finale brought an end to the season's biggest fights.
Genny Glassman May 9, 2018 1:41pm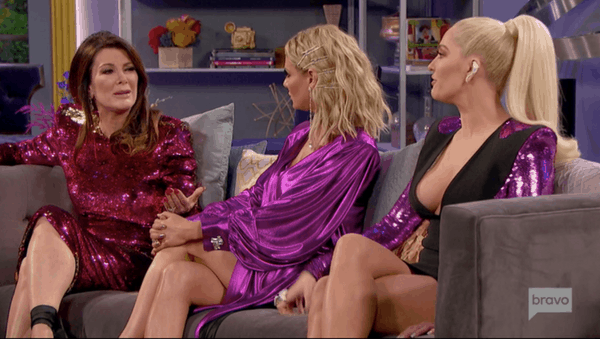 I hope it's not too forward of me to say that I am relieved to see that this season of Real Housewives of Beverly Hills has finally come to an end. The lifeless corpse of what used to be one of the best RH franchises has been exhausting to watch and quite frankly, I am even tired of watching my Queen, Lisa Vanderpump make her quips and elegant put-downs. Please, Andy Cohen, restaff and regroup for next season because these ladies are just not fun to watch.
The episode picks up where we left off, with Andy questioning Lisa Vanderpump's decision to remove Dorit Kemlsey from her magazine. Again, Lisa swears that it wasn't a punishment for bad behavior, but even Kyle Richards admitted that the move was most likely retribution for Dorit's negative energy at the shoot.
Andy then asks Lisa if she liked that Dorit was jealous of her friendship with Teddi Mellencamp and of course LVP deflects and says that she was upset about the demise of her friendship with Dorit. Erika Girardi, who is rumored to be leaving the show, chimed in, "She likes seeing [Dorit] squirm!"
Lisa Rinna asks Vanderpump if Dorit's trash talking "was THAT big of a deal," and Vanderpump tells her that she was hurt and that she believes that Dorit "talks so much she forgets the accuracy in her recollection." Which is just a nice way of saying that your friend talks so much crap that she can't keep her stories straight.
Then Andy asks LVP why is was so hurtful that Kyle did not remember the name of her grandmother. LVP says that Nanny K. was very important in her life and then drops a very interesting bomb into her friendship with Kyle . It's not so much that Kyle didn't know the name of her grandmother, it's that 90% of their conversations are abut Kyle. Because of Kyle's anxiety, her hypochondria, and her family issues, Lisa says that their friendship is based on Kyle and her needs. At first, all of the ladies look shocked to hear Lisa criticize her friend so sharply, but slowly Lisa Rinna looks like the cat that ate the canary and Erika quips at Kyle, "that's YOUR friend."
Kyle defends herself and says that Lisa is not very open about her personal life, but Lisa makes the point that it's hard for Lisa to share anything because she is always pulling Kyle off the ledge about one thing or another.
Andy asks Kyle if her sisters have seen her new show, American Woman and Kyle says they haven't and that the show has created a rift between the sisters. Kyle swears that the show is only "inspired by" their family, but that her sister, Kathy has taken exception to Kyle's project. The two are not speaking, but Kyle says it's more than the show, it's also that her husband Mauricio started his own real estate agency after working for Kathy's husband for years. LVP says that she saw Kathy the night before the taping and that Kathy told her that if their mother was alive, there'd be "more cohesion that would have pulled them back together." Kyle starts to cry and says that she doesn't really want to talk about her sisters on the show because it's unfair to them. She thanks Dorit for being supportive to her when she broke down on the show about her relationship with her sisters.
Andy asks Kyle about her new show, Glass Houses, which is about a woman who opens her own real estate company to rival the "grand dame of the LA real estate world, her former employer and mother-in-law." Does the story sound a little too close to what Mauricio went through, he asked? Again Kyle says that the ideas are "inspired" by her life, but that the storylines will not be based on real things that have happened.
The interesting thing about the RH reunions is that sometimes your opinion on a person can completely change once they have the opportunity to explain themselves or you see their dynamic with another person and it brings a little clarity as to why they did what they did. Which is completely the case between Teddi and Erika. All season long, I've been on the "Teddi is too boring for TV" train, but tonight my opinion completely changed once I saw how truly stubborn and irrational Erika was being. Erika takes the accusation of being a liar wayyyy too personally. No one is accusing you of committing perjury, Erika. They just think that you tried to weasel your way out of a friend-fight. Erika tells Teddi that she's isn't some innocent fawn in the woods and that she is more conniving then she lets on.
Erika's story that she was too embarrassed to tell Teddi that she wasn't feeling well does not sit right with me. Why mention that you're "having the worst period of my life" several times on camera, but then suddenly feel shy telling the host that you need to leave? Teddi says that she thinks that Erika was intentional in leaving her house and pushing her away when Teddi went to give her a hug. Teddi and Erika go back in forth about slights each has made about the other in their blogs and Teddi says that she doesn't like the uncertainty of being around Erika.
Andy asks Erika if she is working on being less of an "a**hole" (her words) and she says that in certain circles her behavior wouldn't be considered "a**hole behavior." Andy says that he can't tell if she is taking any ownership over her actions and Erika says, "Of course I am" (no, you're telling Teddi that she's too thin-skinned and conniving.)
Teddi says that if she and Erika can have normal conversations that she is willing to have a relationship with Erika again. The two agree that they've heard each other and have decided to put the issue to bed.
At the end of the show, Lisa Vanderpump makes a final plea on behalf of Dorit. She says that Dorit has been largely misunderstood by the audience and that the audience should give her another chance.
Andy makes one final goof at Dorit's expense and brings out champagne in beer steins to toast to the end of the season. As the ladies clink their glasses together, this season finally comes to an end and I am now free to watch old episodes of RHONY again.
Did you like this season of RHOBH? Tell us in the comments!
---