RHOBH Recap: Reunion Part 1
Season 8 - Episode 19
Genny Glassman April 25, 2018 11:03am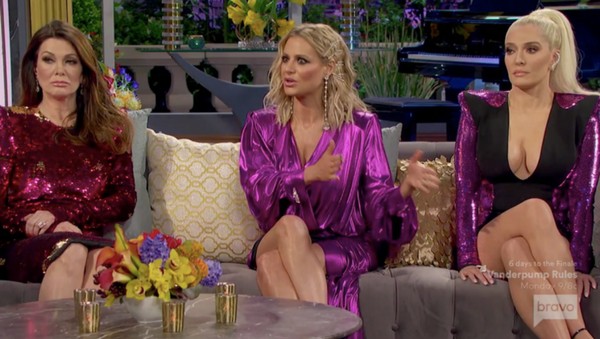 I'm sure it will surprise no one that after a season that was completely lifeless, that the first part of The Real Housewives of Beverly Hills reunion was just as boring. Yes there was drama. Yes we can talk about Dorit Kemsley's infuriatingly flawed logic or Erika Girardi's growing coldness towards the show that made her a star, but all of the fights seem small this year. The ladies are all too hip to the game to lose their cool (unlike the women from New York or Atlanta) and aside from Kyle Richards and Lisa Vanderpump, none of them have authentic friendships with each other. So what do these ladies have to talk about anyway?
The first heavy hitting question of the night went to Erika, whom host Andy Cohen asked about her temper and her ongoing outbursts on the show. According to her book, Pretty Liar, Erika says that she looses her temper easily and can "completely eviscerate" someone when she is angry. Andy asks Erika if we've seen the worst of Erika's temper with Eileen Davidson and Teddi Mellencamp, and astonishingly Erika says no (!), this was just how she lashes out when she's frustrated. Erika says that when she's at her worst, she attacks on a super personal level. God help the person who makes Erika really mad.
Andy also asks Erika if her husband Tom or her mother Renee have read her book yet. Erika says no, she "hasn't gotten around to showing them yet." Which really means one of two things; 1) Erika does not want Tom or her mother to read the book or 2) Both Tom and her mother have not read her book and she is covering for her hurt feelings. I'm willing to bet the truth lies around scenario number 2.
Then Andy moved onto Dorit and her bathing suit line, Beverly Beach. Andy asks Dorit why she chose to name a swimsuit after every RHOBH castmember except Teddi. "I'm not going to make excuses for it. It's my line and I'm going to name it after women that I feel really bring something to my life."
Dorit to Teddi:
Teddi says that it is hurtful that Dorit left her out on purpose and that she didn't realize that Dorit was rolling her eyes everytime Teddi called her to clear the air. As per usual, Dorit tries to deflect and says that Teddi is one person to her face and another person behind her back on the show. Teddi says that Dorit is dismissive of her and we do get the sense that Dorit has a true contempt for our little Teddi Bear.
Then Andy asks Teddi if her business as an accountability coach pays her bill (a question that a nosy person like myself has also been wondering). According to Teddi, "it's enough that I don't have to ask Edwin to do anything that I want to do."
Then Lisa Rinna asks another question that inquiring minds (i.e. me) have been wondering: when are we going to meet Teddi's father, John Mellencamp, and his girlfriend, You've Got Mail's, Meg Ryan. Teddi does not mention any plans for the couple to make a RHOBH cameo, but she did admit that the whole family (Meg included!) watched the show together on Christmas.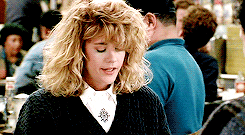 Andy asks Lisa Rinna (and her hair) why she chose to not speak out as much this season. Lisa says that she is still invested in the show, but that she is "choosing to react differently." I mean that's your choice if you want to be boring. Rinna also admits that some of her provocative actions on Instagram have cost her daughter, Delilah, work in her modeling career.
Andy asks Erika if she was shocked to learn that Delilah and Amelia learned how to give oral sex from their mother's book and Erika says no, she was just concerned for the hell that Rinna was sure to catch from viewers. Rinna says that because of her daughters, her book, which came out ten years ago, actually went back into print.
Andy asks Rinna why she threw shade at Teddi on WWHL and her answer was, "I was being bratty." (ugh) And LVP asks Teddi if that was the same day that Meghan McCain went on the show and announced to the world that Teddi was boring (which she is, but she's growing on me!).
Then Andy brings up Rinna's recaps from the first season of RHOBH, which she was reviewing on her Instagram stories. LVP says that she didn't watch them herself, but that Kyle told her they were mean-spirited towards LVP.  The thing about LVP is that she can dish it, but in no way can she take it. Rinna asks LVP to have a sense of humor about herself and LVP says that she didn't see it, but that it was mean. Rinna says that if LVP hasn't seen it, "Then what the f**k are we talking about ?! If you haven't seen it, then you should just shut up."
The conversation then segues into the battle between Dorit, Kyle, and Lisa Vanderpump. LVP denies enjoying having Dorit and Kyle vying for her affections (sure, Jan). Andy asks Kyle what she meant when she said that Dorit and LVP had set her up and Kyle clarifies that she felt like Dorit and LVP had planned to stick together " no matter what."  Incredulous, Dorit asks Kyle, "if that's ever happened to you ever in your life?" But Dorit, you forget that you're on television! Let's not forget that reality TV was created from the likes of Survivor.  Alliances are a thing!
Kyle's major point of frustration is that whatever relationship LVP has with Dorit, it feels fake and artificial. She seems confused as to what hold Dorit could possibly hold over Lisa Vanderpump to allow LVP to let Dorit get away with slights that she's made. Dorit then accuses Kyle of telling her "that Lisa Vanderpump believes she controls you."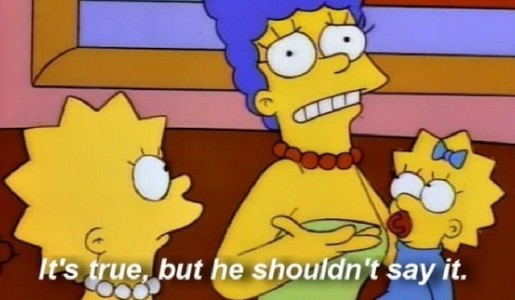 Kyle denies ever having said that (she said it) and Dorit says that Kyle "tends to wind things up a bit."
Then Andy asks Kyle why she got so upset over the accusation that Dorit made about her picking a fight at her "Bella party. " Listen, Kyle's answer is really not important. What was truly a winning moment was that Andy Cohen shaded the hell out of Dorit getting all haughty over Bella Magazine. He tells Dorit,  "With all due to Bella, it's not Vogue."
Oh how I wish I could never type the words #Pantygate ever again in a Real Housewives recap, but unfortunately the last segment of the reunion cycled back to Berlin when Dorit accused Kyle of turning Erika against her. Dorit again asserts that she was drawing a comparison about what can happen if two people start talking about someone who isn't in the room, but the whole thing just does not make sense. Not to mention that Dorit shouldn't make an imaginary comparison based on events that actually happened. One might think that she's trying to twist the truth.
Andy asks Kyle why she stormed out of Dorit's fashion show and called everyone fake and she told him that she felt like the conversation they were having was not authentic. Dorit seems exasperated. She tells Kyle that she will apologize again for trying to get between her and Erika, but Kyle wants to hear that Dorit can empathize with her point of view. Dorit says she does and the episode ends with Kyle saying, "good well then that means that we're on the same page."
Let us know what you thought of Part 1 of the reunion in the comments!
---