RHOBH Recap: Holy Schnitzel
Season 8 - Episode 16
Genny Glassman April 5, 2018 11:37am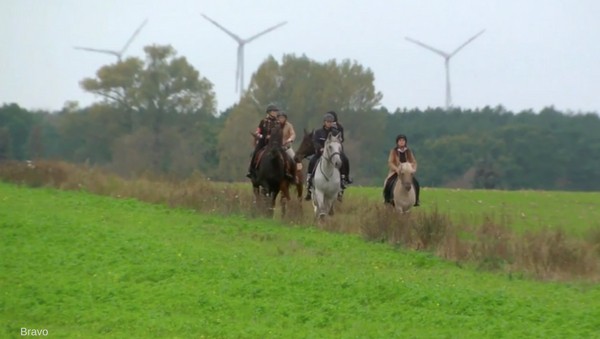 Welcome to Germany! The ladies are in Berlin, a city of history, wiener schnitzel, and beer halls.  While the woman of The Real Housewives of Beverly Hills seem to be enjoying their time across the pond, the feuds and fighting got brutal in this episode and old wounds were ripped open.
We first catch up with the ladies participating in the grand Real Housewives tradition of power shopping. Dorit Kemsley, Erika Girardi, and Lisa Vanderpump work the clothes racks at an upscale luxury shopping mall with the assistance of their personal shopper, Axel. Axel seems THRILLED to be fetching clothes and jackets for the ladies, not to mention the hefty profit he made from their little spree. Dorit tells us that shopping with friends in foreign countries is like getting friendship bracelets, but I don't know if I would call this threesome BFF's. 
Meanwhile, Lisa Rinna, Kyle Richards, and Teddi Mellencamp head to a local German cafe where, of course, they only speak Los Angelese. They all ask for lattes with soy or almond milk and Kyle sends her eggs back, twice.
Teddi tell us that she refuses to frivolously spend money on shopping, reality TV be damned! (Okay maybe that dramatic emphasis was mine). But she does seem genuinely pleased that the next group trip is to a local horse stable.
Please look at the horse that Kyle picked out for herself.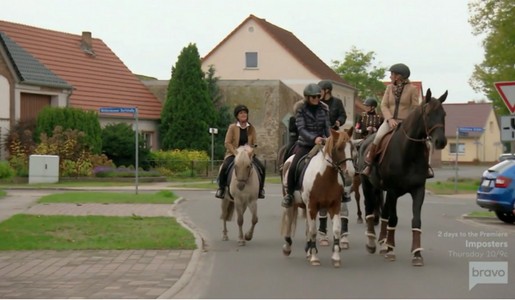 All of the ladies get paired up with normal, adult-sized horses and Kyle picks….a pony.
She also warns us that she has horse allergies, but assures us at home that she can power through. When the ladies hit the trail, Lisa Rinna's horse loses control and starts to gallop away from the group. Luckily Teddi is there to gives her instructions on how to stop her horse and Rinna is saved. Kyle starts to get an allergic reaction, which then triggers a panic attack. Kyle starts to seriously spiral, gets off her horse, and has the production van take her back to the stable where a German medic prescribes her something for her reaction. 
In a moment of catharsis, Erika compliments Teddi on the van ride home for saving Rinna and tells her that she did a great job saving the day. Awwwww. She's trying, guys. 
Then the hotel staff preps for a dinner party in Erika's hotel suite. The ladies meet for dinner, and Kyle says she is "high as a kite" on her allergy meds and is not in a good mood. Then the food is served and poor Erika, no one wants to eat her veal tartare and they all send back their appetizers.  Of course, Erika quips "I ate the veal. I'm international, like that cuisine."  
Later at dinner, Lisa Rinna tells us about Delilah's panic attacks, which were triggered by strep throat and caused her to instantly became agoraphobic. 
Of course, the party would not be too interesting if everyone was calm and respectful to each other. Which is why LVP takes it upon herself to ruin the night and ask the table if everyone feels that they are in a good place with each other. Guess who has a problem that she can't let go of?
Dorit brings up that Kyle had "hurt her" in New York, on the night of her Bella party of all nights! The two get into a tit-for-tat argument where again Dorit feels like she is the victim of her own big mouth.  Dorit wants an apology from Kyle for telling LVP that Dorit was spreading personal information about LVP behind her back, which is MIND BOGGLING. Lisa sticks up for Dorit (huh?) and of course that lights Kyle up and brings up old scars and wounds. Dorit accuses Kyle of purposely telling LVP this information on the day of her party to ruin her event, which again… huh?
Kyle is p**sed and tells Vanderpump, "You said we have different standards, [of friendship than her friendship with Dorit] but you are really taking it to the f***ing next level."
She then vows that she "will never tell [Lisa] anything again." Oof. 
Defending herself, Kyle brings up that in the past, Dorit had blabbed to Erika that Kyle was upset with her, which caused a rift in their friendship. Kyle is trying to show Dorit how their actions were similar, and Teddi even chimes in in Kyle's defense. Shockingly, and as if she was being chastised by her mother, Teddi gets shot down by LVP. Oh how the teacher's pet has fallen!
Lisa Rinna then defends Teddi to LVP. In her one-on-one interview she tells us that LVP only supports you if you support her, interesting…Then Dorit fires back at Kyle, saying that when she gave her "cheeky little gift" to Erika (a.k.a. the panties, during #PantyGate) she felt like she and Erika had cleared the air. Dorit had left the room after giving Erika her gift to go to the bathroom and she is now accusing Kyle of turning Erika against her while she was out of the room. Whew, that's a stretch.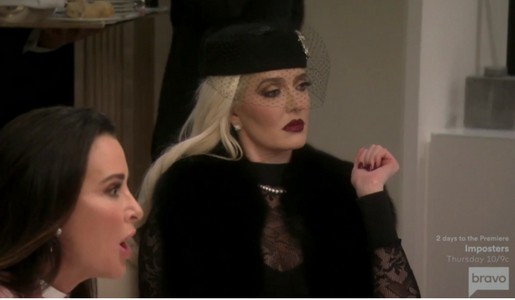 The night ends with LVP suggesting that they end the conversation and sleep on it. And much like the  maestro that she is, LVP concludes this evenings performance of Drama!
The next day we see Teddi calling her, say it with me now, accountability clients. And Dorit gets bangs! Dorit tells us that she believes Kyle is jealous of her relationship with LVP, which is one read of the situation.
Kyle and LVP go off together to discuss their issues (can I mention how beautiful Kyle looks in those '70's style glasses?) and she lays it on the line with Lisa. She reiterates that she feels taken for granted and that Dorit has truly splintered the two. LVP apologizes and the two make up.
The rest of the ladies are sightseeing and once Kyle and LVP join them they go to the Eisenman Holocaust Memorial. Two of the ladies share how the Holocaust has touched their families. First, Kyle explains how Mauricio's family fled Eastern Europe to relocate to Mexico during the Holocaust. Then, Dorit tearfully tells us how her Polish grandfather was ripped from his home and his parents were sent to a concentration camp in Siberia. 25 years later, Dorit's grandfather heard that his parents were still alive and living in Israel, so he goes to find them and the family is reunited. 
Then the ladies head to the remnants of the Berlin Wall and talk about the fall of the Wall in 1989. It's always a little strange when the show gets serious, but the ladies were respectful and that was nice to see. 
Later that night the girls go to a beer hall and as Erika tells us that they don't have to be prissy tonight, they can just be "chicks drinking beer." They end the episode making the requisite wiener schnitzel jokes and dancing with the locals. 
Let us know if you're on Kyle's side or Dorit's in the comments!
---