RHOBH Recap: Dames, Dogs, and Danke
Season 8 - Episode 15
Genny Glassman March 28, 2018 2:03pm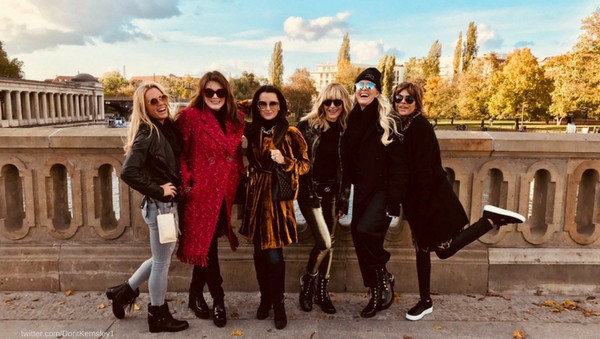 The ladies of The Real Housewives of Beverly Hills have healed since we've last seen them. Everybody seems to have apologized and moved on, which does not make for riveting reality TV. However things got a little hairy (pun intended) over at the premiere of Lisa Vanderpump and Ken Todd's animal cruelty documentary and the ladies are headed to Berlin, which will assuredly bring the drama. Let's dig in, shall we?
The opening montage shows Kyle Richards packing up her house and getting ready for her big move. I've said it since day one and I'll say it again — this is a boring plotline, Kyle. We're watching Bravo, not HGTV. Ken Todd and Lisa Vanderpump are still mourning Pink Dog and Pikachu and Lisa has to remind Ken not to blame himself. The two have completed their documentary and are looking forward to the premiere of their film  The Road To The Yulin and Beyond, which takes on the dog meat markets in Yulin, China. Over at Erika Girardi's house she is having Lisa Rinna and Dorit Kemsley over to talk about the psychic from the last episode – and everyone seems surprised to know that Erika has psychic ability.  Erika also shows off her Kardashian game avatar. The woman talk about how hard it is to find work over 40 especially in Hollywood, which was actually pretty refreshing to hear them talk about.
Over at Teddi Mellencamp's house, she and her husband Edwin are talking about the upcoming trip to Berlin. Edwin unthinkingly tells Teddi that he "can stay home with the kids while you go and get a job." Which Teddi does NOT like. But Edwin, haven't you heard that she was an accountability couch?? Teddi allows the comment to blow over, but knowing her memory for facts and details, she will probably not forget that he said this on camera.
Over at LVP's house, Dorit calls Lisa VP to send her condolences over Pikachu's death, but she just makes it worse by reminding LVP how horrible it must have been to watch her dogs die. Tactful, Dorit.  Then we follow Dorit to her swimsuit fitting and she announces that she is going to have a fashion show to celebrate the launch of Beverly Beach. Of course she will.
The next day at the LA Awareness Film Festival the ladies are supporting LVP and the debut of her animal documentary. LANCE BASS IS THERE. Also GIGGY is there. A star-studded event if I've ever seen one.
Then the ladies go get a drink at the after party and everyone congratulates Lisa VP on the film. Teddi takes a moment to apologize to Dorit face-to-face and the two make peace. Erika reveals that her business meeting that was the original reason they were going on the Berlin trip was moved to LA, but she wants to go to Berlin anyway. She and her creative director Mikey pick out a red latex shirt (possibly dress?) for her to wear on her trip and if anything we are going to see some amazing looks from Erika.
We get a quick shot of LVP talking about her Nanny Kay, which will set up a particularly cringe-y moment between herself and Kyle that happens later in the episode. Nanny Kay was Lisa's grandmother who survived World War I and eventually moved in with Lisa and Ken after they settled in Los Angeles. She tells us that they were very close.
Dorit got sick on the flight and when the ladies land she still is feeling terrible, so they send for a German doctor. This very, I'll say it, sassy German doctor tells Dorit that she got sick because she took two medications at the same time that she wasn't supposed to. Ooops.
Teddi continues to be a wet blanket and tells her husband that he needs to pull over when they are Face-timing. Which is the safe thing….I guess.
Dorit and Lisa Vanderpump Facetime and Dorit is still too sick to go out with the rest of the ladies. She asks Lisa if she knows what FOMO is and Lisa asks her if it is "a sexual maneuver." LOL, no but that was a decent guess.
The ladies go get a drink and LVP starts kicking up trouble with Lisa Rinna. She tells Rinna that she used to want to slap her and that Rinna is now "quieter" and "less engaged" and "less invested in the group." Rinna explains that she doesn't have anyone coming at her right now so she seems "less engaged" but what she really is is p**sed that LVP is singling her out. LVP says that she misses "the old Rinna" and doesn't want her to lose her sparkle. Rinna says she wants to be a good example for her two daughters. Since when?
Then Kyle makes the ultimate faux-pas. She forgot who Nanny Kay was and SHE HAS NO POKER FACE. Kyle truly has no idea who that is and she cannot hide it. The episode ends with LVP being slightly p**sed that her "best friend" did not know this crucial detail.
Stray Thoughts & Observations:
Porsia wearing THE AGENCY on her shirt. Branding!
Lisa Rinna goes to the same psychic as Cindy Crawford.
What the HELL did Lisa Rinna say in German. Oh that's right. gibberish.
Lisa Rinna's unmarked bag of pills makes another appearance.
LVP used to sleep naked.
Let us know if you would forgive Kyle in the comments!
---