RHOBH Recap: Better Latex Than Never
Season 8 - Episode 17
Genny Glassman April 12, 2018 1:20pm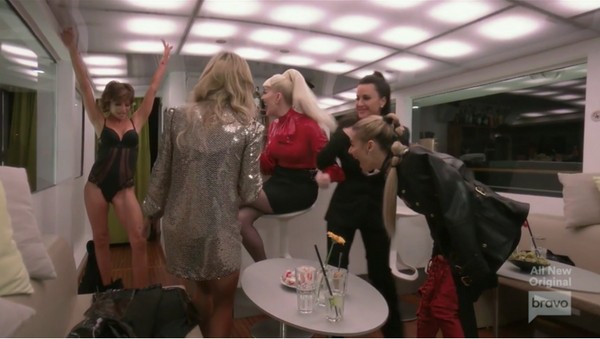 Willkommen! It's the final days of the Real Housewives of Beverly Hills' trip to Berlin, Germany. It's been quite the trip, hasn't it? Between the fights, re-opened wounds, and a very serious allergic reaction, let's just say that these ladies have certainly been busy.
So how did the RHOBH spend their last day in Germany?
We enter on Lisa Rinna and Dorit Kemsley getting a very relaxing foot massage. Meanwhile, Teddi Mellencamp and Kyle Richards end up waiting for 40 minutes for Erika Girardi to meet them in the lobby of their hotel so the can go to the zoo together.
Back at the spa, Dorit tells Rinna that PK can't stand to be alone. He's very needy.  Then the show cut's to a scene of PK calling Dorit's phone and complaining that she never sent him his good morning text…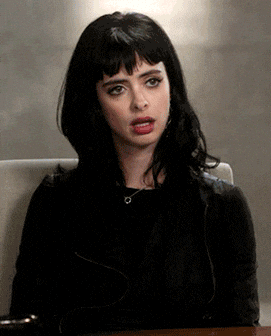 Anyway. Over at the zoo, Erika, Kyle, and Teddi are excited because they are allowed to get a special tour of the Berlin Zoo, specifically, they get a personal look at the panda exhibit!
At the spa, Lisa Rinna and Dorit get settled in to get a massage and Rinna asks Dorit if she and Kyle have put an end to their feud. Dorit tells her that she feels like she and Kyle are good, but that she doesn't know how Kyle feels after their fight the night before at Erika's dinner party. Rinna assures Dorit that Kyle will want to work it out because "she loves you." Does she??
In her confessional, Dorit tells us that she doesn't particularly care about Kyle and Lisa Vanderpump's twisted relationship issues (of course you don't, you want to break them apart), and that she wants to rectify things with Kyle. Rinna tells her that they need to get it out in the open or else it will fester. Also, note that Lisa Rinna was wearing a red Kabbalah bracelet….how very 2005 of her!
Back in Kyle's room, Teddi comes over and the two get ready for the boat ride they are all taking together later that night. Kyle does Teddi's make-up and she asks Teddi about where things stand between her and Erika. Teddi tells her that Erika has been nice to her and that she is being nice back. Teddi reminds us that Kyle's séance, Erika only apologized for snapping  at her and that they are still due to have a conversation about this whole "pretend amnesia" business. Oh boy….
Later that night, the ladies gather in the hotel lobby and again they are waiting for Erika. They decide to sit in their van and Erika doesn't show, nor does she answer her phone. They decide to leave without Erika or else their boat would take off without them.
On the ride over to the boat, Kyle takes the opportunity to mend things over with Dorit. She tells Dorit that she wants to move on and Dorit tells her that, "We have the crux of a really great friendship and my heart really is capable of moving on." They decide that the matter has been cleared.
Meanwhile, Erika finally makes it out of the hotel, looking like a Barbie dominatrix, and tells us that she was late because it took her a long time to get baby-powdered and lubed into her latex body suit.
The rest of the ladies get on board of the boat and ask if the boat can be held until Erika gets there….of course it can, you're on TV! Erika finally makes it and the ladies die over her latex outfit. The boat takes off and the ladies get a gorgeous view of the city lights of Berlin.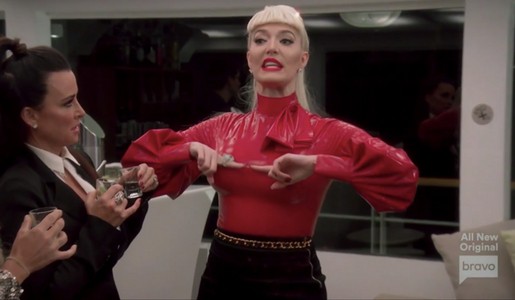 Erika describes her adventure in putting on that latex shirt and then the ladies convince Lisa Rinna to first take off her jacket, and then strip off her tuxedo dress until she's down to her underwear. The ladies scream and are having an amazing time. In her cutaway, Rinna muses, could possibly be because LVP isn't there…
The ladies make it to land, where they follow Erika down a dark and graffiti'd street that spooks even the hardiest housewife. Erika takes them to a secret, invitation-only, restaurant. The restaurant turns out to be cool and amazing. While the other ladies are in the bathroom, Erika and Kyle hug and Kyle tells her that she's "like the rubber woman." Erika tells her that she "should feel my tits." And so Kyle does. In her confessional, Kyle tells us that although she isn't into women, a boob in latex? It's good.
The ladies return from the bathroom and Erika brings up the "pretend amnesia." She says that pretend amnesia implies that she is a liar. Teddi tells her that her only issue was with how Erika talked to her. Erika tells her that she "doesn't care" how she talked to her, Teddi called her a liar. Teddi reminds her that she apologized and she tried to explain why Erika got to her so deeply. Dorit chimes in, "you scare the living s**t out of her."
Teddi starts to cry again and says she doesn't understand why her confrontation with Erika is making her so upset. In her one-on-one Rinna tells us that something must have happened to Teddi in her childhood and Erika sets off a trigger in her when they argue. Erika apologizes again and says that she doesn't want to scare Teddi. I think Erika saw that they weren't evenly matched and decided that going into a fight was not worth the screentime. And with dinner over, the ladies are headed back to LA.
Back in Los Angeles, LVP, who had gone home early for her documentary, is at her animal shelter, Vanderpump Dogs. Lisa tells us that her documentary has won an award at the Compassion Award at the L.A. Awareness Festival.
Then, over at Kyle's house, she and Faye Resnick (drink!) are packing up her furniture so that Kyle can move into her new house. Kyle is sad to leave her house and is afraid to leave all of the good juju she made while living there.
Teddi and her husband are having lunch with their kids at il Tramezzino . There is something I don't trust about Edwin. Edwin asks Teddi about her trip to Berlin and instead of dishing all of the dirt about what happened, she tells him that they will talk about it later because she doesn't want to teach her kids that it's okay to speak poorly about their friends. Ugh, Teddi has so many rules for how to live life and it truly bums me out. Talk about the trip! That's why you are on reality television! Teddi tells Edwin that she doesn't have time right now to buy a horse because it would add pressure that they don't need. Great, glad that's settled then.
Kyle pays a visit to Lisa Vanderpump and she tells us that she wants to have the new house ready to have friends over to watch her new show, American Woman. LVP tells Kyle that she accepted the award for compassion. And Kyle says, "that's great for the dogs, but what about me?" Kyle revisits Dorit's confusing argument that she caused Erika to be mad about #PantyGate and she tells us that even though they patched things up, she is still mad about it. She tells LVP that she is going to Dorit's fashion show, despite her conflicted feelings. Kyle has clearly forgiven, but has not forgotten.
Across the country in New York City, Erika is performing at the nightclub, Second. The performance doesn't go exactly as planned, first Erika and her artistic director, Mikey, are told they can't use their smoke machines, then Mikey goes out and finds out that the stage is wet. Erika finally makes it to the stage and it looks like she killed. Ain't show business glamorous?
Over at Trunk Club, Dorit and PK are meeting with the event planner of Dorit's fashion show. Dorit is stressed because some of her swimsuits did not fit at the last fitting. Now her planner, Corey, is telling her that they will drop a curtain to reveal her collection, but Dorit (correctly, for once!) tells him that if they practice the drop before the show the curtain will get dirty and be dirty for the real show. PK completely undermines her and tells her that her that she is "overanalyzing" things, but she is not PK! These are things that professionals think about! PK jokes that they don't even need to practice the drop and that if it doesn't drop on the day of the fashion show, "no  one will know that is was supposed to." The event planner then quietly reveals that he had to make the runway eight feet shorter for Dorit's show and Dorit is p**sed.  She asks why he didn't tell her sooner, and he (pretty cockily, I think) tells her that he's "telling her now." This is very unprofessional and I want you all to write letters demanding justice for Beverly Beach!
Tell us if you think Kyle and Dorit are really friends again in the comments below!
---