RHOBH X BH90210 Crossover
Denise Richards joins the BH90210 reboot cast!
Ashley Hoover Baker July 29, 2019 7:57am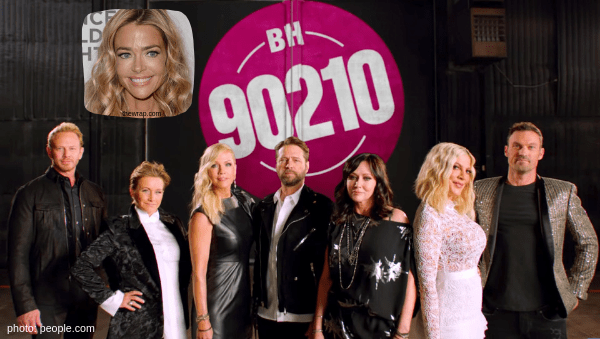 The Real Housewives of Beverly Hills X BH90210 crossover we didn't know we needed is here! Denise Richards joins the cast of the Beverly Hills 90210 reboot. 90210 OG, Tori Spelling (better known to us xennials as Donna Martin), shared the news on Instagram.
"Thank you for including me T [Tori]," from one tabloid queen to another. "And having me part of the BH90210 journey. Talk about everything comes back full circle. One of my very first jobs was #beverlyhills90210. Love all of you guys."
In case you forgot, Denise was a guest star on Fox's 1990s juggernaut during the original series' season 2 finale – the wedding of Mel Silver and Jackie Taylor. Denise played Robin McGill, Jackie's niece/Kelly Taylor's cousin. Click here if you forgot the details of Denise's story line.
"Can't believe we are shooting the season finale now and will be done filming on Friday. It's been an incredible experience this first go around with friends from the past. As @ianziering pointed out it's been like summer camp! An experience I'll never forget and treasure forever. Can't wait till we film Season 2," the real housewife captioned her Instagram post.
Are you excited to see Denise join the BH90210 reboot? Sound off in the comments!
---