RHOBH Star Accuses Ex Of Rewriting History
Camille Grammer doesn't share the same divorce memories as Kelsey Grammer.
Ashley Hoover Baker November 14, 2019 2:50pm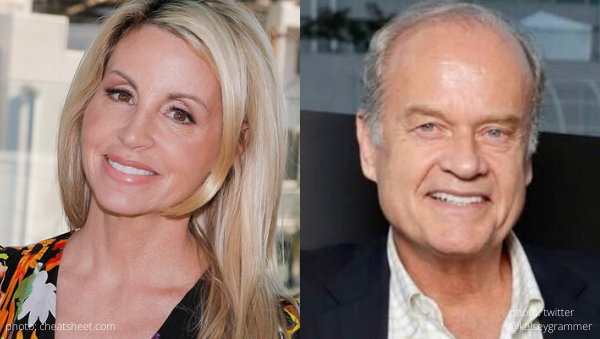 Real Housewives of Beverly Hills star, Camille Grammer, accuses her ex-husband, Kelsey Grammer, of rewriting history. "It's unfortunate."
The drama between the former couple was rekindled after Kelsey made an appearance on the tv interview show, In Depth With Graham Bensinger. "Honestly, I don't really talk about her very much, because so much of her life is spent talking about me and I just think it's sort of pathetic."
The Frasier star claimed that on the day of his mother's funeral, his then-wife Camille "basically had an explosion about something. And she started telling me, 'I'm out of this, I'm out of here. I want a divorce,' blah, blah, blah, which, we'd had the same conversation for eight years, and it was tiresome. I realized at that moment that I was done with her, that I was not going to end up in this relationship for much longer. And somewhere under a year [later], I was done."
The celebrity couple ended up splitting in 2010. Camille doesn't remember the end of their relationship the same way.
My response to my ex's accusation @people @TheBlastNews @usweekly @HollywoodLife @pagesix pic.twitter.com/sPMDFrDJWA

— Camille Meyer (@TheRealCamilleG) November 14, 2019
Kelsey married his fourth wife, Kayte Grammer, in 2011. Camille wed David C. Meyer in 2018.
On the On This Day Entertainment podcast, I've vented my irritations from all the manufactured drama on the Real Housewives franchises, particularly on RHOBH and Real Housewives of Orange County. Rather than hear the women nitpick at one another and manipulate each another's words, I'd like to see this real-life drama play out. Click here to hear my rant.
Who do you believe regarding the incident that happened the day of Kelsey's mom's funeral. Leave 'Team Camille' or 'Team Kelsey' in the comments!
---