'RHOA' Star Porsha Williams Announces That She's Pregnant!
Congrats, Porsha!
Genny Glassman September 19, 2018 4:26pm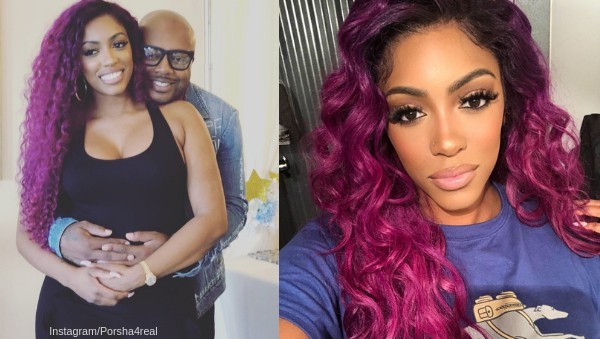 Break out the bubbly! There's good news in Atlanta now that Porsha Williams has officially announced that she's pregnant with her first child.
Porsha broke the news in an interview with People Magazine where she admits that when she discovered that she had a bun in the oven, she wasn't immediately thrilled. "I was excited [but] I had mixed feelings. The other feeling that I had beside excitement was fear," she explained.
"I've had a miscarriage before in my past, which I've also been open about because I suffer with fibroids and had to have a myomectomy," she added. "So just the fear of, 'Is the baby going to be okay? Will I make it full term?' All those questions that you ask if you've had a miscarriage before."
"Going into the first appointment and being able to see baby and hear baby and know that baby is fine, then I can really wrap my mind around actually becoming a mommy."
And Porsha gushes when it comes to her boyfriend, and father-to-be, Dennis McKinley. "The thought of me getting that blessing after praying for it for so long and getting that blessing with someone who is just as excited as me — it's Dennis' first child, just like me — and it's something we've both always wanted … It's like a dream come true," she told People.
"I believe he's probably shed more tears during the process than me. It's just the sweetest moment of my life right now."
Porsha and Dennis only started dating each other this year, but the two have been friends for years. She shared that she decided to reveal her pregnancy to her boyfriend on his birthday, which  "was really hard to do" because that meant she had to wait and keep the good news all to herself!
"The pregnancy came from the left, but it definitely has brought us closer together because you realize when it sets in that you are actually bringing a life to this world, that you have become family overnight," Porsha explained. "So now a lot of the things that we had talked about are a reality, and we work really hard at wanting to be a good couple and build a strong foundation for our new family that we're going to have."
Porsha told reporters that she doesn't have a name picked out for her little chunk just yet, though she and Dennis have started to float some interesting ideas.
"One of the names that we got rid of that he liked was Napoleon. [I was like], 'I don't know about that one for a boy!' " she said. "One of the names that he has absolutely settled on — I'm not settled on it yet — is PJ. PJ stands for Porsha Jr. He wants to name our daughter Porsha Jr."
"I'm not really sure because I think she's going to be mad, like, 'Really, Mom?' And then I'm going to have to try to explain it and he's probably going to deny that it was all his idea," she joked.
In response to this groundbreaking news, Bravo exec Andy Cohen also tweeted his congratulations to the star.
Very excited for @Porsha4real! Next season is full of a lot of real, life changing moments. https://t.co/cGg5cnXhcR

— Andy Cohen (@Andy) September 19, 2018
Now if only we could get Kenya Moore back….
Do you think Porsha will be a good mom? Sound off in the comments!
---