RHOA Recap: Tatted Tales
Season 11 - Episode 5
Emily Bertha December 3, 2018 12:05pm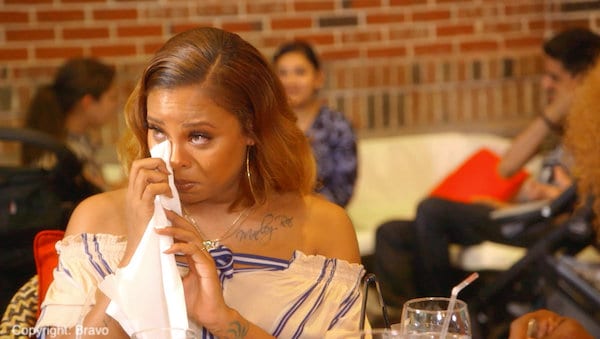 This week's episode of RHOA had everything from talk of Dennis to wedding dresses to more talk of Dennis to birthday parties to, surprise, more talk of Dennis!
Porsha Williams meets up with her mom and Dennis at a hookah lounge. Porsha reveals that Dennis got a tattoo of her name behind his ear. She then shows her mom the tattoo she got for him that's in the exact same spot. The couple is certainly playing this relationship by ear (I'm not even sorry). Instead of giving her an earful (okay, that one was bad) about the stupidity of getting tattoos for other people, Porsha's mom says that the two are probably soulmates. Something tells me that Dennis' mom wouldn't agree…
While Porsha is with her man and her mom, Nene Leaks, Cynthia Bailey, Kandi Burruss, and Marlo Hampton meet up for lunch. Marlo is like that annoying younger sibling that always tags along and says outrageous things to try and prove that she's interesting and cool but is really just rude. I'm over her.
During lunch, Kandi spills the tea about Porsha's man. She tells the ladies about his past girlfriends and how he has their names tattooed on him and gave them expensive gifts. She also reveals that one of the women said she was still dating him as recent as a month ago.
I think Kandi just wants to look out for Porsha in this case; I really don't think she's trying to start drama. She doesn't need to! Bravo isn't going to fire her for being too boring. And if they do, she has a bed of bouncy dildos to fall back on. She'd be just fine without the show since she has so many businesses now.
Kandi doesn't think she's close enough with Porsha to tell her what she's heard, and the others agree.  The women advise her to let it be. But since this is a reality show and not a Beatles song, no one can let it be.
In happier relationship news, Eva Marcille continues to plan her wedding. She goes dress shopping with her mom and her friend. Eva's mom could give Vida a run for her money with all her strong, unsolicited opinions. Over lunch later, her mom tries to get Eva to invite more people to the wedding. Unless she's offering to pay for those extra people, she should keep her mouth shut. Eva starts tearing up and her mom just keeps eating as Eva walks off to the bathroom… are you serious?! You made your daughter cry; at the very least give her an awkward hand pat or something!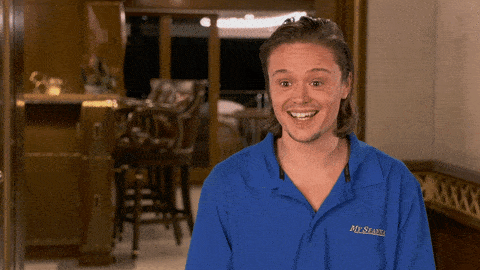 Eva eventually returns and apologizes for crying. This seems like as good a time as any to remind everyone to never apologize for expressing their emotions in a healthy way. At least her mom apologizes for making her cry, but I think it's too little too late.
Meanwhile, Shamari DeVoe sits down with her husband, Ron. She admits that she told the women about their previously open relationship. Ron looks like a Bruno Mars wannabe, glaring at her beneath his fedora. He's upset that she revealed details of their marriage to other people. C'mon dude, don't act like you didn't know this was going to come out when you agreed to film for a reality television show.
The day of Shamari's sons' birthday arrives. Shamari reveals she spent about $10K on the party. $10k.That's almost a grand for each month they were alive!  Spending $10K on a party they won't even remember is peak ridiculous real housewife. Put that money towards their college savings accounts or something.
Since there are cameras around, of course Marlo stops at the party with her nephew. Marlo with a kid looks like a vegan at a pig roast. She looks completely out of her element, mildly disgusted and unsure how to behave.
Porsha chooses to skip the birthday party but later attends a wine tasting Cynthia throws in honor of deciding to open a wine cellar. Cynthia invites Nene and Kandi as well, but the talk is almost completely centered around Dennis. I think all of the ladies could have left the room in this scene, and Porsha wouldn't have noticed because she was so into talking abut Dennis.
Eventually, Kandi accuses Nene of telling Porsha the information Kandi shared at lunch about Dennis' past. Nene denies it, but Porsha admits in the confessional that Nene told her.  Nene, take a lesson from Lisa Rinna, and just own it girl. Porsha is upset Kandi talked about Dennis in the first place. Porsha says that Kandi "…should be too worried about selling penises and butt plugs…" If you ask me, Porsha should be more worried about learning literally anything about wine. Anyone who asks how long a Sauvignon Blanc needs to breathe shouldn't even be allowed to drink it.
What are your thoughts on this week's episode? Do you think Nene should have told Porsha what Kandi said? Comment below!
---