RHOA Recap: Barcelona Breakdown
Season 10 - Episode 14
Chris Turk February 26, 2018 11:32am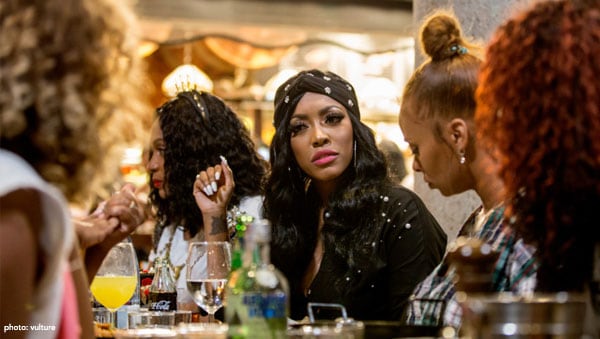 We're back in Barcelona with the #1 shady ladies, The Real Housewives of Atlanta. In season 10 episode 14, the battle rages on between Miss NeNe Leakes and always vacation-absent, Kim Zolciak. Little did we know that there was going to be a bigger battle with Porsha Williams, bringing her back to last season.
It's morning at their Spanish digs and Eva Marcille asks the women if they want coffee and somehow nobody drinks it? How do you wake up then? The women all sit around the breakfast table discussing their twerk-scapades from the night before. Clearly they had a couple of dranks and got down with their bad stripper pasts. The Kim vs. NeNe drama continues as the girls address the problem. The video Kim's daughter Brielle blasted out is discussed again and they bring up the fact she called out that there aren't any mirrors in the home and that it is also ROACH INFESTED. Gross. Not sure if Kim's daughter, the princess of fake drama, planted those roaches herself or what … either way, that's f*cked up!
America's Next Top Model, Eva "The Diva" addresses being called out for dating Missy Elliot by Messy Mea. Eva doesn't want people talking about it since her boyfriend is running for office. She says unless I bring it up, don't girl, just don't. Marlo throws a shady comment about Porsha knowing all about backpedaling.
Can we address the horrible weave in the room? What is Sheree Whitfield doing… she looks like some jacked up wet poodle. NeNe comes in to save the day from that horrible weave and the Airbnb gone wrong. NeNe announces that she has booked all of the women rooms in an actual hotel. Talk about the ultimate bad Yelp review, those poor people that own that house.
They all get on the bus to continue their vacation, as they talk about the 50Cynt Bucket List. They show a video of Marlo bringing out her true stripper self and twerking to the ground. Cynthia Bailey says she is open to adding more to the list and Marlo screams that she should tongue kiss another girl. She turns to Kandi to pick her and Kandi is not having it! Sheree doesn't want those sloppy seconds so Porsha steps in for be the dirty thirds. The girls go in for the kiss but seems Cynthia uses a tad too much tongue and Porsha runs away.
The ladies decide to see the city using GoCar Barcelona where Porsha and Shamea are making jokes about Cynthia's shirt instead of paying attention to the rules. Of course, this comes back to bite them in the a** when they crash into another kart on the street. Porsha claims the cars breaks don't work so she gets out and switches karts. Girl, maybe you're just a bad driver!
The ladies sit down at La Boquiera Market in Las Ramblas for a little lunch and attempt to order in Spanish but Porsha is speaking in her own tongues. Porsha back-peddles, as usual, from being a vegan by having some octopus. Roachgate comes up again and Porsha says it was below the belt and NeNe and Kim should talk about it in person. NeNe is not having it, she says Kim is wrong and that is that, she doesn't need to have any sort of convo with her. They tell  Sheree that she should have a convo with her. When they ask her if she is going to address the situation, she pretty much says shes going to skirt around it and tell her that she wouldn't have ever done that BUT she won't tell someone how to raise their kids. NeNe says she thought she didn't have beef but it is clear Kim has been keeping this video and the picture of her in the handicapped spot for a reason. AKA Kim loves her camera time and held all this drama so she could put it on the new season. NeNe says there were in fact roaches in her house and their names are Kim, Brielle, and Kroy.
It is clear Marlo is out for blood with Porsha today because she is coming for her once again. She asks Porsha if she is going to have a convo with Kim about it and Porsha pretty much says she just wants to stay out of it (for once). Marlo is not giving up and keeps pushing Porsha and starts screaming in her face. Nene is trying to stop it because she knows Marlo's history when it comes to fights on the show. Marlo calls Porsha a fake vegan and now there's no stopping her. Marlo calls Porsha out for her door mat saying that it was too small. Please Andy, lets not make the door mat the new cakegate, I cannot. Cynthia, trying to diffuse the situation, makes a joke about her own furniture being from IKEA and comparing it to Porsha's door mat. Porsha's fake tears start to roll and now she's getting upset because… her mother bought her that door mat. ENOUGH WITH THE DAMN DOOR MAT ALREADY.
Well here comes shady Marlo calling out Porsha for crying over this and not about the lie she told about Kandi. UH OH. Marlo is officially putting the low in Mar-low, she went there. Marlo tells Porsha to take her fake crying somewhere else and that is IT. Porsha has a fan in her hand that she is talking with, waving it in front of Marlo, so Marlo grabs it and the fight begins! Before they could really start brawling, however, they are both pulled away. Both girls mouths are saying all the words and Porsha decides to bring up something that Marlo did to NeNe but says she won't say it on national TV… (at least until the reunion I'm sure) . NeNe doesn't wanna get her a** locked up again so they try to calm Marlo down and head home.
Hilarity ensued as Cynthia's wig almost getting snatched by the door walking in!
The girls start packing up their things from their hellBnb and talking to their husbands on the phone about all the drama.
Porsha goes to talk to NeNe, who surprisingly is being calm and understanding, and says that she feels that she needs to leave. Anger management actually seems to be working and Porsha says the situation is not right for her to stay in. For once, we got some real tears from her! NeNe says she thinks that Porsha needs to just say out loud that she was wrong to all of them. Porsha says she thought that approaching each girl one-on-one was a better way to do it. NeNe tells her she is like a big sister for her and she understands that she needs to leave. Where was this NeNe all season?
The ladies pack their belongings as they get into the van to go into the hotel. The girls ask where Porsha is and NeNe says she will tell them all on the bus. Porsha packs her things and is on her way back to Hotlanta.
Tell us below, do you think the girls are being too harsh on Porsha?!
---