Former RHOA Kenya Moore Attended Porsha Williams' Baby Shower
Is the former peach holder going to return to the ATL?
Ashley Hoover Baker March 11, 2019 11:11am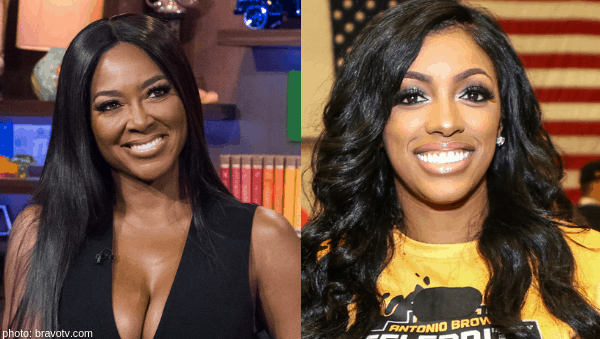 The Real Housewives of Atlanta's Porsha Williams baby shower looked like an amazing event! The mother-to-be was beaming, the guests were glammed and the photos were perfect! Can you believe how bangin' Porsha's mom is? Does anyone else see a striking resemblance to Beyonce's mom?
View this post on Instagram
I don't know about you, but I about DIED when I saw Kenya Moore at Porshe's party! Well, the Daily Dish has reported that the former frenemies have officially moved past all of their problems! They dished that the ladies were able to celebrate the "magical" day without any drama. Porsha said the party "was filled with laughter and zero stress."
As a Kenya superfan, this was a welcomed surprise. The Gone With The Wind Fabulous star appeared in a vintage inspired dress with a fur stole. Thankfully, Bravo cameras were rolling for the shower, as it is going to be featured in a special RHOA spin-off about the arrival of PJ!
Celebrity Insider claimed that the former housewife wanted to be in front of the Bravo cameras again, so that's why she went to the shower. "[Kenya] is so thirsty. She signed a release to be on the show because she is desperate to be back on TV."
Well, Porsha was on cloud nine and wasn't concerned about Kenya's motivation for attending, as she soaked up all the love and support of her friends and family. Porsha commented how grateful she is for her mother and McKinley's mom. "We are blessed to watch our mothers be grandmas to Baby PJ. We love our moms! We were both raised by very strong women, and this feels full circle for me. I'm also so excited to read her her first book, do late-night feedings and have the privilege of singing lullabies to our baby girl!" Porsha boasted.
Do you think that motherhood changed Kenya for the better, or is she just hungry for attention? Tell me your opinion in the comments!
---