The Real Housewives of Atlanta Guide to Tokyo!
Get Lost in Japan!
Lara Sophia April 16, 2019 9:00am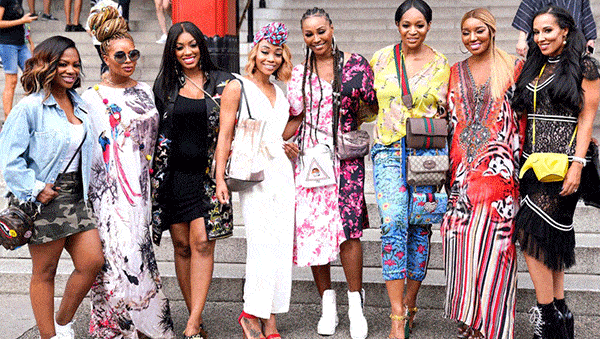 The Real Housewives of Atlanta got their Konichiwa on when they headed to Tokyo for their season 11 cast trip!
This isn't the first time we've seen the Real Housewives head to Tokyo. During season 8 of the Real Housewives of Beverly Hills, Erika Girardi and Lisa Rinn traveled to Tokyo for some fun and fashion.
Check out the Real Housewives of Beverly Hills Guide to Tokyo HERE.
However, our favorite Georiga Peaches did Tokyo a little different than their Beverly Hills counterparts.
The RHOA shopped, ate, and karaoked their way through Tokyo. They even hit up McDonald's for a little taste of home.
With that said, let's breakdown the Tokyo hotspots the RHOA hit up on their trip.
Arrive:
One of Tokyo's international airports.
As Seen RHOA S11/E12: The ladies arrive in Tokyo, and all that is missing is Marlo's bags!
Stay:
Hilton Tokyo is located in Shinjuku, the heart of Tokyo's business, shopping and entertainment district, and is an ideal place to experience modern Japan.
As Seen RHOA S11/E12: The hotel the ladies are staying at while in Tokyo.
Eat:
The bold leather and brick-lined grill counter, enclosed in glass with a featured plate of Himalayan rock salt, stands in the center of the restaurant to welcome you to the Metropolitan Grill.
As Seen RHOA S11/E12: The ladies arrive and head straight to dinner. "Listen, when you give me a menu and it starts out with charcoal salmon tartare that's a nar nar." -Kandi Burruss
Traditional Japanese cuisine.
As Seen RHOA S11/E14: The girls reflect on the highs and lows of the year. Porsha and Kandi finally make up…for now.
Have Fun:
A place to drink and perform songs in the Red Light District.
As Seen RHOA S11/E13: While out doing karaoke, the ladies all sing an Escape song.  "I love that song, that's a great song. Every time I hear it I can't believe Kandi is on the track, as in  don't hear her voice."- NeNe Leakes
Buddhist temple located in Asakusa. It is one of Tokyo's most colorful and popular temples.
As Seen RHOA S11/E12: Each woman prays for various things while inside the temple.
1 OAK, born of the namesake catch phrase, "1 of a kind," has endured continuous waves of competition and outlasted the rise and fall of countless nightlife trends.
As Seen RHOA S11/E14: The ladies go clubbing for Eva's bachelorette party.
Takase Dojo is a professional group founded in 1971 to teach, constitute, stage, and perform stage combat and action for TV, movies, and theater.
As Seen RHOA S11/E14:  The ladies compete with one another at a Samurai Dojo.
Kabukicho is the red-light district of Tokyo, where you can "buy" girls on an iPad, watch robots perform or spend the night in a love hotel, so embrace the seediness and head on in…
As Seen RHOA S11/E13: The ladies head out for the night, unfortunately, the "red light district" is not as scandalous as Kandi had imagined.
Shopping and food center.
As Seen RHOA S11/E13: The ladies play some traditional Japanese games.
For More Real Housewives travel guides check out the

Tours

section of TOR!
---