RHOA Ex Continues Downward Spiral
After Eva Marcille's baby daddy was released from jail, he threatened rapper Chris Brown.
Ashley Hoover Baker November 18, 2019 11:15am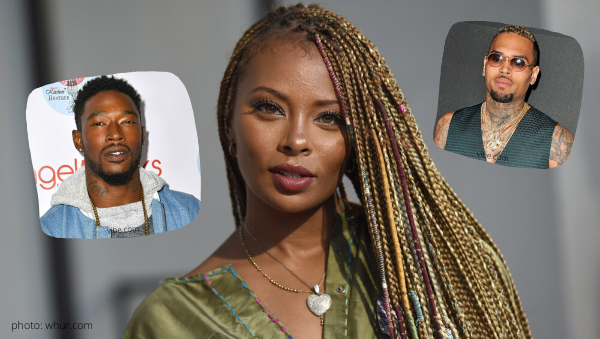 Real Housewives of Atlanta star, Eva Marcille's ex, Kevin McCall, continues to fall into a downward spiral after being released from jail- he even threatened rapper Chris Brown.
In case you missed it, Marley Rae's dad has been making more really poor choices. Kevin recently sued Eva the Diva seeking custody of their kid. She objected to him having custody claiming he was dangerous. She even accused him of not paying a dime in child support. Click here to read an article from earlier this month explaining the full story how Kevin managed to get arrested while in court.
The drama doesn't stop there…
Since Kevin has been released, he took to Instagram to throw shade at the violent rapper, Chris Brown, who also has a long history of problems with the law.
Never forget, Chris Brown was arrested after beating up his former girlfriend, Rihanna, in 2009. If Chris doesn't mind hitting a woman, one can only imagine what he'd do to someone threatening him on the 'gram.
According to The Blast, "McCall posted a throwback with Chris Brown where he wrote, 'you still running rom you put-on come let me beat you up so u can throw up the hooks …' He then called out Brown's fans saying, 'Imma post this everday until somebody from Team Breezy commit suicide…I want them all to kill themselves and get it over with. They some miserable irrelevant little fuccers who never fight in person.'"
On this week's episode of RHOA, Eva slammed her ex calling him a 'psycho.' She seen house hunting out of fear her crazy Kevin would find her and their baby. The America's Next Top Model alum explained how she has experienced PTSD resulting from Kevin's past alleged abuse. She feared her "donor might be on the lurk."
I broke down the RHOA premiere episode with Erin Martin from the Pink Shade with Erin Martin podcast on my podcast, On This Day Entertainment. Click here to listen!
What do you think would be a suitable custody agreement for Marley? Sound off in the comments!
---