Reality TV Worlds Collide VIA Celebrity Big Brother
Lindsay Lohan lashed out at Tamar Braxton and the show after her mom, Dina Lohan, was eliminated.
Ashley Hoover Baker February 15, 2019 12:00pm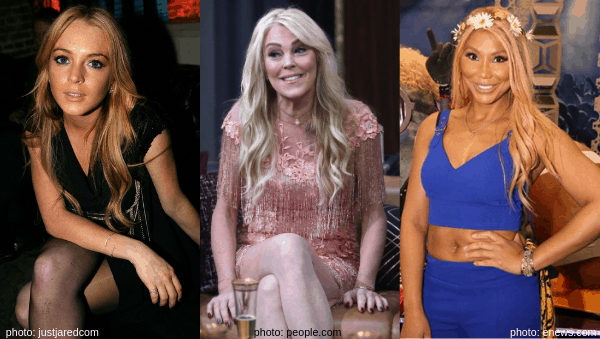 Dina Lohan was eliminated from Celebrity Big Brother. Lindsay Lohan did what any loyal daughter would do, criticize the show and mean-tweet the winner, Tamar Braxton.
Lindsay's wrath began on Instagram. The Lindsay Lohan's Beach Club star commented on a photo of herself: "Finally #family @alianalohan #free @cbs_bigbrother you suck and get no Valentine's from @lohanbeachclub @mtv. My mother is an AMAZING woman and she did so well." The boss babe has since taken down her comment.
View this post on Instagram
Meanwhile, Tamar was minding her own business and living her life. She Celebrity Big Brother winner took to Twitter to send out a link to one of her songs, 'Bluebird of Happiness.'
Tamar Braxton – Bluebird of Happiness – https://t.co/2jopqT4NnE #iTunes

— TAMAR BRAXTON (@TamarBraxtonHer) September 25, 2017
Of course, Lindsay couldn't stay quiet…
LiLo responded to the tweet directly with, "Congrats. God bless you. But you are not any friend of women. You're deceptive and conniving and so is this #RR MONEY IS MORE TO YOU than being a strong woman #sadness bless you #HappyValentinesDay #KarmaSuperHit." Geez. Lindsay really let Celebrity Big Brother and Tamar have it! 🤣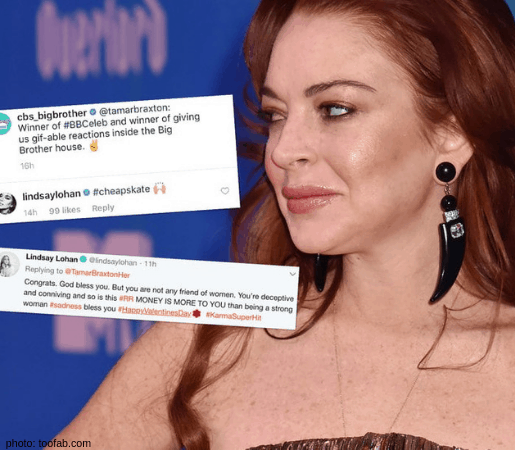 Tamar has yet to respond to the Mean Girls star on social media.
Do you think Lindsay is coming from a good place, or is the actress just being messy? Let me know in the comment section!
---