The Ultimate Reality TV Guide to the Hamptons!
It's Turtle Time!
Lara Sophia May 29, 2019 9:30am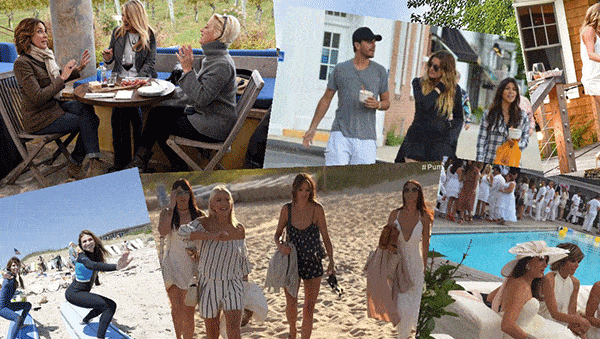 Are you visiting the Hamptons this summer and hoping to live it up like the Real Housewives of New York, or one of your other favorite reality TV stars? If your answer is yes then we've got the ultimate guide to the Hamptons!
Since the inception of the Real Housewives of New York, reality TV stars have given us a peek into the fabulous lives of the rich and famous who flock to the Hamptons from Memorial Day to Labor Day.
Over the years, we've seen the NY Housewives, the Kardashians, the VanderPump Rules crew, and more share their favorite hot spots in the Hamptons – from Montauk to Sag Harbor to Southampton and so on.
And now we've curated the ultimate Hamptons getaway inspired by our favorite reality TV stars! This was you can eat, drink, shop, and party it up just like your favorite reality TV star!
Stay
The Montauk Yacht Club Resort & Marina is an award-winning Hamptons hotel is ideal for weekend getaways, girls trips, and family vacations.
As Seen On Vanderpump Rules S5/E9: Stassi wants a classy and drama free birthday trip so she ditches Mexico in favor of the Hamptons.
The Capri Hotel located in Southampton is a boutique hotel that exudes classic sophistication in a beach-chic setting.
As Seen On RHOBH S6/E7: Lisa Vanderpump and the ladies head to Southhampton to celebrate her cover of Bella Magazine. However, LVP is upset when she learns the other girls have checked out of the hotel and into their own private mansion.
Eat
Whether you need a hearty breakfast before a day on the water or an afternoon snack on your way back from the beach, you'll feel right at home among the laid-back indoor/outdoor atmosphere of the Alley and the Deck. This friendly Montauk restaurant specializes in home-style cooking for breakfast and offers an all-day lunch and dinner menu.
As Seen On Vanderpump Rules S5/E9: In the Hamptons, Stassi and the girls do shots but Scheana is being a party-pooper and isn't interested in partaking.
Activities
Duck Walk has two locations – the flagship winery is located in Southampton, New York. Then in 2007, they added a new location on the North Fork of Long Island. Both tasting rooms are beautifully designed and accommodate large parties and everyone who would like to taste their award-winning wines!
As Seen On: RHONY S6/E9, RHOBH S6/E7 + Kourtney & Khloe Take The Hamptons
Nightlife 
1 OAK, was born of the namesake catch phrase: "1 of a kind." Over the years, 1 OAK has endured continuous waves of competition but has outlasted the rise and fall of countless nightlife trends making it truly one of a kind.
As Seen On  Kourtney & Khloé Take the Hamptons S1/E9: Khloe takes the Southhampton DASH Dolls out for a night of drinking, dancing, and anxious hair fidgeting.
75 MAIN has quickly become a "must-go" destination for those who love great food, music, dancing, and high-quality nightlife. 75 MAIN is an Italian, New American Restaurant & Lounge that has become Hamptons' newest celebrity haunt. This chic, sexy, seductive atmosphere takes visitors on a musical journey of old school r&b, house, hip hop, reggae & dance music. If you prefer to just relax to sultry musical styling you can also unwind as you enjoy fabulous food and music in an upscale, sophisticated atmosphere.
As Seen on: RHONY S6/E4, RHONY S7/E3, & S5/E1 + Kourtney & Khloe Take The Hamptons
---