Reality Check: Oz Restaurant and Bar
A review of RHOP Ashley Darby's restaurant and bar Oz!
Emily Bertha July 5, 2018 9:14am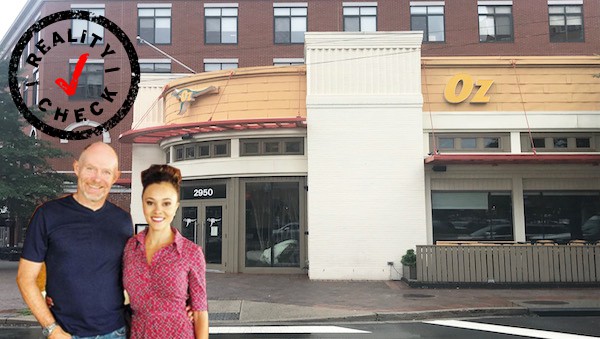 With a name like Oz, it's hard not to fall short of magical expectations.  Koalas replaced scarecrows, and camel burgers are nothing compared to lion hearts. Although I never did see Oz (which I guess would be Michael Darby in this case? Or Ashley Darby? Who knows, I'm losing the metaphor), my visit to Oz Restaurant and Bar in Arlington, VA was definitely worth it.
Oz is only a short drive from D.C. (depending on if you're used to LA traffic or no traffic), but you can also take the metro. Pulling up to the restaurant, I half expected to see Ashley and Michael arguing in the parking lot next to the restaurant and was fully disappointed when I didn't.
As we walked into Oz, I was transported to some wild Australian outdoor area with vines hanging from the walls, ready to spot a wild Gizelle prancing through at any moment. Unfortunately, I had no such luck.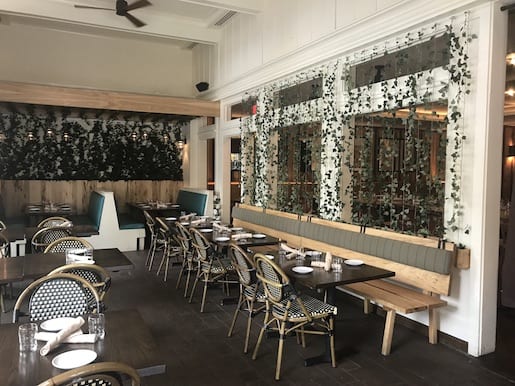 We were seated on the right side of the place towards the back. The walls with ivy are to the left when you walk in with a private dining room behind them. We were seated toward the right across from the bar in the weird area with the ceiling that looks like the sky in the Venetian in Vegas, truly authentic. I felt like I was in the land down under until the topic of emu switched to politics so quickly that I almost fell off my chair. I snapped back to reality (oof, there goes gravity).
My friend says he normally visits for brunch, but we decided to come for lunch, which wasn't the best move. I got the roasted cauliflower salad, veggie burger, and we ordered the sliders (venison, camel, and kangaroo). The lunch deal includes a drink for only $15 total. It's no Lisa Vanderpump establishment, but I'll take affordability over elegance any day.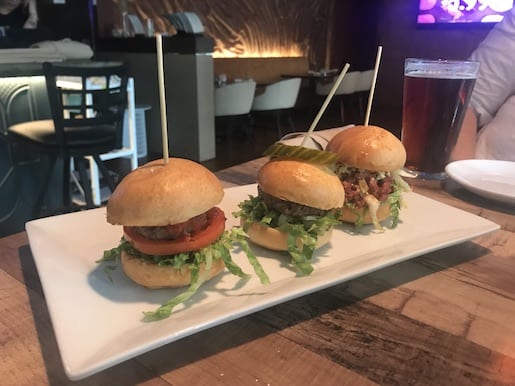 The sauce on all of our burgers and sliders was way too overpowering. However, I needed just about anything to get the bad taste out of my mouth after showing my friend a picture of Ashley and him not fainting over how gorgeous she is (stay tuned while I currently reevaluate that friendship).
I'm not sure just how many reviews the Darbys took to heart after their tasting because each dish has one too many things going on. They need to take some advice from Coco Chanel: before you leave the kitchen, take out one ingredient.  The dishes are sort of like me trying to figure out my style in middle school. One day I'm the shy plaid Bermuda shorts type and the next I'm the wannabe Hot Topic employee.  There's no consistency in the food and too much going on. The menu definitely  still needs more refinement. Michael is the one who was intent on it being Australian, but there's a reason there aren't many successful Australian places. Make it more of a fusion restaurant or something.  If Ashley were solely in charge, I'm sure she'd run it much better.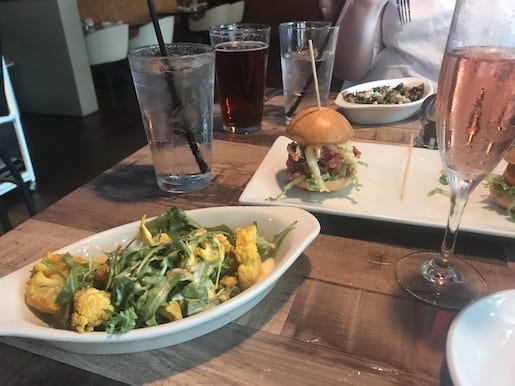 The lights went on and off while we were there, and the workers joked it was Michael watching them. Something tells me I wouldn't want him as a boss, husband, or business partner.
The food was still good for the price point, and Oz is definitely the place to go for a Bachelorette party, boozy brunch, or just some good old fashioned RHOP watching.
Read about all the drama that went down at Oz here.
---