Real Housewives Who Have Been Downgraded From Housewife to Friend!
These Housewives went from hot to not in the blink of an eye!
Lara Sophia September 9, 2019 11:20am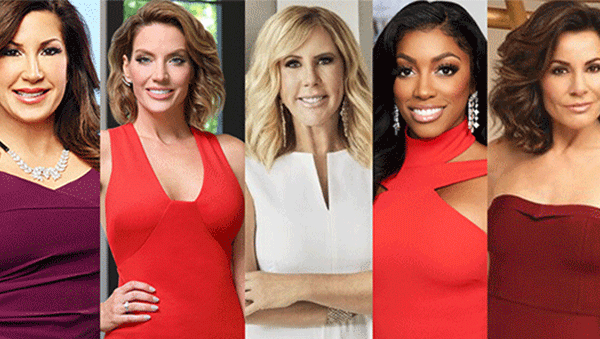 Real Housewives demotions almost always shock the heck out of fans.
Over the years several Housewives have been forced to go from full-time to a friend or even a more reduced role on the Real Housewives.
While some of the Housewives, like Luann de Lesseps and Porsha Williams, are able to reclaim their full-time status after only a season as a friend, not all Housewives are as lucky.
Some Housewives are forever stuck in their friend role or are eventually let go from their franchise altogether.
Scroll through to see which Real Housewives have been downgraded from Housewife to Friend over the years.
Vicki Gunvalson
Vicki was the star of RHOC for thirteen seasons which is why fans were shocked to hear about her demotion for season 14. While she'll always be the OG of the OC in our hearts she's no longer a full-time Housewife and is simply a friend of the Housewives.
Katie Rost
Katie starred on RHOP during season one but only appeared as a guest on season two. However, Katie was officially brought back as a friend for season four and has been making waves and creating drama ever since.
Cary Deuber
This OG Dallas Housewife stepped down to a friend role for season 4 only to be replaced by another Kary [Brittingham]. Cary appeared on the Dallas franchise since season one but chose to pull back for season 4 of RHOD  to focus on work and her family.
Luann de Lesseps
The Countess always brought it on RHONY, which is why fans were surprised by her demotion for season 6. Luann's demotion reportedly stemmed from contract disputes. Yet, Luann brought so much drama during season six that Bravo quickly promoted her back to a full-time Housewife for season 7. Ever since then Luann has remained a full-time RHONY.
Porsha Williams
Porsha Williams made waves when she joined the RHOA cast during season 5 but her reign has a full-time Housewife was short-lived. By season 7, Porsha was dropped down to a friend but she quickly snatched her peach back and has been a full-time Housewife ever since.
Camille Grammer
After season one of RHOBH, Camille Grammer earned the moniker "Most-Hated Housewife." However, fans quickly saw another side of Camille when she returned for season two but that was short-lived as she left the show before season three. Camille returned to RHOBH as a friend for season 8 and seemed to be the sweet old Camille we grew to love during season two. But by the time season 9 rolled around, season one Camille had reappeared and created havoc and drama in Beverly Hills so much so that she was not asked back in any capacity for season 10. Camille continues to blame co-star Kyle Richards for not being asked back for season 10.
Jacqueline Laurita
Jacqueline, along with her sister-in-law Caroline Manzo, starred on RHONJ for the first five seasons, before being demoted to a "friend" for season 6. By the time Jacqueline exited RHONJ her friendship with former BFF Teresa Giudice was nonexistent. When Jacqueline returned for season 7 of RHONJ, her and fresh-from-prison Teresa attempted to move forward with their friendship and start fresh but that didn't last long. Jacqueline left RHONJ for good before season 7 started filming.
Kathy Wakile
After three seasons of family drama with cousin Teresa Giudice, Kathy Wakile was demoted to a friend for seasons six and seven. By the end of season 7, Kathy's Real Housewives fate was sealed when fresh-from-prison Teresa made it clear she had no interest in any kind of relationship with Kathy and her sister Rosie Pierri. Kathy left RHONJ for good after season 7.
Lizzie Rovsek
This OC Housewife was liked by fans when she joined the show during season 9 but not so much so that Bravo kept her a full-time Housewife for her second season. Lizzie was demoted to a friend for season 10 before leaving the show before season 11. Despite her short-lived time on RHOC she has popped up on the show here and there and remains friendly with several of the cast members.
Sheree Whitfield
After leaving RHOA after season 4, this OG Atlanta Housewife returned as a friend for season eight. Sheree's return made such a splash that Bravo bumped her up to a full-time Housewife for seasons 9 and 10.
Jeana Keough
Jeana Keough and her loud, crazy, and fun family ran the RHOC when the show first debuted and continued their reign for five seasons. However, for season 6 Jeana was demoted to a friend and promptly left the show shortly after.
Danielle Staub
During seasons 1-2 of RHONJ you either loved or hated Danielle Staub there was no in-between. And to be honest not much has changed. Danielle starred on RHONJ for the first two seasons before being let go before season three in favor of Teresa Giudice's sister-in-law Melissa Gorga and cousin Kathy Wakile. Danielle returned to RHONJ during season eight after reconciling with former foe Teresa. Since returning to RHONJ, Danielle has created quite a bit of drama but a recent falling out with Teresa could jeopardize her future on the show moving forward.
Lauri Peterson
Lauri Peterson's time on RHOC was something out of a fairytale. She joined the show a struggling, broke single mom only to meet her, very rich, Prince Charming, who quickly swept her off her feet. For four seasons Lauri starred on RHOC but left during season 5 to focus on her son Josh's legal and addiction issues. Lauri popped back up on RHOC during season eight as a friend. Despite creating quite a bit of drama, she left the show for the second time following season eight.
Charisse Jackson-Jordan
Charisse's reign on RHOP was over in the blink of an eye. While Mrs. Jackson-Jordan starred on RHOP for the first two seasons she was demoted to a friend role for season three before leaving the show entirely ahead of season four.
Tell us – Which demotion were you most upset over? For more Real Housewives gossip check out the

BUZZ

section of TOR!
---