Real Housewives Products: Beauty Edition!
Here is the current list of Housewives who have beauty products for purchase
Jaimee Palkovicz March 14, 2018 9:00am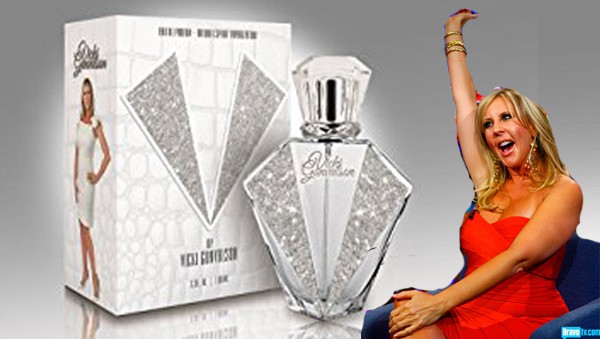 It may seem as though the Real Housewives just lunch, vacation, and gossip all day but, in reality, most of these women are busting their butts for businesses they've created after becoming Bravo-famous! Over the many years and the numerous franchises, there have been many a Housewife that has come out with home, food, booze, beauty products and more! Housewife beauty products have come and gone. (Cough, cough, Ramona Singer's Tru-Renewel.) But, there are a few that have come, and stayed. These are the current beauty products that are talked about (maybe even over-promoted) by your favorite Bravolebs!
Vicki Gunvulson

Vicki Gunvulson has brought us Coto Insurance, Wines by Wives, and even bacon flavored vodka. But as far as beauty products go, she now has a perfume out called V By Vicki Gunvulson. Even if you have no plans of  buying the Real Housewives of Orange County star's scent, the reviews of the product are pure entertainment! If you want to smell like a middle-aged, overworked insurance saleswoman, this fragrance is for you!
Kim Zolciak-Biermann

As RHOA's Kim Zolciak-Biermann likes to tell us over and over again on her Snapchat. She has been working on Kashmere Kollection for years and has finally got the perfect formula for the best toning oil out there.  From what I've seen, the reviews are great, and she even has the Kardashians promoting  it.  She also teamed up with Bravo's Lilly Ghalichi to develop a set of top and bottom lashes for Lilly's online Lash store, Lilly Lashes.
Porsha Williams

She may have been a stay-at-home wife who didn't need to work when she was married to Kordell Stewart. but once Porsha Williams broke free from him, she became her own CEO of Go Naked Hair. Porsha mentions Go Naked on the show as well as endorses it on her social media.
Kenya Moore

Coincidently Kenya Moore from Real Housewives of Atlanta started the same type of company as one of her co-stars.  I feel like I'm having dejavu…  with the workout video scandal of Season 5. Kenya's company is called Kenya Moore Hair, and instead of wigs and hairpieces, she focuses on products to maintain healthy natural hair. (BTW. We ordered this product and they took our money and didn't ever ship it OR respond to inquiries about a refund. Consider yourself forewarned!)
D'Andra Simmons

When Real Housewives of Dallas star D'Andra Simmons became a Real Housewife of Dallas, we got to see inside the business her mother started Hard Night Good Morning that D'Andra herself also works for. In Season 2, we saw D'Andra's mother give her the reins to launch her own product L22 Elixir. I mean how could we forget when there wasn't any L22 for the L22 Elixir?! Well the L22 was found and you can purchase the L22 Elixir straight from the Hard Night Good Morning website.
Which product do you want to try?  Which Housewife do you trust the most to develop your beauty products? Let us know in the comments below!
---