Travel Tuesday: Real Housewives Guide To Jamaica!
Jamaica, Here We Come!
Lara Sophia December 3, 2019 9:25am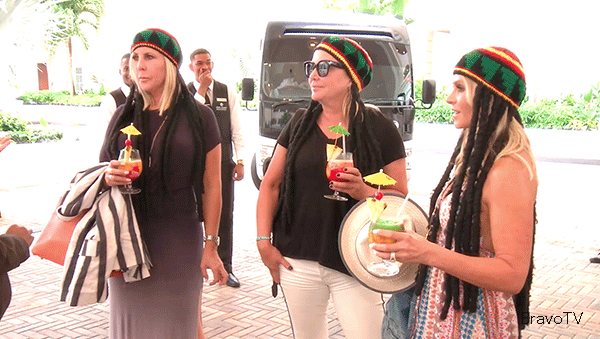 Jamaican me crazy!
It's safe to say the Real Housewives can't get enough of Jamaica. Over the years, several of the franchises have traveled to Jamaica including the OC Housewives, the Atlanta Housewives and most recently the ladies of the Garden State.
During season 13 the Real Housewives of Orange County traveled to Montego Bay and got stuck in rooms with no air conditioning! Remember the horror? The Real Housewives of Atlanta, on the other hand, visited Ocho Rios, Jamaica during season 8 and it was Gone With the Wind fabulous.
The Real Housewives of New Jersey are the most recent franchise to visit Jamaica. During last week's episode, the RHONJ cast headed to Ocho Rios for one of their season 10 cast. Oddly enough they are staying at the very same resort that the Housewives from ATL stayed at many years ago.
With that said, there's no doubt that the Housewives, well maybe Bravo, can't get enough of Jamaica. So let's break down the best places to eat, drink, and stay in Jamaica.
Welcome to paradise. This fun, larger-than-life resort located in Ocho Rios, Jamaica will bring your wildest dreams to life. With more than 700 luxurious suites, Moon Palace Jamaica Grande offers an array of amenities including spa treatments, watersports, tours, restaurants, and so much more.
---