Iconic Real Housewives' Fights Get ASMR Makeovers & the Results Are As "Good As GOLD"
whispers: Wow Bethenny WOW!
Lara Sophia June 24, 2019 2:51pm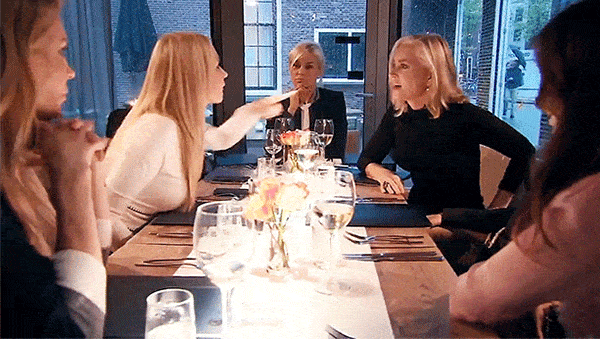 Real Housewives fans live and breathe for dramatic, knock-out, fights. These fights get fans excited and pumped up for the drama, and fall out, that's to come.
But what if you're favorite Real Housewives fights we're all of the sudden soothing and relaxing; so much so that they could put you to sleep after a night of rowdy reality TV drama.
Intrigued? Well, you're in luck because that's just what happened when Real Housewives fights were replaced with ASMR whispers. Not only are these clips as "Good as Gold" they are something we didn't know we were missing.
If you're wondering, 'WTF is ASMR?' let's explain the internet trend made popular on YouTube.
ASMR (autonomous sensory meridian response) is defined as "a feeling of well-being combined with a tingling sensation in the scalp and down the back of the neck, as experienced by some people in response to a specific gentle stimulus, often a particular sound."
With that said get ready to see some of your favorite Housewives fights in a whole new light! You'll love it so much that you'll be flipping tables and whispering JOVANI all night long!
Kim Richards vs. Eileen Davidson and Lisa Rinna in Amsterdam ASMR pic.twitter.com/CW5zfp9TL4

— T. Kyle 🏳️‍🌈 (@tkylemac) June 14, 2019
Attempting to revive my ASMR career with my rendition of "Life Is Not a Cabaret." #RHONY pic.twitter.com/A94RBIEDtU

— ANT 🏳️‍🌈 (@ANTFERNY) June 14, 2019
Thoughts on these ASMR makeovers? Sound off below!
---