Real Housewife VS Desperate Housewife
RHOBH's Lisa Rinna is going after Desperate Housewives' star Nicollette Sheridan over Harry Hamlin!
Ashley Hoover Baker February 25, 2019 11:10am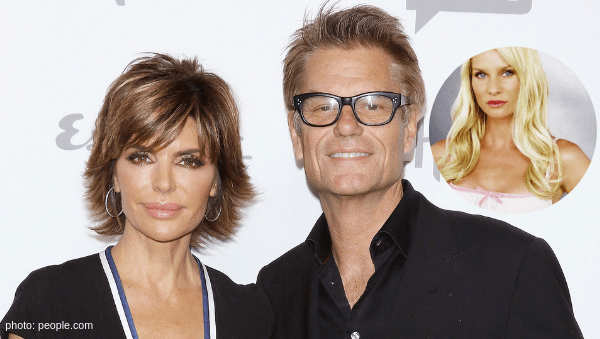 I am here for this Real Housewife on Desperate Housewife drama! Real Housewives of Beverly Hills' Lisa Rinna is at war with former Desperate Housewives star, Nicollette Sheridan, over Harry Hamlin!
In case you didn't know, Lisa's hubby, Harry Hamlin, was briefly married to Nicolette in the early 90s. There was a rumor that Nicolette cheated on Harry with pop superstar, Michael Bolton, after she attended one of his concerts.
Well, we know Lisa's motto: 'My lips were made for talking, and that's just what they'll do'… so she called out Nicolette on a recent episode of RHOBH. Love her or hate her, Rinna makes great television!
Nicollette wasn't having it. She took to twitter to call Lisa Rinna out for the 'fake news' she was spreading.
FAKE NEWS! Harry and I ended our marriage nose to nose in Canada…Michael was a long time friend that was invited to our wedding…Happy Harry found happiness with housewife @lisarinna @slice_tv https://t.co/OFJzjje57d

— Nicollette Sheridan (@IamNicollette) February 23, 2019
I love this so much. The mild mannered Harry had to chime in to clear the air.
Re Fake News! What's it called when your wife of one year suddenly goes to bed with a pop singer? …two weeks after your mother dies?? I did a lotta stuff with my wife "nose to nose" but ending our marriage was not one of them!

— Harry Hamlin (@HarryRHamlin) February 24, 2019
It only got messier from there…
Do you really want the truth shared? I appreciate that you want to support your housewife's FAKE NEWS narrative, but the end of our marriage had nothing to do with anyone other than us. Sad you still can't own your part.@HarryRHamlin @lisarinna https://t.co/GUEVCVsAYT

— Nicollette Sheridan (@IamNicollette) February 24, 2019
Whose side are you on? Comment Team Rinna or Team Nicollette in the comment section!
---