Ramona Singer Slams Bethenny Frankel in Her Bravo Blog, "We All Just Tolerate Her Antics."
Ramona chimes in on the fight between Carole & Bethenny!
Genny Glassman May 22, 2018 2:01pm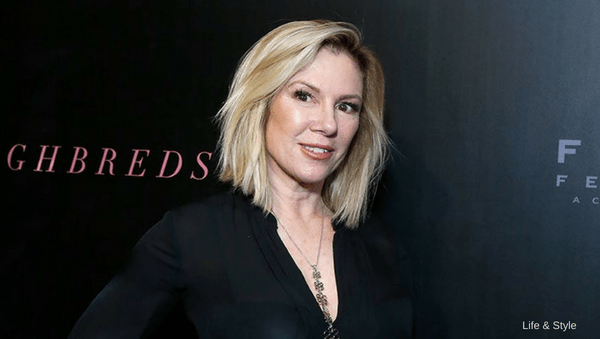 It looks like Ramona is trying to get in on this season's biggest fight! The reality star took to her Bravo blog yesterday, to chime in on the ongoing feud between former friends, Bethenny Frankel and Carole Radziwill. According to Ramona, Bethenny's feud with Carole is just one fight in a long history of bad behavior towards the other women on Real Housewives of New York.
In her blog, Ramona notes that as one of the longest running Housewives, she's seen Bethenny battle many of the other women on the show. "The sad thing is I can't remember a time when Bethenny was genuinely happy and supportive of any of the women in our group," she writes. "And I go back 10 years!!"
Then Ramona goes on to list all of the women that Bethenny has taken down in the past and yikes…the list was longer than we thought.
"She treated Kelly horribly, she was competitive and combative with Heather, dismissive of Kristen, downright nasty to Jules (remember how she trashed her home?). She called Luann a snake and a whore, then Sonja was "dead to her," for what? Trying to make a buck in the booze business? Last year she berated me for trying to have an awkward conversation about a nude movie she had appeared in, and she still doesn't miss an opportunity to take digs at me. This year she's condescending to Tinsley who wrote her a $10,000 check, calls Dorinda a drunk, and she's on a rampage of insults against Carole who, up until this very episode, has never said a bad word about her and continues to support her businesses and charity.
"It's to the point where we all just tolerate her antics because it's easier to just take the hit and move on," she adds.  "If Bethenny is consistent at all, it's that she cannot be confronted on any of her behavior (whether it's her own anger or emotional issues)."
Whew! Those are some fighting words! But that wasn't the end of Ramona's tirade.
"It's two sets of rules: her way or no way. She can stick up for Sonja, be her mouthpiece ("puppet") and call out Tinsley, but when Carole tries to defend Tinsley she's a puppet. This is crazy!! Bethenny needs to look in the mirror."
While Ramona certainly has a point that Bethenny has made enemies in the past, we wouldn't say that some of these foes were unwarranted. Even take Ramona's feud with Bethenny from last season. Ramona was trying to stir the pot when she asked Bethenny about a nude scene she had done in a movie. With her typical Ramona tactfulness, she basically asked Bethenny if her daughter Byrn had found out that she had done porn. Additionally, Ramona asked this question in front of all of the other Housewives, which given how sensitive this subject is, would make it seem like Ramona was purposely trying to embarrass her. Poor form, Ramona.
So while yes, Bethenny does get in many disputes on the show, perhaps this time it's beneficial to consider the source. In this case, this might be the pot calling the kettle black.
Do you agree with Ramona? Let us know in the comments.
---