Oh No! Ramona Singer Gets In Car Accident Over the Holiday Weekend!
Sad reacts only.
Genny Glassman May 29, 2018 9:19am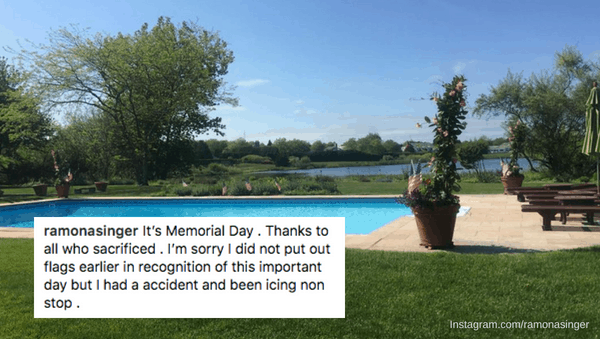 It looks like someone isn't having a relaxing Memorial Day Weekend. According to a reported published by Page Six, Ramona Singer was caught on her cellphone after getting into a car accident on the Montauk Highway, Saturday evening. While the report doesn't mention any injuries, Ramona herself posted a picture to Instagram, which seemed to imply that the Real Housewife of New York might have been seriously hurt.
According to Page Six, a "spy" told the site that Ramona had allegedly crashed her Maserati into the back of the Mazda ahead of her. The spy tells Page Six that Ramona was seen on her cellphone outside of her vehicle, looking "visibly annoyed," along with the passengers of the car she had hit.
The report notes that no one appeared to be injured and that ambulances were not at the scene. But an Instagram post, later made by Ramona seems to imply otherwise.
The RHONY star, posted a picture of her idyllic Hamptons house saying that she was sorry that she didn't have more elaborate decoration. " I'm sorry I did not put out flags earlier in recognition of this important day but I had a accident and been icing non stop," writes Singer in her post.
While it is possible for injuries to be delayed after an initial accident (WebMD notes that even injuries like whiplash can appear up to 24 hours or more after impact), we're interested to know what kind of pain Ramona is in! We're sure we'll get more info as this story develops and as of yet, Ramona has yet to divulge the extent of her injuries. But no matter what, we hope you feel better, Ramona!
Let us know your kind words for the RHONY star in the comments!
---