Quick Question: What is Going On Between Kathryn and Thomas?
I need an adult.
Genny Glassman June 5, 2018 4:00pm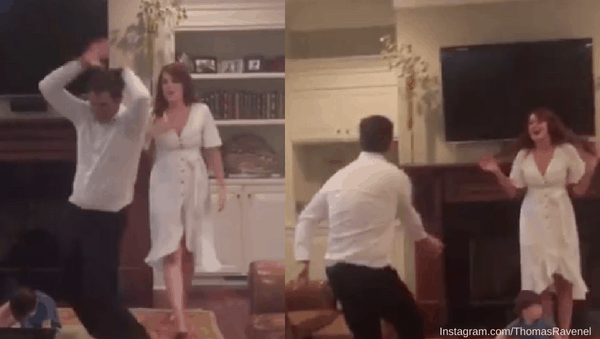 Is this coparenting or something more? In a video that made waves across the internet, Southern Charm's Thomas Ravenel and Kathryn Dennis seem to getting along swimmingly, but is it too close for Thomas' beau Ashley Jacobs?
The video, which was published to Thomas' Instagram account on June 4th, shows Thomas and Kathryn dancing around to Britney Spears' "…Baby, One More Time," in his living room with their two children Kensie, age 4, and Saint, age 2.
The video is somewhat shocking, considering the heated exchange between Thomas' girlfriend Ashley Jacobs and Kathryn on the last episode of Southern Charm where Ashley accused Kathryn of being a bad mother. The two left their vacation to Hilton Head on extremely bad terms, but does that mean that Thomas is picking Kathryn over Ashley?
We're not so sure. There has been no announcements from either Thomas or Ashley about their relationship coming to a close. And according to a separate photo posted to Instagram by Kathryn, this might just be an effort between the former lovers to co-parent their kids.
"What matters most? My daughter's happiness. #thisiscoparenting," Kathryn writes in her Instagram caption.
The two posts come after a crazy weekend for Ravenel. Who was reported by multiple outlets over the weekend to have been fired from the Bravo reality show. However, on June 4th People Magazine clarified that the earlier stories weren't true.
Fans were also still heated from that lightening rod of an episode last week and the still ongoing investigations into sexual assault allegations by the Charleston police and the production company that makes Southern Charm, Haymaker.
While we can't say that we are exactly happy to see Kathyrn spending her free time with Thomas, we don't blame her for trying to put her best foot forward for her children. Just don't go back with him Kathryn, we beg of you.
What do you think of Kathryn and Thomas' co-parenting style? Let us know in the comments!
---