Vanderpump Rules Recap: Tom and Tommer
Season 7 - Episode 9
Jennifer Ray February 5, 2019 2:32pm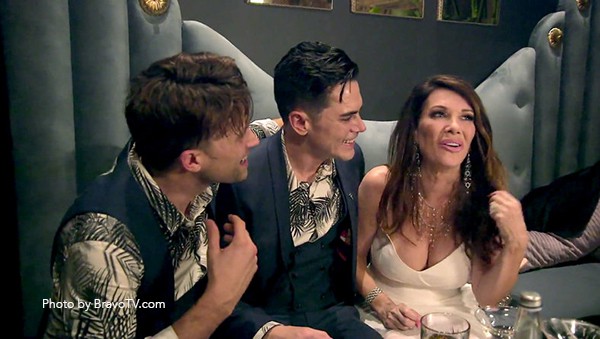 If given the choice between working as a writer for a reality show and a writer for a soap opera, I would probably pick neither. If that wasn't an option and my life somehow depended on it, I would choose to write for a soap opera. The flexibility they have with storylines is far less stressful. When a storyline becomes boring you just bring someone back from the dead or write in a kidnapping and BOOM, you've recaptured your audience. It's not as simple with scripted reality (shut up, that's exactly what this is). Scripted reality has to be believable. Unfortunately, that's how we've ended up here.
Just about everyone in the cast is doing adult things and what's the fun in that? First, there's Tom Sandoval who is running around like a lunatic trying to finish the last of his task list before the Daily Mail TV party. Sure, he could've completed most of these prior to the day before the event, but that would've been boring and we need some excitement. Coincidentally, this is how I manage my task list and it's more panic-inducing than exciting. Then there's Tom Schwartz who visits James Kennedy at he and Raquel's apartment to discuss his DJ duties. Prior to his arrival, James was performing a grown-up task as well: writing a letter to Lala Kent's boyfriend, Randall. Or at least he was until very maturely, Raquel told him not to, explaining that if she wasn't friends with Lala, he couldn't be either. The adulting continues when Schwartz arrives and Raquel picks this moment to share with James that she will be accepting Billie Lee's invitation to Girls' Night In.
Wearing his big boy pants, James tells Raquel that her actions are a contradiction of what she just requested of him and then promptly storms out. When he returns, he's visibly upset and begins yelling at Schwartz, proclaiming he hates Katie Maloney-Schwartz for stealing his night. That's how emotions work in adult-land. Schwartz reminds James that he brought it on himself and eventually he stops crying.. this episode. From one grown-up situation to another, Lala and Scheana Marie meet for coffee. Scheana is back on the market and makes no secret about it. She begins by flirting with the barista who could only look less interested if the script called for it. Then she proudly asks Lala, "you haven't heard? I banged Adam!" After bragging about her conquest, they sit down and have a chat. Lala tells Scheana that as a thank you for all of the girls being there for her when her dad passed, she wants to take them to a winery in Solvang. Sounds fun, right? Not if you're Scheana.
Scheana and the girls are somewhat on the outs, primarily because Scheana can't quit talking about herself. And don't bother talking to her. She isn't listening, she's too busy staring at her reflection in your eyeballs. Scheana is worried about the trip as she doesn't get along with the girls anymore and Lala basically tells her, "I don't think you ever will." Adults are honest.
From there, more adult things happened. For starters, TomTom is open, kind of. Yes, the Tom's managed to stay out of Lisa Vanderpump's way allowing her to work her magic and semi-open yet another phenomenal restaurant just in time for the Daily Mail TV party. Of course, the opening didn't happen without problems along the way, like the ice machine not working, the air conditioning not working, and the toilets not working. Things got so hectic that even Schwartz had to work. SCHWARTZ. I know, I couldn't believe it either. If that isn't growing up, I don't know what is. It gets better. After discussing the guest list, Lisa tells Schwartz that he needs to disinvite Kristen Doute. AND. HE. DOES. Kristen handled it very well. She cried, took tequila shots, then went and sulked in her room while cry-eating noodles. Excuse me, but how would you have handled it?
Kristen did miss a good party. The place was packed. James DJ'ed from a closet. Jax Taylor tried to get him to drink. Katie got wasted. And for the first time ever, we (or at least, I) got to see Lisa wasted. That's it. The End.
Can anyone else not wait for the girls' trip so something can finally happen? Comment below!
---