Vanderpump Rules Recap: A Homecoming Divided
Season 7 - Episode 8
Jennifer Ray January 29, 2019 10:04am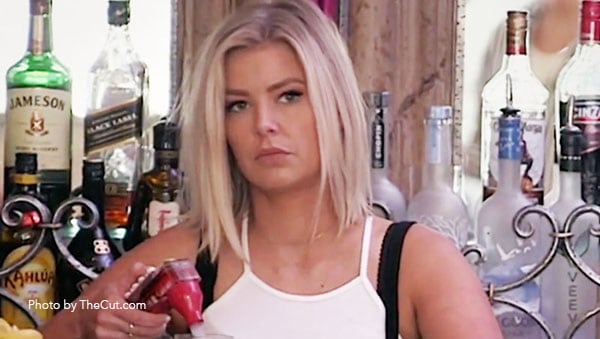 You know what? As much as I love Vanderpump Rules, these people better start getting more interesting or the producers need to make like the singing group Menudo and start phasing people out.
Let's begin with Scheana Marie's favorite person: Scheana. As we all know, Scheana has moved to Marina Del Ray which, apparently, may as well be on the other side of the planet as it's as far away as you can get from SUR – as though she actually works there, hahaha. Anyhoo, Scheana is christening her new apartment with a housewarming party and the gang (most of them) is slowly headed her way, making their way through traffic that will probably keep anyone from ever visiting her again. After what seems like hours of moving at a glacial pace, they all begin trickling in. Tom Sandoval, Jax Taylor, Tom Schwartz, and Peter sit outside and discuss Sandoval and Jax's joint birthday party. Ariana Madix, Brittany Cartwright, and Scheana talk about Brittany and Jax's marriage future and their plans to attend counseling because it's worked so well for Jax in the past. Then Scheana starts talking about banging Adam and now I might need counseling.
However, before I scheduled my first session things finally picked up. James Kennedy and Lala Kent are having a friendly chat when Billie Lee joins them. James excuses himself so the women can hash things out, so what could possibly go wrong? Unfortunately, everyone loves the sound of their own voice, so rather than listen to each other they yell over each other, which is how this argument went. Billie tried to explain her feelings; Lala did not care to understand those feelings which results in Lala storming out while slinging insults at Billie. Upset, Billie has a sit down with Ariana to continue explaining her feelings. And while Ariana understands, she gives some advice that everyone should take: maybe don't put the drama on social media. The world has been fixed.
Except it wasn't because we have to witness Scheana getting back into acting and while it's a break from having to watch her take selfies, we now have to watch someone else take pictures of her. And Adam is there. And she keeps making sex jokes. I can't take this another season. Fortunately, Adam can't take it another night, made evident when he responded to her flirtatious question, "will you be able to survive without me for the night?", with "yeah, we need a night apart."
While Scheana figures out her future (and how she really feels about anything), Jax, Sandoval, Peter, and Schwartz discuss theirs. They've gathered at State Social House for some birthday drinks for Sandoval and after some blow job shots, the party quickly turns grown-up when they start discussing marriage and kids. As soon as they're married, Jax and Brittany are going to start on a family right away. This is just my opinion but Jax should have to babysit James for a week before he and Brittany procreate. Anyway, Sandoval chimes in with his goal of having a child, something that Ariana has been against since we met her. Not having kids is a deal breaker for Sandoval so it looks like this will be our storyline, next season. For now, we'll have to settle for another story from Sandoval……
After drinks, the guys make their way to the cigar bar where they're joined by James. They begin the boy talk and Sandoval reveals that, in the backseat of his car, Lala and Ariana had an oral "fling". James has the reaction you would expect from a 13-year-old, which is precisely why Jax should have to take care of him before having kids. Following his outburst of surprise, James goes on to talk about the time he slept with Lala, then makes a comment about Jax and Lala sleeping together and, that does it, I would like to start a petition that Jax take full legal ownership of James before he has a child of his own.
Later that day, Lala arrives at Jax and Brittany's apartment to have her picture taken for the next Girls' Night In flyer. Well, what do you think happened? Jax made sure to tell Lala about his knowledge of her and Ariana, which Lala denies initially. She calls Ariana to tell her about her conversation with Jax, which pisses Ariana off. While at work (OK, so some of them still "work" there), a happy-go-lucky Sandoval approaches Ariana who is bartending while murdering him with her eyes. She rips him a new one for telling the guys about her and Lala, then dismisses him by telling him "your hat is annoying, your face is annoying."
That night, while everyone prepares for the joint birthday party at the roller rink, all anyone can talk about is Ariana and Lala. A visibly less angry Ariana has a sit down with Sandoval to explain to him that he shouldn't be telling her business, it wasn't cool, but she forgives him and hopefully, they can get past it. So that was the end of that.
Hang on, it gets more boring. Everyone begins to arrive at the party, all dressed in their best 70s attire. James asks Scheana about her and Adam but her story is so boring that James changed the subject to his need for a fork, and I got up to help him find one. Ariana talks to Lala and basically tells her that everything is cool. Billie sits down with Scheana and Katie Maloney-Schwartz and apologizes to Katie for their misunderstanding. But because Katie has gone back to tequila Katie minus the tequila, she can't simply accept the apology and is a total a$$ about it. So I'm guessing we're going to spend the entire season watching Katie rally her troops against Billie.
After that, Lala talks to James about the comments he made to Jax regarding their past sex life. James apologizes, tells her he's writing an apology letter to Rand, and then, randomly, Lala apologizes to Raquel for calling her a twat. Also, can I just say that for all the mud-slinging that's been going on amongst the girls, Raquel has handled it better than the rest of them? Her schooling must not have included "how to keep your spot on a reality show" because this kind of dramatic-less behavior is the kind of behavior that gets you re-cast.
Oh, and Tom and Tom saw TomTom.
Since not a lot happened this week, instead of asking what you think will happen next week, I'm going to ask this: do you think Katie is turning back into Satan or is it just me? Comment below!
---