Vanderpump Rules Recap: Girls Night In
Season 7 - Episode 7
Jennifer Ray January 22, 2019 10:52am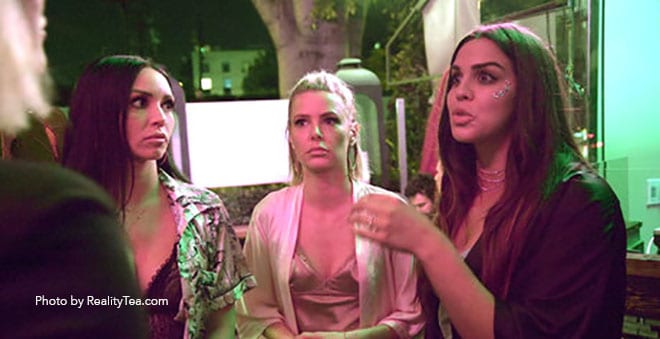 So, I've never had a girls' night in with more than one friend but aren't they supposed to be fun and fight-free? Do I not know how these work? Let's start at the beginning.
The women have turned SUR into event central and Billie Lee kicks things off with her event geared towards raising awareness for the LBGTQ community – welcome to Brunch with Billie. Lisa Vanderpump arrives to scope out the event, which is poppin'. James Kennedy makes an appearance as well, telling Lisa he's there to say hi to and support Billie, who supported him during the staff meeting. Billie interrupts to have a chat with Lisa – Lisa tells her the event is going well and with that, she now has to head over to Stassi Schroeder's event for the HOLIDAY SHE PURCHASED (we'll get there). Brunch with Billie is going strong when in walks Katie Maloney-Schwartz and Kristen Doute. I didn't know this but apparently, Billie Lee isn't too fond of miss Kristen, claiming she always wants to start s$!&. #true. Unfortunately for Billie, her problem with Kristen is making her do the exact thing she hates about Kristen: starting drama at work. Billie walks away and now, it's time to enter Stassi's party.
It wasn't long ago that I wondered where these holidays came from. Now I know. Stassi has purchased #NATIONALOOTDDAY, or, for us elders, National Outfit Of The Day Day. Yes, this is an official day now. Stassi is in the process of ensuring the venue is set up to her liking prior to her arrival, when in walks her boyfriend, Beau, wearing his #OOTD: overalls. #same.  Anyway, it appears as though Stassi has been working on this national day for quite some time. Unfortunately, we (or maybe just me) are just now hearing about it because Patrick the d!$* thought it was such a bad idea that she used to have to hide to take her photos. Beau, on the other hand, is so supportive he had a sign made to place above her outfit picture-taking mirror. #awwww. This touching moment only lasts seconds as he then asks Stassi if she's spoken to her mother, Dayna. She hasn't and, in fact, has decided to take a break from her. Just as she begins to get emotional, Beau stops her and reminds her that she has her party coming up and to focus on that.
The party is typical Stassi: beautiful, well-orchestrated, and something is going to go down. Let's start with Lala Kent, Katie, and Kristen. So Katie is the next to host a party at SUR – she's created Girl's Night In, her attempt at filling in the space that James Kennedy's departure left. She's arranged to have the girls meet at her home to begin planning when Lala drops a bombshell: she has to miss it because she'll be in the studio working with James. "What?", says Katie and Kristen's mouths and faces. Clearly, this is unacceptable. Kristen and Katie begin making Lala feel guilty about her decision, so much so that Lala now thinks James tricked her into thinking he wanted to change and, as she states, she's no fiddle. Interesting since Katie and Kristen knew just what strings to pull to get their way with her.
Off in a more positive distance, Stassi is giving interviews about her national day when Lisa arrives. She pays Tom Sandoval and Ariana Madix a quick visit and informs Sandoval that when TomTom is completely set up, then he and Tom Schwartz will be able to see it. So when there's no chance of them messing things up, they'll be allowed to partake. Speaking of messing things up, this party was going great for me until Beau and Stassi got so comfortable with themselves that she spit her hamburger into his mouth and he ate it. I finished vomiting just in time to witness Brittany Cartwright have a quick chat with Lisa about what happened at the staff meeting. I'm just going to say it. I'm a little over this no-one-can-be-mad-at-me-I'm-Brittany-I'm-friends-with-everyone attitude. She attempts to explain to Lisa why she was upset, as well as explain Jax Taylor's behavior at the staff meeting when Jax walks up and makes things worse. He tells Lisa that James is who she should be worrying about, then claims he walked over to apologize, which Lisa basically tells him what to say. Jax walks away and Brittany tells Lisa it's so crazy how they go at each other, prompting Lisa to remind Miss Brittany that Jax seeks employment from her and that he's the one who needs to show some respect. I think sometimes they forget that the show they're currently filming is no their spin-off but VANDERPUMP RULES.
Later that night, the girls convene at Katie's apartment to begin planning Girls' Night In. Before the entire group arrives, Katie tells Ariana about Jax freaking out about Brittany, claiming that she's stressed and then reminding people that they're getting married and everyone needs to get over it. Then, forgetting about the year she was engaged, Katie makes a snarky comment about how they should be enjoying being engaged (in my head, I cued the scene where Schwartz is sitting on a toilet wearing a dress and crying about not marrying Katie). The rest of the girls finally arrive, including Lala who ditched James at the advice of her "friends". They begin talking about the event when, for reasons unbeknownst to any of us, Katie brings up Jax walking in and talking about how stressed Brittany was, then makes a sarcastic comment about how their situation "sounds like fun" and this is the last straw for Brittany. She decides to leave and tells everyone she's on the brim of freaking out.
You know, I think it's funny that Katie claims to be concerned that Jax will go back to his old ways when it's clear that she's already gone back to old Katie, made evident when she tells the women that Brittany's freak out is clearly relationship problems.  Anyway, Brittany tells Jax that she's upset that the people who are supposed to be her best friends are being so unsupportive and then Jax says something that actually makes sense (he gets one a year): he tells her that they don't have to prove anything to anybody but themselves. Bravo, Jax.
That's not the only freak out happening. It turns out that the night before Girls' Night In, Billie Lee put out a tweet insinuating that she was not included in it because she's transgender. Katie is pissed, stating that she's been supportive of Billie from the beginning. Already, Girls' Night In sounds like it's going to be a barrel of fun.
Event night finally arrives and it is packed. Maybe they don't need James on Tuesday's after all, something Sandoval inadvertently points out to James when describing the event to him while having their own night in. James, of course, is pissed. The restaurant is packed and Coyote Ugly SUR is still the place to be on Tuesday nights. Lisa is impressed that the girls were able to pull it off as everything is going great. Then Billie walks in. She immediately begins telling the hostesses that Katie purposely excluded her from the event and that she didn't know about it until she saw the posted flyer. Scheana Marie and Ariana make their way over to Billie and ask her how she's doing. Billie tells the girls how emotional she is about not being included, and before Ariana and Scheana have a chance to explain Katie's side, Katie joins them.
Billie Lee and Katie immediately go at it. Billie says that she never called Katie homophobic, Katie tells Billie that she insinuated that she was and has continued to perpetuate that notion. They continue to argue when Ariana interrupts and tries to get them to have a rational conversation. Instead, Billie and Katie both walk off so Girls' Night In was a total success.
After that, Katie sits down with Lisa to talk about the event. Lisa asks her if she wants to do this every Tuesday which confirms Katie's belief that they don't need James. Katie takes this good piece of news back to the girls, and no one is more excited than Kristen. In fact, during her confessional Kristen runs around the room, proclaiming out loud that she has "won" as James is now officially gone from SUR. Sorry but #shedoesn'tevengohere.
Because Katie is Katie, we go from good news to drama. She tells the girls about the fight she had with Billie as well as some of the verbiage Billie used, and even though Lala has no idea what any of it means because Billie says it it must be bad. While Katie has, once again, has rallied up her troops, Billie is doing some rallying of her own. Billie sits down with Lisa and tells her that, as a transgender woman, she's hurt that she wasn't included in Girls' Night In. Lisa tries to explain that being trans had nothing to do with it, and it might have been because Katie and Billie aren't on the best terms right now.
Not getting the response she was hoping for, Billie then brings up Katie's weight, claiming that Katie cries about it all of the time yet "puts food down", and if she can pull her fat-card, Billie can pull he trans-card. I guess Jax isn't the only one whose arguments make no sense.
What do you think about this week's episode? Do you think Katie is back to being old Katie? Will Jax continue to be new Jax? Will Billie go back to being nice Billie? Comment below!
---