Vanderpump Rules Recap: Reiki Breaky Heart
Season 6 - Episode 19
Jennifer Ray April 17, 2018 8:58am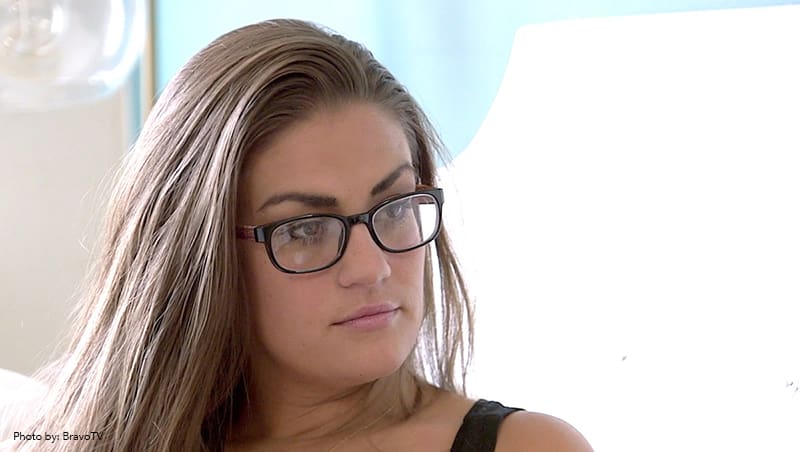 For reasons unbeknownst to me, I like to learn things the hard way. Like the time my parents told me not to jump on what I thought was a pile of snow, because it was actually a pile of ice, and I slipped and landed on my back. Or the time they advised me to not eat what I thought was a cookie, but was actually a large piece of dirt. Yes, learning things the hard way has always been my thing. I've gotten better as an adult, which is more than I can say for my Vanderpump Rules friends.
I genuinely wish I had an explanation but I don't. After Jax Taylor loses his mind and flips everybody off at SUR, Brittany Cartwright sits down with Lisa Vanderpump and APOLOGIZES FOR HIS BEHAVIOR. Yeah. Lisa asks Brittany what she's fighting for and not one of us Vanderpump Rules fans has the answer to that.
The next day, we join Stassi Schroeder in planning the Pucker and Pout party. Pucker and Pout is the brainchild of Katie Maloney-Schwartz and after taking a hiatus to plan her wedding and quit being an a**hole, she's relaunching the site. While planning the event, Katie tells Stassi about Jax melting down at SUR the night before. She then invites Patrick but Stassi doesn't want him there, primarily because they're still fighting about Stassi not texting him in Mexico. Stassi enjoys learning things the hard way, too.
Meanwhile, Brittany makes Jax some coffee and gives him Advil since he's hungover, both from alcohol and going crazy. They discuss the cause of his tirade and first, he blames the fact that Scheana Marie tried to set up Brittany and Adam, then he says he thinks he's being targeted. I think it's because he's an a**hole, and I'm not the only one. Lala Kent prepares for her showcase at the studio and while she does she goes into detail about Jax's meltdown, then tells James Kennedy that she's invited both Brittany and Jax to her show. I don't think James cares, though, as he's lost in believing that he discovered Lala and now he's gone from being a white Kanye West to Dr. Dre.
While Dre and Eminem prepare for their showcase, Tom Sandoval and Tom Schwartz prepare for theirs. The Tom's are planning a Progress Party to show off the progress of their bar, TomTom. And then it gets serious. Sandoval gets on one knee and pops the question every Tom wants to hear: will you officially be my business partner? He even had matching T rings made. Find a man who looks at you and loves you like Tom loves Tom.
While Sandoval is proposing to his manfriend, his girlfriend Ariana Madix is at the stables riding horses with Lisa. Ariana isn't happy that Sandoval has delayed the release of her cocktail book that we all forgot about until right this second. Now that he has his own bar that he'll be bartending at, the book is old news. Then the book conversation becomes old news when they begin talking about Jax and Brittany. Lisa is upset with how Jax treats Brittany and doesn't believe she deserves it. And then we all forget about Ariana's book again.
It's later in the evening and we are now at the Pucker and Pout party. Stassi has done an amazing job. The party looks amazing, Katie's mom and grandmother are there, and everyone is having a great time. Brittany shows up without Jax, he's at home taking out his frustration on his frozen yogurt. Kristen Doute shows up on crutches; apparently, she stubbed her foot on a wall and it's like that episode of The Office where Michael Scott says he broke his foot and it's wrapped in bubble wrap. While Kristen is hobbling around, Brittany makes it a point to say hi to Adam, jokingly calling him her boyfriend. On the other side of the bar, Lala asks James if he's talked to Carter because Carter's been giving him ugly looks the whole night. While Lala questions James' ability to keep the peace for her performance, Carter asks Sandoval and Peter about the trip and what James actually said. Sandoval brings up the pillow and hot tub story that Jax manufactured, which infuriates Carter because he wants all of Kristen's friends to have her back, to which Sandoval basically replies "you can't make a Kristen change her stripes." He didn't really say that but I summarized it for him. Carter is p**sed, which is great timing because when he finds Kristen and her bubble wrap and crutches, he finds her talking to a random dude. Then he starts singing a song about her story changing like we're all of a sudden in a musical. He tells her what Sandoval said about them, explaining that at one point they were in the jacuzzi together and Kristen gets p**sed. She claims it didn't happen and then hobbles away like a depressed Tiny Tim. While they reenact the worlds saddest Christmas scene, Ariana scolds Sandoval for prolonging the cocktail book, explaining the party could've been for them, to which he replies "OK, you could've worked on it too." Touche. While they're arguing about who should be more successful, Stassi is questioning what the hell is wrong with Brittany. Poor Brittany can only say the same thing over and over again: I love him and I can't turn it off. Welcome to the "we learn things the hard way" club, Brittany.
Relationships are tough for most in the PumpRules world. The good news is there are a few good ones. Katie and Schwartz have made it to their first year anniversary. Katie goes into detail about her depression and why she was the way she was, and I have to admit, as a former Katie-hater, I'm starting to come around to her side.
The day after the Pucker and Pout party Patrick hangs out at Stassi's and, well, Patrick is a complete douche, taking every opportunity to try and show Stassi he's smarter than her while also trying to show her he's the boss. If he and Jax ever combine powers they will become the ultimate super villain.
And then.. AND THEN! After Jax's secret crush, Kelsey the rock queen, tells him that he's being mean to Brittany so she'll leave him, he sits down with Brittany AND BREAKS UP WITH HER! After everything he put her through, he breaks up with her. He tells her that he's unhappy, making her question what she's done wrong, to which he replies "this isn't about you!" Of course, it's not. It's all about Jax because he's awful.  FINALLY, She tells him to leave, then decides to leave herself.
What's it going to take for Brittany to leave Jax? Also, for someone so bossy herself, why is Stassi putting up with Patrick? And who else was excited to not have to hear Scheana talk about Rob for an entire episode?! Comment below!
---