Vanderpump Rules Recap: Love Thy Mother
Season 7 - Episode 6
Jennifer Ray January 15, 2019 1:28pm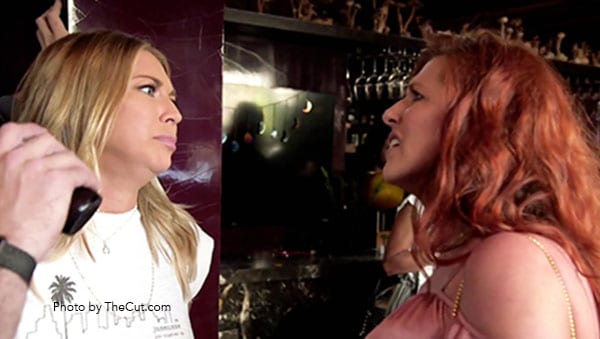 It's here! The "day after" has finally arrived! We finally get to see what happened after Stassi Schroeder had her annual birthday meltdown!
First, we were treated to a look at the hangovers of Kristen Doute, Katie Maloney-Schwartz, and Brittany Cartwright. You know what? Enjoy them while you can ladies because you're quickly approaching my age box and it only gets more painful from here. Anyway, as they try to regain consciousness, Katie brings up the fight between Stassi and her boyfriend, Beau. Apparently, Bravo left out the best part of the fight: Stassi stormed back into the party and demanded (using her yelling voice) that Beau go to bed. And, if I and the rest of us heard correctly, he started crying.
Stassi sits down with Beau to discuss the events that transpired the night before. She tells him she's terrified that he'll leave because of the way that she acts and while she's not sure where her flip-outs come from (don't you worry, we'll all find out soon), she wants to work on it. This is all Beau needs to hear – he accepts her apology and proclaims he's not going anywhere. Fine.
Stassi isn't the only one working on her freak-outs. James Kennedy meets his friend Arthur, a life coach, to talk to him about his most recent transgressions. It's literally the same conversation we saw James and Arthur have back in season 4, something that Arthur points out as well. Arthur gives him one more piece of advice to help him calm down on his drinking: pick three words that describe him when he's sober, and focus on the words every time he wants to take a drink. So we'll see Arthur again in season 10.
Meanwhile, Lisa Vanderpump is holding a staff meeting to discuss James' termination. Peter kicks the meeting off on a positive note, telling everyone how great of a job they're all doing. Then Lisa brings up James and Peter immediately turns the opposite of popular when he mentions how Tuesday's are huge because of James. Brittany freaks out because she, understandably, doesn't want to work with someone who would talk to her the way James has. Billie Lee blames Kristen for always setting James off, even though we've seen no proof of that. Lala Kent jumps in like she genuinely cares when she's about to marry a millionaire and never have to do anything again. Scheana Marie tells Brittany not to work on the days James is DJing. Then Jax Taylor chimes in because he's already forgotten about ALL of the trouble he once caused but never got fired over. While Lisa brought up the conversation, she has no intentions of letting James come back – she's sticking by the women she employs. #queen
Later that evening, Ken joins Lisa for dinner at SUR where they're set to meet Tom Sandoval and Tom Schwartz to sample the cocktails they've come up with. Lisa has agreed to host a party for Daily Mail TV at TomTom, except it's not complete. Not even kind of, so, in an attempt to expedite things she contacts her friend and designer, Nick, who is the interior designer for TomTom. He'll be able to pull it off with the stipulation that there are no distractions, two of those distractions being Tom Tom. Lisa conveys this message to the Tom's and now they're both sad.
The next day, Nick arrives with the furniture and he and Lisa get to work. Do you know who else arrives? The Tom's, even after Lisa told them not to. They want to see the progress that's being made but Lisa manages to keep them out, claiming she wants the unveiling to be a surprise for the Tom's but also she doesn't want them to ruin it.
While Lisa stresses about the Tom's, Katie, Stassi, and Brittany destress at Rage Ground, a place where you can take out your aggression on inanimate objects for a charge. Afterward, they all sit down and have a chat. Katie asks Brittany how she and Jax are doing; she tells Katie they're doing great. Then Katie talks about Jax going back to being Jax, something both Brittany and myself are tired of hearing. The conversation eventually turns fun when they begin talking about Scheana and her weird friend-zone dating love triangle. You see, she was spending time with Adam, then started spending time with his friend, Robby Hayes, from The Bachelorette. And with that, we were given something more cringeworthy than watching Scheana chase Rob around like an obsessed teenager. We now have to watch her go on multiple dates with multiple guys, none of them competing for her attention. Fantastic.
Later the same day, the gang meets up at the re-launch party for james.mae, Kristen's t-shirt line. While there, Brittany once again tells Jax what the group has been saying about their relationship, which either means he is going to go back to being old Jax or he's not and we're about to see another spin-off. Ariana Madix and Lala have a sit down and Lala tells her that she'll be reaching out to James out of respect for the friendship they once had. After that talk, Ariana joins Katie, Schwartz, and Sandoval to talk about the Daily Mail party. Schwartz informs Katie that James will be DJing, so let's see how that goes.
Then finally, FINALLY, the party gets good. Stassi, Kristen, and Katie are all currently being visited by their mothers and they all have convened at the party. Dayna, Stassi's mom, kicks off the crazy by talking to Stassi's boyfriend, Beau, requesting that he not leave Stassi over her meltdown as Dayna "needs grandchildren". Beau excuses himself before Dayna can offer him a dowry, which causes Dayna to direct her crazy at Stassi. She tells Stassi that she doesn't want Stassi to be herself and she hopes her boyfriend is strong enough to handle her. I'm surprised that Dayna didn't just push Stassi aside and continue the relationship with Beau on her behalf.
It didn't stop there. Later that night, the girls and their mothers get together for what is supposed to be a nice dinner. The night begins with Dayna telling Kristen, KRISTEN, that she hopes Stassi grows up to be like her. KRISTEN! Feeling the love from Dayna, Kristen brings up Dayna and Beau's conversation which leads to Dayna admitting to praying that Stassi won't take her baggage from her old relationships into her new relationship. Stassi has had it. She tells Dayna that she's getting annoyed to which Dayna replies "my ovaries are being absorbed by my body" and then starts talking about being in menopause. Stassi is mortified (weren't you?) and pissed at Kristen for making statements that make the fight worse. And then, AND THEN, Dayna walks away and begins sobbing in the hallway. Like the kind of sobbing you do when you're drunk. The other mom's excuse themselves to comfort her and in one episode we were treated to visions of Stassi's Meltdowns Past, Present, and Future. Bravo must've known I was missing Christmas.
A couple of other things happened: Lala and James met up and James lets her know that he's fixing himself before he begins to fix everything else. And, oh yeah, Stassi is writing a book. NBD.
How many of you will be reading Stassi's book? How will read it as long as it doesn't make you start having meltdowns? Comment below!
---