Vanderpump Rules Recap: Lisa's Dilemma
Season 7 - Episode 4
Jennifer Ray December 25, 2018 6:57pm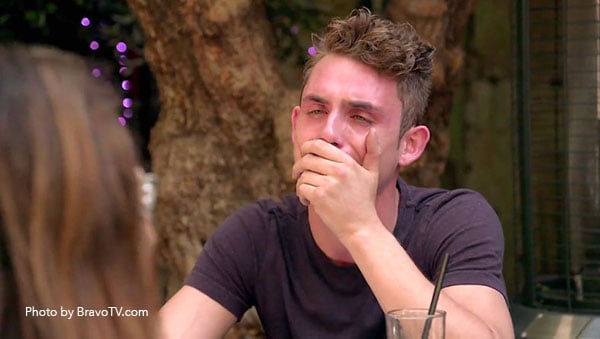 The showdown at the ol' SUR Corral continues as Katie Schwartz-Maloney has delivered her ultimatum to Lisa Vanderpump: either fire James Kennedy or she's quitting SUR. After Katie leaves, Lisa talks to her business partner, Diana, and tells her what's just happened. Diana asks Lisa if she thinks Katie can forgive him, to which Lisa replies, "why should she?" Lisa decides to talk to her other business partner, Guillermo, to get his take on the situation.
While Lisa works on her business, Jax Taylor and Brittany Cartwright are in the process of building theirs. Soon, MeeMaw's Beer Cheese will be available for us regular people but for now, Jax and Brittany are prepping a few batches for an exclusive "beer cheese tasting" party for a select few. Brittany has truly found her calling – she LOVES cheese. She loves cheddar cheese, gouda cheese, shredded cheese, cheese in a can, pineapple shrimp, lemon shrimp, coconut shrimp…. Find you someone who loves you the way Brittany (and me) love cheese.
Anyway, while Jax and Brittany cook their future the topic of girls' night comes up. Brittany tells Jax about Raquel not believing the stories of James being unfaithful, which just blows Jax's mind. How could anyone put up with his antics? Apparently, even when mixed with cheese, beer makes you forgetful. In addition to his past behavior, Jax is also blindly unaware of what it takes to get MeeMaw's Beer Cheese out to the public. While Brittany is the creator of the beer cheese, Jax has decided to handle everything related to the business operations. No problem, since he claims he knows how to run a business. Then, when asked how does one run a business, his response is "well now that you ask, I have no idea." While he doesn't know exactly how to run a business, he does know that it takes hard work which, for him, means Googling things and filling out paperwork.
Paperwork is hard, so he helps Brittany set up for the party instead. Stassi Schroeder and her boyfriend, Beau, arrive first followed by Tom Schwartz and Katie. After sampling some of the beer cheeses and establishing an opinion (the spicy one is too spicy and Schwartz wants to bathe in the other one) they engage in some small talk: Stassi asks Schwartz how TomTom is coming along and he tells her that he has to start interviewing people. Katie thinks Schwartz will just give everyone a job because he loves everyone, to which he replies, "I don't love James right now." Stassi weighs in, calling James a "piece of s$@!", with Brittany following up with "he's just mean to people for no reason." Then Katie drops her bombshell: she tells everyone about the ultimatum she gave Lisa. Schwartz knows all about these ultimatums so things are not looking good for James.
Katie may want James gone, but there are a couple of people who are OK keeping him around – and one of those people is Scheana Marie. Yes, Scheana is moving to Marina Del Ray and needs some help, and since she's annoyed the crap out of everyone else James is her only moving lifeline. BUT, because Scheana is Scheana she has another agenda: after James moves all of her boxes (while she plays on her phone) Scheana sits him down and tells him that his comments to Katie and behavior was unacceptable and lets him know that even though he helped her move, they are, in fact, not good friends. James may be a jerk, but he's not a complete idiot. He knows what's up: Scheana is shutting him out because we've brought back the "Scheana has to prove her loyalty to Katie and Stassi" storyline. Although, I'd rather deal with that than have another Rob situation on our hands.
Scheana may have said her peace to James (that was brought on by the other girls), but Lisa is still trying to figure hers out. Later that night James is back at SUR for his DJ gig. Lala Kent arrives fresh from her boyfriend's movie premiere for his movie Gotti. Going from a big movie premiere to James' See You Next Tuesday gig is a buzzkill, according to Lala. Looking annoyed to be back amongst the commoners, Lala sits down with Lisa to talk about James and his reagent actions. She believes James has lost his mind and needs help. Lisa agrees and then pulls in Tom Sandoval to question him: what does he think of James' behavior? Sandoval thinks he's alright, he's drinking a virgin cocktail and all is good. Then Lisa reminds him that he's going to have employees one day and to think about how he'll feel when he has a James Kennedy on his hands. Then, Lisa talks to her other business partner, Guillermo. She tells him how bad James is doing to which Guillermo replies, "yes but I have to think about the business." So all of these talks helped Lisa approximately zero.
Lisa may still not know what to do but Lala does. She asks Peter to cover he while she takes a break, then finds Raquel and asks her if they can chat. Lala tells Raquel that she was not happy about her saying that she didn't support women and then tells Raquel she only supports women who support themselves. She then tells Raquel that she doesn't like calling her dumb but she's not sure what else to call her since she won't believe any of the rumors that James has been unfaithful multiple times. Raquel tells her not to call her dumb because she isn't dumb and has a college degree to prove it. Even with this kind of proof, Lala persists with her "you're dumb and you need to wake up" routine. Raquel tells her that if she saw somebody struggling she would try to build them up, not tear that down like she's seen Lala do, which then sparks Lala to make a remark about her dad and walk off.
Raquel tells James what happened and how she feels ganged up on, which prompts James to pack it up and leave with Raquel. While he doesn't say this to Raquel, he thinks that Lala is just mad because her boyfriend's movie tanked. 0% on Rotten Tomato's which joins a list of other bad movies that got a 0% – a list he read out loud and then explained that it's harder to get 0% than it is to get 100%. These types of comments are probably why nobody likes him, but they made me laugh.
The next morning, Raquel tells James that it hurts her feelings when Lala calls her stupid and it reminds her of when she was in grade school and couldn't go to the ice cream party because she was bad at math. After about a minute of blank stares from both James and myself, Raquel tells James that she sees what no-one else can and that he's not a bad person. He gets emotional and then heads out the door to meet Lisa.
Unfortunately for James, he'll be meeting Lisa at PUMP where her and Tom squared are interviewing potential TomTom staff members. While unfortunate for him, it's not unfortunate for us because we got to watch the interviews go down. Schwartz loves everyone, even going as far as wanting to hire someone because they went to the same college. Sandoval is interviewing people like they're trying to get into the CIA. He's questioning them on everything, which he feels he's allowed to because he's been in the restaurant industry for 25 years. Yeah, that's not a typo, he said 25 years. I'm older than him and I can tell you that 25 years ago I was barely getting rid of my Bart Simpson t-shirts, much less working as a waitress.
As the interviewing process gets more stressful, in walks James. Lisa excuses herself and her and James have a seat at a nearby table. Lisa starts off by asking him who the f&*% he thinks he is talking to women the way he has been. Once again, just like in season 5, James blames the alcohol, saying that it takes him to a dark place and that he'll never drink again. Lisa has heard this before and this time, it isn't going to save James. After crying, begging, and telling Lisa that he's been supporting his family financially, Lisa tells him to grow up and pull it together – he's fired. Katie is just a few ultimatums away from working her way into the presidency.
Do you think James deserved to get fired? Do you think Lisa will give him another chance? Comment below!
---